Anzac Boys
By Tony Bradman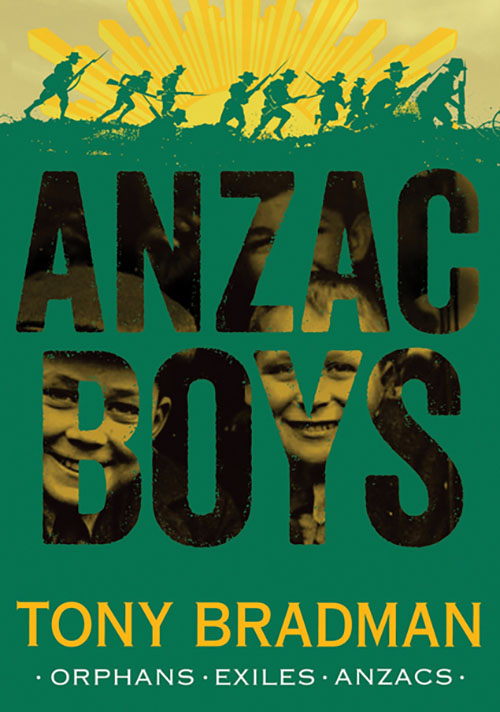 1. Jheel: This book is about 2 brothers who lived in an orphanage in London where the conditions were just horrible, cold and hard as the war was going to break out soon. One day they thought that there life would be able to change after the priest talked to them about sending them to Australia. The priest had promised the brothers that life would be better, so they took the opportunity and decided to go, seeking a new opportunity. It was hard work, separation and no one caring whether or not they live or die. Then the war breaks out and the brothers are finally united, in an environment even worse than anything they've known before. This was the story's little summary and what happened in that story.
This story was set during World War I and was talking about the Gallipoli campaign also inspired by a true story. This book also encouraged me to ask more questions: if this was a real story how could they just send orphans to an even worse place because the war started in that country? Did no one care what happened to the orphans?
I was also curious about what the Gallipoli campaign was and how it began because I do not know what it was, so it encouraged me to further investigate the history to this part of World War I. I did not know that they send children to a different country. I already had a book called stories of World War One which had a load of different stories I have also read and Private Peaceful by Michael Morpurgo so I do find books which centre upon World War I interesting. I would recommend this book to students who really enjoy learning about modern wars and from reading the Aztac boys I would like to read more books from Tony Bradman.
2. Shrey: Anzac boys is a book which I really enjoyed.
A gripping historical tale based on a tragic episode of World War One. Bert and his little brother Frank are orphans. Determined to stay together, tragedy strikes when they are transported out of the country to serve as cheap labour in the British colonies and end up separated; Bert to Australia and Frank to New Zealand. Years pass. As the Great War dawns in Europe, the ANZACs send their soldiers to storm Gallipoli.
I enjoyed the start of the book where the orphan brothers are sent to Australia as Child Migrants. But it's no great new start – instead they face separation, servitude, and Gallipoli.I enjoyed the part where the two brothers reunite after a time of separation. One goes to Australia and the other New Zealand. And they then met each other on the battle field.
This book actually fascinated me as it was so realistic. It made me ask questions to my history teacher, to gain a further understanding of specific events and battles during World War I. I also then conducted my own research on Tony Bradman to see what other books he had published. I would recommend the book as it is a stunning novel about World War I and the Gallipoli Campaign, all inspired by true experiences.
Also as the book is dyslexia friendly helps a lot of people as certain some children find it difficult to understand and interpret things in history this book actually is inspiring and really interesting.
Overall I really enjoyed this book and I like the plot and the twists and the history behind and that the book should be more popular and maybe used as sources in history lessons. I would definitely recommend this book to my friends and family and anyone else. So I rate this book out of 10/10.
3. Austin: The main characters are two brothers Frank and Bert whose mother dies when they are little. They go to an orphanage ran by priests. The priests are not very nice. Then they are sent to Australia where they get separated and Frank is sent to New Zealand. When the world war breaks out Bert signs up and takes a boat back to Europe. He has been looking for his brother for many years but with no luck. Bert is drinking in a pub in Egypt with his friends when he sees a man in a New Zealand army uniform and recognises his brother Frank. Frank doesn't want to know him because he thinks his brother abandoned him.
4. Ellie: I found this to be a really quick read but there was a lot of historical detail in it. The language is quite simplistic but the history is well told with lots of good info about the life of the main character from being an orphan in the early 1900s through to his experiences during the war. I'm not sure that I'd really read more by this author if the book was another short one like this as I like longer books.
5. Elliot: I really like the First World War and was hoping this book would cover it in lots of detail but it didn't. The story was OK but I wanted more to happen and I found it was over too quick before much happened.
6. Ben: Anzac Boys was really enjoyable and quick to read! For a book so small it fits so much in. I really enjoyed the story of the two brothers being split apart after becoming orphans. The book made me read more as I wanted to know how they would meet again in the story. This is where the history came in!
I really enjoyed how the boys met again at Gallipoli during The First World War. The story helped learn the dates and feelings surrounding such a big event. The book was nice and easy to read, which was positive, but I feel as though the story could have gone into much more detail and I would definitely like to read more on the fate of soldiers during WW1. As the book was nice and easy to read I would recommend to anyone wanting to find out more about WW1, but especially to younger readers because the language is very suitable. Overall, a nice read.
7. Charlotte: I thoroughly enjoyed this book, it was a gripping historical tale about two brothers being separated and sent to the British colonies. But as World War 1 dawns the ANZACS (Australian and New Zealand troops) are sent to storm the Turkish peninsula at Gallipoli. This battlefield serves as a reunion for the two brothers. The book has been cleverly written and clearly explained, using real factual reference. I am currently studying WW1 and I wanted to read and discover more details and information, so this book was a perfect selection. I particularly liked the fact that it was not just about the main countries in the war and it showed how countries in the British Empire joined in the fight. This book was very comfortable to read and I feel the simplicity of the way the historical facts were portrayed helped to ensure the story was not over complicated. It has definitely made me want to read more books about the war and it has also shown me how terrible the war was, and the effects it had on the whole world.
8. Islay: Anzac Boys by Tony Bradman is a tale spanning several decades that revolves around two brothers – Bert and Frank. They go from orphans in Britain to the harsh reality of life in Australia, where they are split up and each lead lives of hardship until they meet again at the battle of Gallipoli in World War One. The story is short but a good introduction into a part of World War One not taught in much detail in UK schools.
The font is large and the pictures showing each part of the boys' journey adds interest to the pages. For this reason it would be suitable for younger readers, or for those who struggle with reading. The story itself is fast paced and would keep the concentration of a younger reader, and the two boys are realistic and so would be relatable to people the same age. The descriptions of the Battle of Gallipoli are accurate and also reflect the views of soldiers fighting at the time.
At points the dialogue and descriptions seemed a little too simplified, in that monumental and shocking parts of the plot are glossed over in one sentence. This can be done to increase tension and to make the reader feel as shocked as the characters, however in the case of describing the scene in which one of Bert's closest friends died with a short '…He was dead…', it gave across more insensitive than shocking tones.
Regardless of this, the book is a good introduction for younger readers both to 20th century Australian social history and the First World War and Battle of Gallipoli from the eyes of a character who lived through it.
9. Maddie: I did not enjoy reading this book very much, although there were aspects that I enjoyed such as the Australian slang which made many appearances in the book. Frank and Bert were the main characters in the book and I found them to be quite complex as Frank and Bert were split up from each other for many years and when they are reunited Frank is angry at his abandonment. I enjoyed this scene as it seemed quite realistic. I thought the history in the book was good and did capture the essence of war. Unfortunately, I felt that the storyline was rushed. Although all that said I do not think my age group is very suited to the book as I should think the book was for younger children. Overall I thought that the book was good but rushed.
10. Owain: Anzac Boys was a bit boring. The story of the two brothers becoming orphans was a good idea, but it just went by too quickly. I just wanted to know so much more than the book offered. This was a shame.
I did like the historical side of the story and it being set during World War One, but I would have liked much more detail. In my opinion, the book was maybe better suited to someone of a much younger age. Perhaps primary school children who are learning about WW1 would have enjoyed the book. The story could have been good, but needed to be more challenging for me.