Girl on a Plane
By Miriam Moss
Shortlisted in Secondary category 2016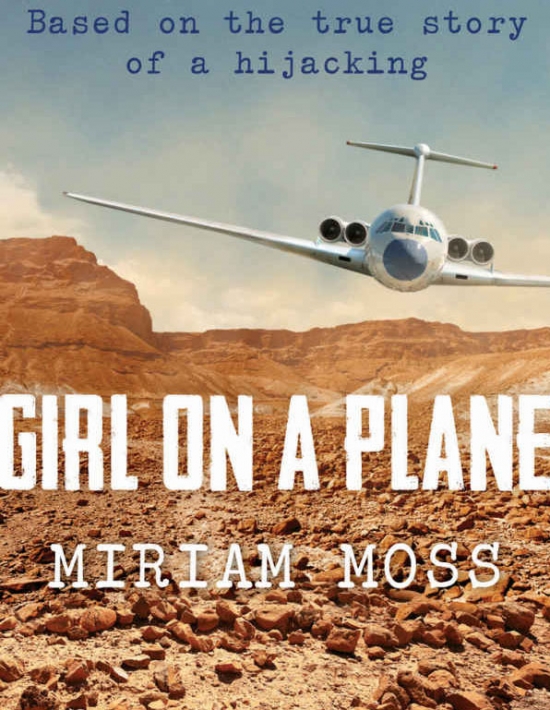 1. Labeeb: The girl on the plane moved my heart all the way to the Jordanian desert where this breath taking story took place. I was inspired at it sounded like a thrilling story, but what really excited me was the fact that something similar had happened to the writer, Miriam Moss! As soon as I read the first word I was entranced in the adventures of Anna surviving in a plane in the middle of the Jordanian desert, while water supplies dwindle; as well as tolerating the abusive behaviour she gets from her hijackers, the P.F.L.P (Popular Front for the Liberation of Palestine).
Anna is a 16 year old girl who would like to spend more than a year with her family, in the same country. This is not possible as her dad works for the army so they have to keep moving from country to country. After the initial introduction, the rest of the story revolved around boredom and waiting, which made me feel bored. Even though certain potentially dangerous issues happened, I didn't feel that they were represented in a way to 'appeal' to readers, in that I never felt any fear when reading about them; I never connected to Anna in any way.
All in all, I personally felt the story was relatively anti-climactic, but when considering the fact that the author wrote the book a long time after the event, and taking into account that she was only fifteen at the time, the hazy details are understandable.
2. Arushi: When you ask for a librarian's recommendation for an adventurous book that belongs to the 'modern history' genre, they will probably pick 'Girl on a Plane' by Miriam Moss. The front cover engages the conflicting matter, making a strong connection to the plot of the story and imaginative responses about the surroundings and the setting. I instantly liked Moss' style of writing and read this amusing book in a jiffy. Moss' excellent writing has seen her author 75 amazing children's books. This fascinating story was published on September 3rd 2015, with The Guardian hailing it as a book bringing forth conflicting emotions and a 'varying mixture of truth and fiction'.
Anna, the 15 year old protagonist, writes about her saddest memories and an outburst of adventures. She is an ordinary girl, caught up in the conflict of a hijack. I could relate to the character as she is roughly the same age as me. She is travelling across to England and the flight gets hijacked by Palestinian guerrillas. The book takes you on a bumpy plane ride to the Jordanian desert, where the hijackers switch off the engine and get on with the demands. At Dawson's field, the travellers realise that the 'theory of existence' depends on Prime Minister agreeing to the release of the hijacker's comrade Leila Khaled in London. The fear of the hijackers' gun has a stiff competition with the heat on board, the limited food and shortage of water.
Anna meets two boys- the elder 'charmer' David, who doesn't entirely feel scared and hopes to see his parents again, and the terrapin owner Tim, who is about the same age of Anna's little brother Sam and finds himself in tears when his terrapin is let out. Anna's mum, Marni, is an inspiration and her mother's advices are used by Anna in a positive way to deal with the threatening developments. Marni is shocked and scared, as she learns of the hijacking, however her hope of Anna's return to safety in her arms is in complete harmony with reader's reflections.
The story consists of many hijackers but the two hijackers she stumbles across are named Sweaty and Giant (by her humour). Sweaty, the gun wielding hijacker, is a young Arab. Anna remembers Sweaty with huge sweat rings bloomed under his armpit and his black hair lies slicked around his forehead. Giant, whereas, has a broad face, framed with his thick curly hair and a dark beard. He has immaculately clean hands and he has ordinary jeans and a T-shirt to Anna's surprise.
The book is a flashback describing significant key events in Anna's life. She reflects her life from memorable times spent with her family to a revolving hijacking attack. The story has many poignant images that one can relate to.
The historical context really provokes you to engage and make you ponder upon what can happen next. It also makes you feel excited to research more about the history of the period. I came across the facts that explain the actions of the hijackers and that the main hijacker- Leila Khaled- is still alive.
Miriam Moss was trying to convey and get a message out to her readers and fans that no matter where you are, you will always be close to your family. Never lose hope, just keep on trying and one day you will reach your goal.
To me, the best books are the ones that one can relate to, imagine and see the whole story developing in 3D in your head as you start to read it. 'Girl on a Plane' really mesmerised me and I could totally relate to it and would probably react in a similar way as Anna did. I really enjoyed this book because it was filled with mixed emotions. The only complaint would be that this book is far too short and leaves you desiring it was longer! If you were in my shoes, you would understand why…
3. Abi: I was gripped by this book and finished it in a day. I had never read anything about hijacking and historical events from 1970 as this is not a time in history that we learn about in school. It was good to read about something that I had no knowledge on. As this was a true experience of the author's it helped the story to seem very lifelike. From the beginning you knew that the hostages would survive but it was still really interesting finding out what happened to them inside the plane as they were held. The main character Anna was convincingly written as a teenager which was probably why I enjoyed the book so much, I found the desert setting captured exactly as the cold of night and heat of day was described in great detail. I would definitely look for other books by this author.
4. Asha: This book was exciting so I could not put it down. I think how the scenery and characters were described made it really realistic. I felt that Anna was pretty truthful and this helped draw me into the book. This was a recent time in history, less than 50 years ago and in place I know nothing about, meaning I knew very little about it. The events were convincingly written so you would not question that it did not happen. Because the book was so well written, I would like find out more about what historical events led up to the high jacking. The only criticism I have for the book is that the blurb gave too much away because the main storyline of the high jack was not a surprise. I would definitely read more by this author.
5. Ellie: I loved this book. It took me a long time to read but I found the story both quite scary and realistic and I really wanted to know how things would turn out for the main character. I would like to learn more about this time period in my history lessons because this book was so interesting and I would like to read more from the author too.
6. Ben: Girl on a plane is a written by Miriam Moss. It is based on her experiences as a captive on a plane that was hijacked by the PFLP. It tells of fictional characters (with Miriam being replaced by Anna) and how they have to cope with the days on board a plane with limited food, water and medical supplies.
Girl on a plane is filled with excitement, anticipation and suspense. It is funny in places but whilst reading you never forget what I happening to these poor passengers. It has a good equal balance of sadness and light humour. It is truly inspirational and heart warming. The war between the Muslims and the Jews in the Israel/Palestine area has largely been forgotten so this book is a reminder of the terrible conflict that occurred. Girl on a Plane is set over a very short period of time but it has a more interesting, detailed and action packed journey than any other book I've read.
Miriam Moss has a wonderful story and tells it in a wonderful book. She conveys moral values and the ability to care, understand and be selfless in the most difficult of times. I passionately believe that Moss should revive this award and I look forward to finding out if she gets the recognition she needs.
I ask of you with the utmost pleading...GIVE MIRIAM MOSS THE YOUNG QUILLS AWARD!
7. Ellie: I enjoyed this book quite a bit. I found that the storyline was especially poignant in today's political climate. I spent a lot of the book wondering what I would have done in Anna's position as it was really scary especially so when you learn that the book was based on the author's personal experiences. I want to learn more about this part of more recent history now to understand why the events happened in more detail.
8. Harriet: I really do like this book it is very good and I enjoyed it very much. I love the girl that goes to England to go to school but her plane has been hijack. I think the best bit when they were in the air and were having troubles. I think the history of this book was amazing because it came to life and I thought it was actually happening to me. Now I have read this book I want to read more of this author and planes being hijack. I have recommended to friends and family and they have really enjoyed this book. I would rate it 5/5 and I would definitely read it again. I gave it to my mum she brought the book. And then she brought it for my cousins.
9. Ibrahim: My Favourite Part Of The Book Was When Anna's Plane Gets Hijacked Up To When They Were Released By The Hijackers. The History Is Very Good From The Point When The Palestinians Rebelled Against The Rest Of The World Because There Land Was Taken From Them. I Think The Detail In The Book Is Very Good, Even So That The Author Remembers The Event From 40 Years Ago. I Would Read More Books By This Author Because I Personally Think The Detail Of The Book Is Impressive.
I Would Also Recommend This Book To Others. The Only Bad Think I Would Say About The Book Is At The Start The Lack Of Character Description.
10. Kenyeh: Girl on a plane is a shocking and touching novel about a fifteen year old girl name Anna who is on her way to boarding school when her plane is hijacked by Palestinian terrorist. The author was actually a passenger on this plane when it occurred in the real world , making it a terrifying first-hand account of some unbelievable series of events that make you want to cry and smile.
I found the first half of the book extremely fast paced exciting and beautifully worded, however by the end of the book it became less and less interesting as most of the book was about waiting, this made me feel slightly bored.
Although his book is on an extremely complex issue it is very easy to read and it helped me understand the topic of terrorism whilst also gripping me with excitement. I feel like this book was extremely yet subtlety informative.
I have now purchased the book and hope to read it many more times as I thoroughly enjoyed it.
11. Tilly: Girl on a plane is a fictional story based on Miriam Moss's real life experience. Anna is a normal teenage girl on her way back to boarding school after spending the summer in Bahrain with her family. Her plane gets hijacked and she has to face the hostility of the Jordanian desert, with little food and drink and with a plane full of explosives. Her world is turned upside down and her life is in the hands of others.
The characters are relatable and realistic and the storyline is gripping. I couldn't put it down! I am keen to learn more about the hijackings of 1970 and hear other people's stories and about the Liberation of Palestine. The book gave me an insight to what people would have experienced. I would recommend the book to teenagers and people who want a thrilling and descriptive historical book. I would definitely consider reading another book by her.
12. Millie: I enjoyed this book because I found it exciting and I always wanted to read on because the end of each chapter had a cliff hanger. I thought the background about Anna and the family before the highjacking was really good and allowed the reader to understand Anna's feelings whilst on the place. The history was realistic because it explained the war where the Palestinians were driven off their land by the jews. The book did inspire me to look online at hijackings in Dawson's field. I haven't yet read any other books by Miriam Moss.