Poppy in the Field
By Mary Hooper
Shortlisted in Secondary category 2016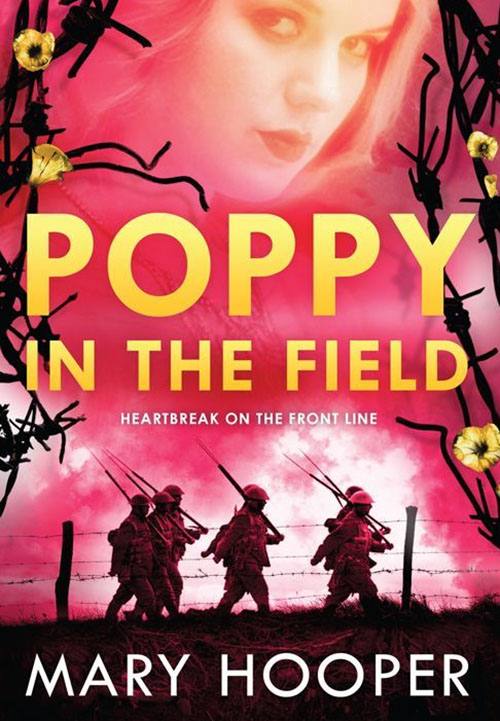 1. Abi: I really enjoyed this book as I love learning about both of the world wars. There are few books being published about the changing role of women and girls at the same time so this book appended to me. The book follows the story of Poppy who is a parlour maid and then she becomes a VAO 9Voluntary Aid Detachment). There is a real insight to the job that Poppy is performing and you see her grow realistically throughout the book, making Poppy like a genuine person. As I had already read may books by Mary Hooper I was used to the way she writes, which is always very interesting with each book she writes. The book was energetic and interesting, making in unpredictable. The only problem I had was that if you had not read the first book, then you would have failed to understand what was happening as the story starts straight from where it finished. I had read the first book before Poppy in the Field. I would highly recommend this book as it has been one of the best ones that I have had to read yet.
2. Asha: I really enjoyed reading this book and I could not put it down. I felt like poppy was displayed like she was human and you could connect with how she was feeling. I think the history in the book was very realistic and it could easily been a real story. The book made me want to read more by this author. Because the book was well written, and what they did in World War I. The only criticism I have for the book is you may have had to read the first book to get the story line correct.
3. Eve: I have read Poppy in the Field, which is written by Mary Hooper. It is the sequel of 'Poppy' (another book by Mary Hooper) and follows the story of Poppy Pearson, a V.A.D, during World War 2. The book is well researched and gives a clear historical insight into the bravery of young women during the war.
The story begins when Poppy learns that the love of her life, Freddie de Vere has married someone else. Devastated, she then volunteers to travel to France and nurse on the front line- in order to forget about Freddie's betrayal. However, matters are about to get much worse. After a horrific journey to Flanders, Poppy arrives to find a spiteful sister and unfriendly nurses. As the weeks go by, the young V.A.D's fondness for Michael, a doctor who she met in her previous post, grows and she discovers that love can be found in the most unexpected places.
I enjoyed this book because of the simple language and thorough descriptions of the characters. Similarly, I found the historical period very interesting and have learnt a lot about the nurses in World War 2. In the future, I will definitely read more books about the period and possibly read Poppy, the previous book in the series. Finally, I will recommend the book to my friends and family.
4. Jacob: Poppy in the field is a very exciting yet heart clenching story and was impossible to put down, after the twist of the first book I had no idea where this book might go and was surprised when Poppy eventually found another lover. Looking at it from a historical book I could find no large flaws straight away or when researching and was made even more authentic from the writing in the letters. The reason I read this book was because the first book: 'Poppy' was so thrilling I had to read 'Poppy in the field' and I hope to read more Mary Hooper books in the future, however it is partially narrowed down to being suitable for girls over boys due to the love affairs and contents in which a girl understands more. Other than that it a thrilling read and I highly recommend it.
5. Daniel: I found this book extremely interesting and it had a different view on Flanders field I read poppy as well and I thought they linked really well. I thought the book was really good because it was a good read for both boys and girls and therefore anyone who has an interest in ww1 can read it and enjoy it. There were several parts to the story I enjoy less such as the more romantic parts and I found the connection between the richer and poorer community was less realistic and when she kept going back to the house she used to work in. I liked the fact that it showed that many people were doing there bit for the country. I would definitely recommend this book. YES
6. Madeleine: I didn't really like the book I was reading. This is because the writing style was boring and rather standard. Also, the story and plot was mainly centred on romance which I don't really like. The main character was dull and quite soppy. Although I do appreciate that other people might like her and the storyline. The history, however, was quite interesting. In lessons we don't tend to learn about the nurses and VADs that were crucial in World War II. The period fascinates me anyway but I've never read or looked at anything to do with this part of the war effort. I'll probably have a more in depth look at it now. The history in the book was supported by my independent knowledge so I think that it was mostly correct. So overall, the actual book wasn't to my liking but the history was really good and interesting.
7. Rob: In Poppy in the Field, a VAD named Poppy signs up to work overseas in Boulogne. Her love of her life, Freddie de Vere, gets married, leaving Poppy heartbroken. Despite her terrible ward sister and love-life problems, Poppy meets two American nurses who instantly become her friends. Later on Poppy discovers how dangerous frontline warfare is and heals her broken heart.
I like Poppy in the Field because it is quite fast moving and there is always lots happening. The book is exciting but a bit sad at times as well.
I would highly recommend this book to anyone interested in the war because it offers lots of information about World War II and has led me to want to find out about what life was like at this time.