Primary History 67
Journal
HA, last updated: 1st July 2014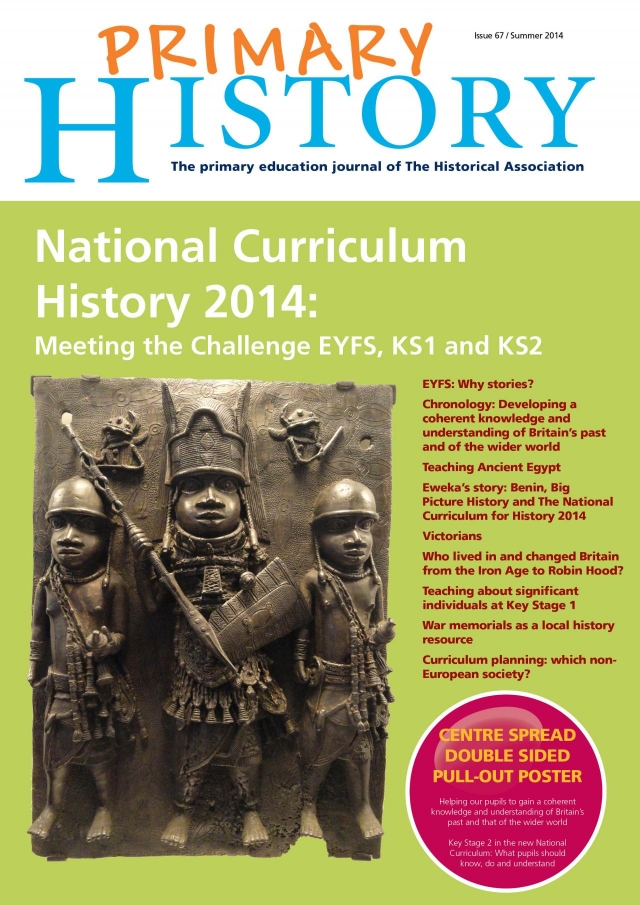 Story, Chronology, Egypt, Benin...
04 Editorial
05 HA Primary News
06 Why stories? Hilary Cooper
08 Chronology: developing a coherent knowledge and understa nding of Britain's past and of the wider world - Hilary Cooper
16 Teaching ancient Egypt - Karin Doull
22 Ideas for Assemblies - Bev Forrest and Stuart Tiffany
24 Eweka's Story: Benin, Big Picture History and National Curriculum History 2014 - Paul Bracey, Chad McDonald, Kayleigh Billins, Kerry Kaup and Michael Knight
30 Victorians - Sue Temple
34 Who lived in and changed Britain from the Iron Age to the time of Robin Hood c.1200? Matthew Sossick
36 Teaching about significant individuals at Key Stage 1 - Penelope Harnett
44 War memorials as a local history resource - Ruth Cavender
46 Curriculum Planning: which non-European society might we offer at school?
47 The back cover image Westonzoyland War Memorial - Ruth Cavender
* In this issue Centre Spread double sided pull-out Poster:
Helping our pupils to gain a coherent knowledge and understanding of Britain's past and that of the wider world
Key Stage 2 in the new National Curriculum: What pupils should know, do and understand