Primary History 68
The primary education journal of the Historical Association
By HA, published 22nd December 2014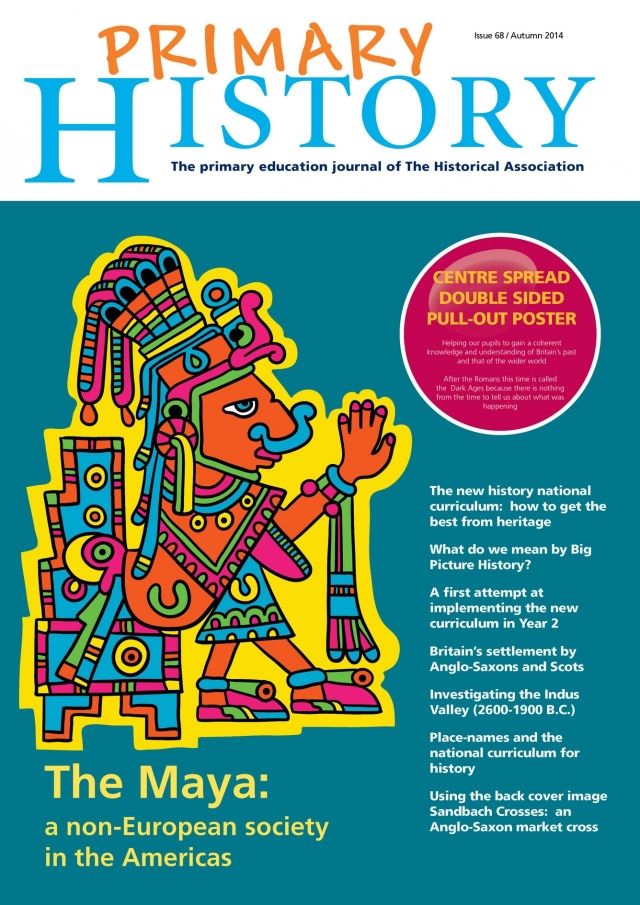 Big Pictures, Maya, the Curriculum...
The range of articles in this edition as ever cover discreet methodology, subject knowledge enhancement and areas of innovation set within the context of excellence in the classroom. The inclusion of the Mayan and Indus Valley civilisations will hopefully encourage teachers to look at the rich source of learning to be found in these less well-known locations whilst detailed discussions on new concepts such as the Big Picture provide teachers with the opportunity to examine their own understanding of this key term and apply it to existing practice.
The journey taken by the Akiva School in implementing and evaluating the new National Curriculum is of immense interest. The new curriculum continues to require input from the heritage sector, and the engaging discussion from the Education team at Lewes Priory in East Sussex provides an extremely useful model which can be transferred to other sites throughout the country.
The focus on key areas such as the Anglo-Saxons continue to provide teachers with outstanding levels of subject knowledge while remaining articles on place names, the First World War and key opportunities for subject development will ensure that teachers at all levels of professional standing or subject knowledge will feel supported and motivated.
Contents
04 Editorial
05 HA Primary News
06 The New History National Curriculum: How to get the best from Heritage - Kate Hickmott and Helen Chiasson (Read article)
10 What do we mean by Big Picture History? - Paul Bracey (Read article)
16 A first attempt at implementing the new curriculum in Year 2 - Paula Granger (Read article)
19 Ideas for Assemblies - Bev Forrest and Stuart Tiffany (Read article)
22 Britain's settlement by Anglo-Saxons and Scots - Tim Lomas (Read article)
30 Investigating the Indus Valley (2600-1900 B.C.) - Ilona Aronovsky (Read article)
36 The Maya: a 4,000-year-old civilisation in the Americas - Genner Llanes-Ortiz, Diane Davies and Ian Mursell (Read article)
42 Place-names and the national curriculum for history - Jon Nichol (Read article)
47 Sandbach Crosses: an Anglo-Saxon market cross - Alf Wilkinson (Read article)
Also in this issue - Centre Spread double-sided pull-out poster: Helping our pupils to gain a coherent knowledge and understanding of Britain's past and that of the wider world after the Romans. This time is sometimes called the Dark Ages because there is so little from the time to tell us about what was happening.
Regular features
Primary History magazine runs a number of great regular features including Ideas for Assemblies, One of My Favourite History Places and our Primary Pull-out Posters. You can view all editions of these features here.