Primary History 83
The primary education journal of the Historical Association
Published: 11th November 2019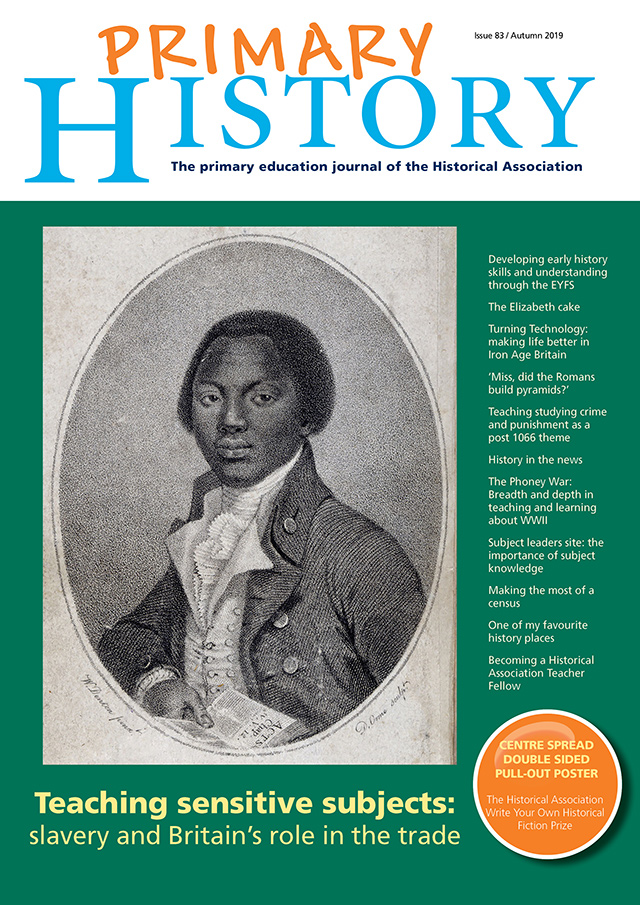 In this edition of Primary History
04 Editorial (Read article for free)
05 HA Primary News
08 Developing early history skills and understanding through the EYFS – Emily Dickenson (Read article)
12 Teaching sensitive subjects: slavery and Britain's role in the trade – Susie Townsend (Read article)
18 The Elizabeth cake – Sandra Kirkland (Read article)
21 Turning Technology: making life better in Iron Age Britain – Karin Doull (Read article)
27 'Miss, did the Romans build pyramids?' – Alf Wilkinson (Read article)
30 Teaching crime and punishment as a post-1066 theme – Tim Lomas (Read article)
38 History in the news
40 The Phoney War: Breadth and depth in teaching and learning about WWII – Matthew Sossick (Read article)
42 Subject leaders site: the importance of subject knowledge – Stuart Tiffany and Karin Doull (Read article)
44 Making the most of a census – Sue Temple and Debbie Graham (Read article)
48 One of my favourite history places – Tim Lomas explores Meldon Viaduct and its surroundings (Read article)
50 The back cover image: Becoming a Historical Association Teacher Fellow – Lisa Bell (Read article for free)
Pull-out Posters: Write Your Own Historical Fiction Prize
Regular features: Primary History runs a number of great regular features including Ideas for Assemblies, One of My Favourite History Places and Pull-out Posters. You can view all editions of these features here.
Cover image: Portrait of abolitionist Olaudah Equiano, an African writer whose experiences as a slave prompted him to become involved in the British abolition movement.
Contributions to Primary History
Letters, articles and other contributions to the magazine are welcome. Find out more
Publication of a contribution in Primary History does not necessarily imply the HA's approval of the opinions expressed in it.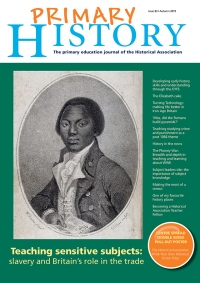 Buy a hard copy of this resource:
Non-member price: £24.00
HA Members can purchase this item for £8.00:
Sign in to pay the discounted price or Join the HA