The International Journal Volume 1 Number 1
Journal
By IJHLTR, published 24th December 2000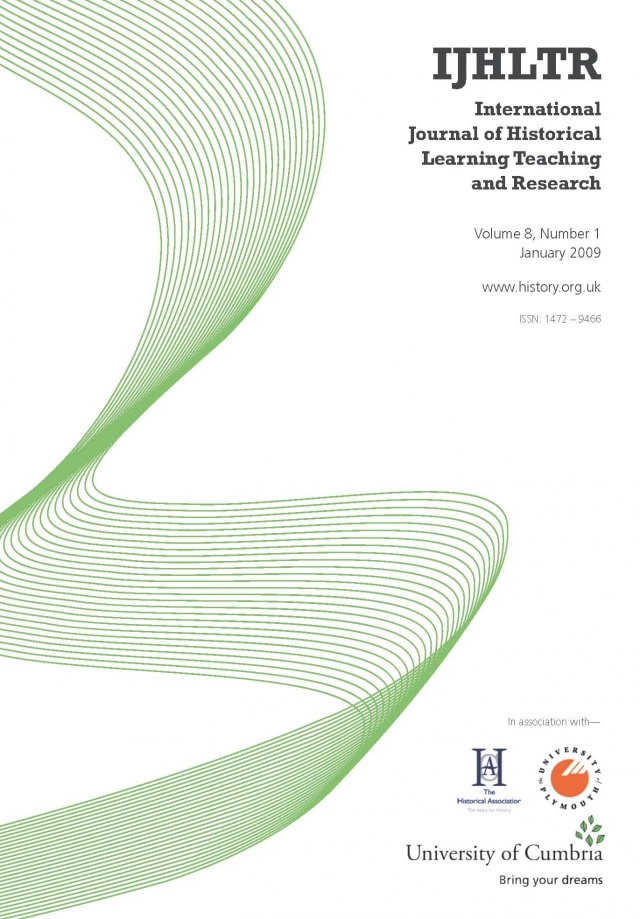 Volume 1.1
Editorial
Old Wine, New Bottles : National Identity, Citizenship and the History Curriculum for the 21st Century
Articles
Penelope Harnett - History in the Primary School: Re-Shaping Our Pasts. The Influence of Primary School Teachers' Knowledge and Understanding of History on Curriculum Planning and Implementation.
Laura Capita, Hilary Cooper, Iosif Mogos - History, Children's Thinking and Creativity in the Classroom: English and Romanian Perspectives.
Rob Sieborger - History and the Emerging Nation: The South African Experience
Jacqueline St Clair Dean - Coping with Curriculum Change in South Africa.
Shari Levine Rose - Fourth Graders Theorize Prejudice in American History
Keith Crawford - Researching the Ideological and Political Role of the History Textbook - Issues and Methods
Robert Guyver - Sharon Macdonald (ed) (2000) Approaches to European Historical Consciousness - Reflections and Provocations, Eustory Series: Shaping European History, Vol 1. Hamburg: Körber-Stiftung. ISBN 3 89684 015 0
Petr Baranov - Some Russian Approaches to Civil Education: Problems and Perspectives: The Historical Perspective.
Kate Watson, Kevin O'Connell, Derek Brough - Hyperlink: A Generic Tool for Exploratory and Expressive Teaching and Learning in History
Joke van der Leeuw-Roord - Working with History: National Identity as a Focal Point in European History Education