History 346
The Journal of the Historical Association
Published: 20th July 2016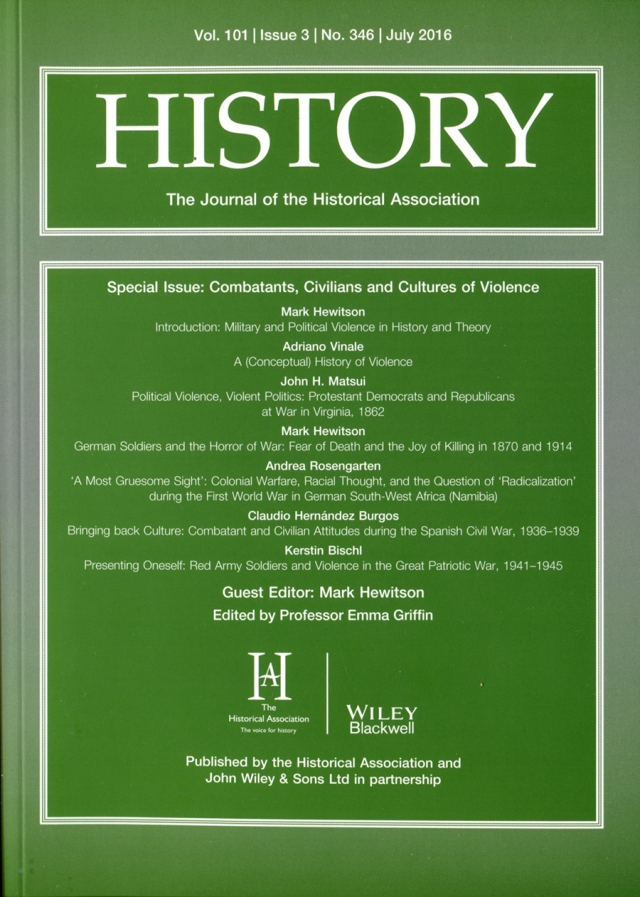 Special Issue: Combatants, Civilians and Cultures of Violence
Articles:
1. Introduction: Military and Political Violence in History and Theory (pages 337–361) Mark Hewitson
2. A (Conceptual) History of Violence (pages 362–378) Adriano Vinale
3. Political Violence, Violent Politics: Protestant Democrats and Republicans at War in Virginia, 1862 (pages 379–395) John H. Matsui
4. German Soldiers and the Horror of War: Fear of Death and the Joy of Killing in 1870 and 1914 (pages 396–424) Mark Hewitson
5. 'A Most Gruesome Sight': Colonial Warfare, Racial Thought, and the Question of 'Radicalization' during the First World War in German South-West Africa (Namibia) (pages 425–447) Andre Rosengarten
6. Bringing back Culture: Combatant and Civilian Attitudes during the Spanish Civil War, 1936–1939 (pages 448–463) Claudio Hernandez Burgos
7. Presenting Oneself: Red Army Soldiers and Violence in the Great Patriotic War, 1941–1945 (pages 464–479) Kerstin Bischl



Access these resources now!
All past editions of History are accessible as full journals or as articles. These can be accessed if you are a member who is also subscribed to History.
You need to be logged in to the HA website and subscribed to History to use the link below:
Access online versions of the HA Journal History here...
If you would like to add History to your subscriptions please contact our Membership Team:
Tel: 0300 100 0223
Email: membership@history.org.uk