History 351
The Journal of the Historical Association
Published: 31st July 2017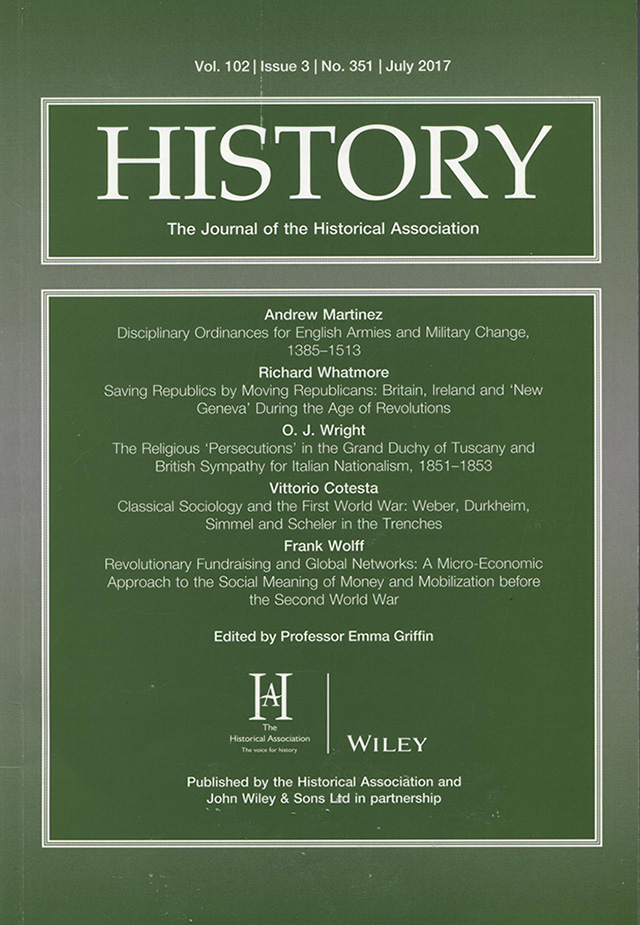 Articles
Disciplinary Ordinances for English Armies and Military Change, 1385–1513 (pages 361–385) Andrew Martinez
Saving Republics by Moving Republicans: Britain, Ireland and 'New Geneva' During the Age of Revolutions (pages 386–413) Richard Whatmore
The Religious 'Persecutions' in the Grand Duchy of Tuscany and British Sympathy for Italian Nationalism, 1851–1853 (pages 414–431) O. J. Wright
Classical Sociology and the First World War: Weber, Durkheim, Simmel and Scheler in the Trenches (pages 432–449) Vittorio Cotesta
Revolutionary Fundraising and Global Networks: A Micro-Economic Approach to the Social Meaning of Money and Mobilization before the Second World War (pages 450–478) Frank Wolff
Access these resources now!
All past editions of History are accessible as full journals or as articles. These can be accessed if you are a member who is also subscribed to History.
You need to be logged in to the HA website and subscribed to History to use the link below:
Access online versions of the HA Journal History here...
If you would like to add History to your subscriptions please contact our Membership Team:
Tel: 0300 100 0223
Email: membership@history.org.uk