The Young Quills longlist 2022
HA annual awards for best historical fiction for young people
Published: 11th February 2022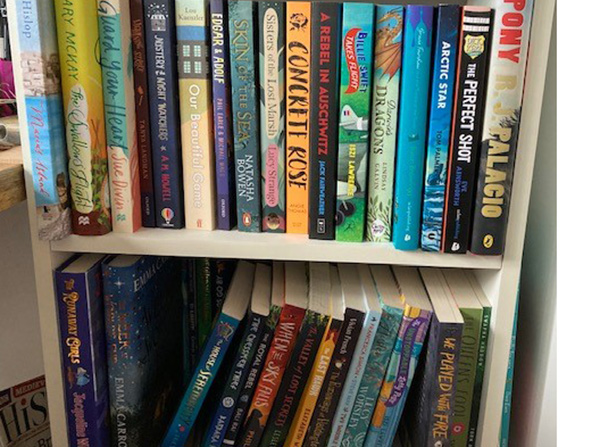 Young Quills 2022 – the longlist
The Young Quills longlist for 2022 is now in schools. If you are looking for something to excite students this term with reading then take a look at our latest Young Quills books.
The books listed below have all been dispatched to HA member schools up and down the country for young readers to get their reading and reviewing skills into gear.
The Young Quills books for each year must be published for the first time in English in the year preceding the competition – so 2021 for this year's selection. Divided by age suitability the books are given to schools on the condition that the children and young people there write a review of the book following our criteria. Those reviews are used as the basis for us to create a shortlist from which the winners are selected. We also publish some of the reviews. All this means the intended audience of the books are part of the judging process.
However, you don't have to be part of each year's judging groups to be able to appreciate the Young Quills – just pick up one of these books and appreciate some of the best in new historical fiction for young people.
This year the entries for the awards can take children around the world and across time – there really is something for everyone.
| | | | |
| --- | --- | --- | --- |
| Title | Author | Publisher | Age range |
| Two Terrible Vikings | Francesca Simon (illus Steve May) | Faber | 5-9 |
| Arctic Star | Tom Palmer | Barrington Stoke | 8+ |
| Maria's Island | Victoria Hislop & Gill Smith | Walker | 8+ |
| Pony | R J Palacio | Puffin (Penguin) | 8+ |
| The Last Hawk | Elizabeth Wein | Barrington Stoke | 8+ |
| The Royal Rebel | Bali Rai | Barrington Stoke | 8+ |
| The Runaway Girls | Jacqueline Wilson | Puffin (Penguin) | 8+ |
| Mystery of the Night Watchers | AM Howell | Usborne | 8-12 |
| The Chessmen Thief | Barbara Henderson | Cranachan | 8-12 |
| Torn Apart - The Partition of India | Swapna Haddow | Scholastic | 8-12 |
| Darwin's Dragons | Lindsay Galvin | Chicken House | 9+ |
| Dick, Kerr Girls: The Perfect Shot | Eve Ainsworth | UCLan | 9+ |
| Sisters of the Lost Marsh | Lucy Strange | Chicken House | 9+ |
| The Queen's Fool | Ally Sherrick | Chicken House | 9+ |
| The Runaways of Haddington Hall | Vivian French | Walker | 9+ |
| When the Sky Falls | Phil Earle | Andersen Press | 9+ |
| Billie Swift Takes Flight | Iszi Lawrence | Bloomsbury Education | 9-11 |
| Gracie Fairshaw and the Trouble at the Tower | Susan Brownrigg | UCLan | 9-12 |
| The House of Serendipity: Sequins and Secrets | Lucy Ivison | Usborne | 9-12 |
| Our Beautiful Game | Lou Kuenzler | Faber | 10-13 |
| The Swallow's Flight | Hilary McKay | Macmillan | 10-13 |
| The Valley of Lost Secrets | Lesley Parr | Bloomsbury | 10-13 |
| The Week at World's End | Emma Carroll | Faber | 10-13 |
| Edgar and Adolf | Phil Earle & Michael Wagg | OUP | 11+ |
| Lightning Strike | Tanya Landman | OUP | 11+ |
| We Played with Fire | Catherine Barter | Andersen Press | 12+ |
| A Rebel in Auschwitz | Jack Fairweather | Scholastic | 12-16 yrs |
| Skin of the Sea | Natasha Bowen | Penguin | 12-17 yrs |
| Concrete Rose | Angie Thomas | Walker | 14+ |
| Guard Your Heart | Sue Divin | Macmillan | 14+ |