Black Powder
By Ally Sherrick
2017 Young Quills Winner, under 12s category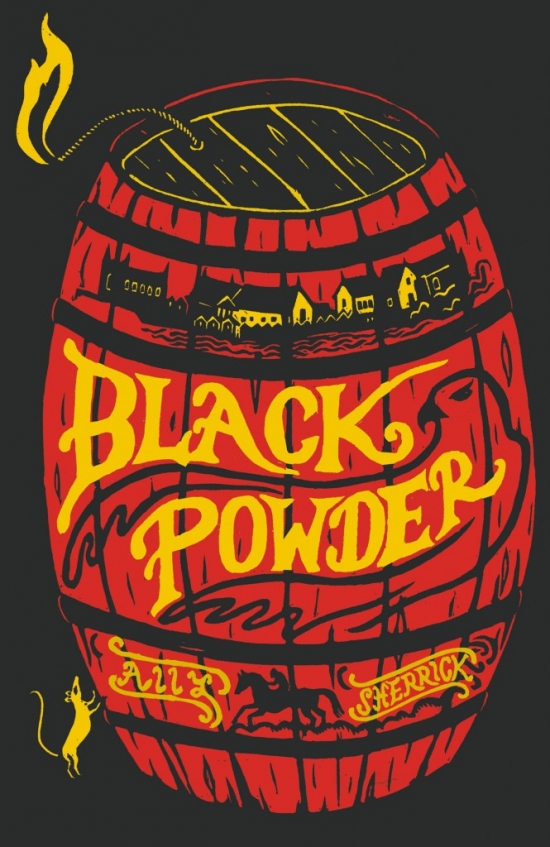 1. Black powder was a fun book but it was a bit unadventurous when I first got the book I thought it would be adventurous but it wasn't that adventurous. I liked the book when at the beginning it was a bit like a movie which has just started . It was a little bit funny especially at the beginning with the guards were messing about. It got a bit boring on the after the 1st chapter but I did enjoy the beginning it was so funny and interesting. I would rate this out of ten about 7-10. It was historical because it was about the hangings as a punishment and at the end it said all about the gunpowder plot and many more
(I did learn a lot about the hangings and many more)
By Jessica
2. I really like the book from the gunpowder plot in 1605. When Toms dad get took away and that guy who went into his house really scared me. Tom was really brave to go and save his dad.
By Eryk
3. Black powder is a good book; I liked the setting as the middle ages are my favourite time period. It taught me about life as a Christian life in the middle ages and that many Christians were killed. I also learnt about crime and punishment in the middle ages. I think it teaches realistic and interesting history.
My favourite character is Tom, because he is very disobeying and when his mother sends him to get a bucket of water he goes to a hanging session! It also taught me about the gunpowder plot on the 5th of November 1605.
It was definitely a book worth reading.
By Ally
4. The first page of Black Powder was so enjoyable and mysterious that I just had to turn the page and keep reading! I especially liked the little boy who sorrowfully had to watch people from his belief getting hung on gallows, this triggered strong emotions within me- I was almost moved to tears. Furthermore, I also like his Dad, because he's very generous and had a kind heart. He also demonstrated his bravery when he tried to save a priest and hide him from the deadly gallows.
The history in this book was extremely realistic-when people were getting hung up on the gallows I felt as if I was watching it right in front of me .Also, I love how the author included the history of The Great Fire of London in this book too, it was a pleasurable and interesting way to learn about history.
Black Powder has definitely intrigued me to keep learning about history and its secrets throughout the timeline. Ally Sherrick has succeeded in pulling me in to reading more of her fascinating books. Her books are truly great!
I love this book so much; I will probably stumble across it again and enjoy reading it for a second time!
By Ruby
5. I enjoyed the book because it had lots of unexpected twists, particularly at the end. I loved the spooky parts, they made me want to read on.
My favourite character was Cressida. She changed during the story; I enjoyed reading, as she became nicer: more kind and caring.
I learnt a lot about life on the busy streets in 1605 and why Guy Fawkes died. The information at the end told me about why the author decided to write the story. Reading the story has made me decide to find out more about Guy Fawkes and why he did what he did. I'd also like to read more stories about the characters, including Tom and his family, I'd really like to know what the author thinks might have happened to his uncle, how would he have been treated?
The story kept me interested all the way through. I felt as though I was overhearing the characters as they talked. I felt as though I really knew them by the end. Ally Sherrick describes the characters so well, even the ones who are always dressed in black and are a bit sinister. I was interested in all of them.
Now, I'd like to find out more about life in 1605 and I'd like to find out if the author just writes about the plot or if she's interested in other stories from history too. I'd definitely recommend this book to a friend of mine who loves history. It's a great mixture of mystery and history, she'd love it.
By Madison
6. I liked this book because it is based on factual history. The event I liked is how Thomas's father was harbouring something secretive!...Reading this book made me want to read more historical books because of how intriguing this book was. This book is based in 1800s when Catholics weren't excepted and were hung a lot of the time and Thomas's father was harbouring something secretive and Thomas had to save his father from the hangman!!! I would recommend this to year 5 and over or someone who is good at reading larger books because this book is quite wordy.
By Cameron
7. Black Powder, written by Ally Sherrick, is an incredibly detailed book set in the year 1605.It has an interesting story line packed with facts from the past into a fictional story. I've really enjoyed reading this book; don't let the 300 pages of writing put you off! It's 300 pages of description and characters with weird personalities.
In black powder the twelve-year-old Tom is in a race to save his father from being hanged. Time is ticking and he is in desperate need for help. He goes to his uncle Montagues house but he is of no help to Tom, so he makes a deal with the fearsome Falcon. Can Tom trust his new so-called friend in the race for his father's freedom?
Over the course of the book the adventure expands. Tom is always travelling and coming up with ideas along with his 'gang'. He bumps into strangers he has come across before and even makes a few enemies. What could possibly go wrong in the world of plotting and gunpowder?
I love how this book re-creates the plot of the well- known criminal, Guy Fawkes, but with a surprising twist. It's great how the reader can see the thoughts of the gang, but little does Tom know there will be problems ahead. I wish I was there to tell him what was going on! Will Tom be able to cope with extra problems in his busy life?
I definitely recommend this book to both girls and boys. I think that ages 8 and up with love this adventurous story! This book really grabbed my attention and pulled me into the book. I couldn't put it down! When reading Black Powder you are always on your toes wondering what will happen next, but watch out, what the author is telling you may not be 100% true. Will everything be alright in the end? Find out by reading this fantastic book!
By Lauren
8. I really enjoyed this book because it's set around the time of the Gunpowder Plot. It talks about the real motives behind blowing up Parliament and why Guy Fawkes did what he did. It is very exciting because some parts are fictional so it makes it more enjoyable. It is very well written because at the end of the chapter it builds up suspense very well. I really enjoy historical fiction books so I loved reading it. I think this book is for people who enjoy reading historical fiction and who are ages 10-12.
By Timothy
9. I thought the book was really good because it taught me as well as entertained me. I also liked it because you could tell it hadn't been rushed and the author remembered every little detail there was to add. I enjoyed meeting all the characters (especially Mr Browne) in the book. Even though I got confused in some places overall I really enjoyed the book. It would probably appeal to boys more as there is a lot of action and some pretty scary moments.
By Michael
10. I enjoyed Black Powder a lot because it was amazingly dramatic. I really liked the way it started off calm, even though it was a little boring, but then became more and more exciting.
One of my favourite moments in the book was the part when the father of Tom (who is the main character in the book) was being kept in prison. It was a sad moment but I liked it because it was so emotional.
Tom and Falcon were my favourite characters in the book because they were caring even though they knew they could get in trouble for it.
I really thought that the history in the book was accurate. I have learnt about highwaymen, who are from the same period of history, and the book mentioned things like hanging people which I knew was something that happened then.
The book really made me want to find out more about history. Black Powder got me very interested in history and I want to see if there are similar books that could do the same.
I would recommend this book to someone else because it is a dramatic story.
By Kuba
11. I thoroughly enjoyed reading Black Powder. The story was adventurous, thrilling and emotional. It gave an insight into the story of Tom Garnet and Guy Fawkes.
I especially like the part of the story where Tom and Cressida (Mistress Marina) water the gunpowder and when Tom singlehandedly rescues the King from being assassinated, his father from a hangman's noose and Parliament from being obliterated.
Apart from Tom (the main character), Cressida was my second favourite character because she was a strong, independent girl who was determined to follow her dream.
This book has inspired me to read more historical books. Reading about 1605 was like watching an interesting film and I would like to know more about that time, especially the Gunpowder Plot.
If I could change one thing about the books, I would make the king give Tom a knighthood. I though he deserved one for saving the King and thousands of his subjects.
I would give this book 10 out of 10! I would definitely recommend this book for other people to read, especially to anyone who like happy, emotional and brave endings.
By Sarvesh
12. I'm enjoying reading this book because it's very exciting and it has lots of twists and turns in the plot.
I like that it shows you how awful it was to live as a Catholic at this time in England and you would have to live a lie to protect yourself and your family.
The main character in the book is called Tom and you are in constant worry for him – will he get caught? Will he save his father? Will he get his mother out of 'Gaol'? Who can he trust?
Strangely, my favourite character in the book is actually his pet mouse 'Jago' who comforts him throughout his adventures, but also causes lots of mischief.
The only thing I wasn't that keen on was Tom's attitude as I think he was ungrateful when others showed him hospitality, but I understand he may have been frightened as the High Countess was very scary.
It's strange to think that a boy the same age as me had to travel on his own to London and had so much freedom in very worrying times. To think his mother was arrested for being a Catholic and his father was being hunted by the King's Guards and he ends up completely alone and trying to find help to save them.
Overall this is a really gripping book with lots happening that keeps you reading!
13. I think that Black Powder really is a great book as it involves a lot of history. The boy trying to find his father is really an emotional story. I think the book is aimed at quite a high standard of reading level. I think the history in this book really is realistic because the features in this book really relate to real history. The book did give me an urge to read more about history because this book showed that history if you delve into it and research it, it can be extremely interesting. This book was an emotional sad story and yes, if I found another one of Ally Sherrick's books I would pick it up and read it.
This book was full of different emotions especially more on the sad side. This book is one of my favourites out of the ones shortlisted because I felt it was aimed at maybe an older age group because books like Julius Zebra were still great books but maybe aimed at 8 year olds. This is one of the best books I have ever read, it is really well structured and great if you love history or sad stories.
In summary Ally Sherrick wrote a great book and one thing I forgot to mention was that the Falcon I personally think really did help the boy from saving his father. This book would be aimed at an age that is around 10 to 14 which is a very high standard.
By Blake
14. I loved this book and I liked how it was set in the Stuart era (I was intrigued by this as I haven't learnt about the Stuarts yet). A religious theme was sewn throughout this book as Tom and his family were Catholics and how they travelled to London to save his father. I think the history is realistic. The Gunpowder Plot was a real event and at the time (1605) Catholics were suffering persecution just as they were in the book. I found the title of the book gripping as it made me want to read it and find out more about the plot to blow up the Houses of Parliament. Overall, I think the author did an excellent job!
By Hamza
15. I did and did not enjoy reading this book. I did like the characters as they were all very different and interesting. The history in the book, in my opinion, was real and the language I feel was relevant to the era. I didn't enjoy the book as it explained too much, it was too detail for me and I felt that two of the chapters were about the same thing. I am not saying this book isn't good but it as the history is hard to understand many readers might just give up. I might try the book again but perhaps when I am older.
By Farha
16. Yes I enjoyed the book –I think the character I particularly like was Tom. Yes I think the history is realistic – it's made me interested in the old days. Ally is a fantastic writer – I want to say this is a fantastic book.
By Thanh