Young Quills Awards 2019 – the winners
Published: 16th July 2019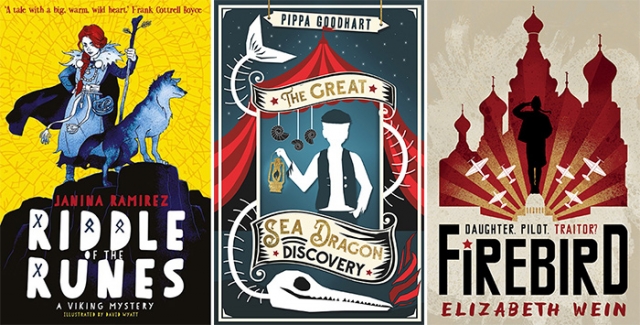 Announcing this year's winners of the HA's Young Quills Historical Fiction Competition for children and young adults:
6–10 years category: Janina Ramirez for Riddle of the Runes (Oxford University Press)
11–13 years category: Pippa Goodhart for The Great Sea Dragon Discovery (Catnip Publishers)
14 years and above category: Elizabeth Wein for Firebird (Barrington Stoke)
It has been another year of fabulous historical fiction and the Historical Association has been very excited about the amount of entries that were put into the early stages of the competition – making the shortlisting a difficult job this year. Fortunately it is not left entirely to the HA staff to create the shortlist – instead all the books that are entered are sent out to schools and pupils provide reviews for each of the books. Those reviews provide the foundation for creating the shortlist. It is then the task of the judges to make the final decision. For this year's books there were over 300 reviews received!
This year the judges were:
Tony Bradman, author and winner of 2018 Young Quills (6–10 years) for Anglo-Saxon Boy
Rob Nixon, teacher and member of the HA Primary Committee
Paula Kitching, Historical Association
After a couple of months of constant reading, note-taking and comparing the judges reached their decision and it was left to the head judge Tony Bradman to make the announcement at the HA awards evening on 10 July 2019.
All the winning books were outstanding in their categories. Riddle of the Runes is renowned historian Janina Ramirez's first book for children and brings the Viking world to life using a strong and engaging female character.
See our young readers' reviews of Riddle of the Runes
Pippa Goodhart has written numerous children's books over the years and has brought many ideas and themes to life. The Great Sea Dragon Discovery is a fascinating book that explores class and society in 19th-century Britain through the experiences of a young boy and his family as he also digs up fossils for money and excitement.
See our young readers' reviews of The Great Sea Dragon Discovery
Elizabeth Wein's insightful and unusual Firebird explores the role of women in the Soviet Union through the experiences of a female pilot at the start of the Second World War.
See our young readers' reviews of Firebird
Congratulations to all the winners and all those that were shortlisted this year.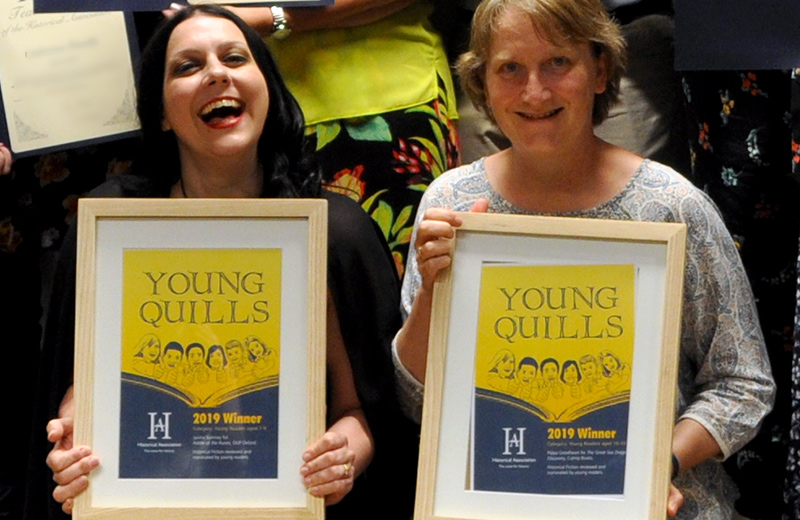 Janina Ramirez on her win: "What an honour to be presented with the Young Quills award by my hero Tony Bradman. I'm so honoured to have one and to have helped young people to immerse themselves into the Viking World."
Pippa Goodhart said: "The Young Quills Award tests historical fiction for children in the best possible way, asking child readers to select the shortlists from which expert historians choose winners. I am hugely proud that The Great Sea Dragon Discovery is one of those winning books from amongst so many wonderful stories well told. It was reading historical fiction that led me into doing a history degree, and it's lovely to think that my book might inspire a similar interest in young readers today. Thank you so much to the Historical Association and to those young reviewers!"
Elizabeth Wein said: "There's nothing more rewarding than being recognized by your readers! I am thrilled that Firebird has been chosen for a Young Quills Award. It's an honour and a delight to know I can inspire the rising generation with a story of courageous young people in the past."
Entries for the coming year's competition must have been published in 2019. If you are interested in entering books please contact mona.anjoom-zaman@history.org.uk. For further information contact Paula Kitching, 07720 809 481.
Notes

The Young Quills Historical Fiction competition is held every year, both to recognise good historical fiction writing for children and young people and also to encourage youngsters to read these books for pleasure and in doing so awaken or deepen their interest in history and understanding of what life was like in various periods of the past. In order to ensure the 'readability' of the books submitted, they are sent out to a number of schools who have volunteered to ask their pupils to act as reviewers. To qualify for entry the books considered must have been published in the previous year.