The Knights Templars
Article
By Malcolm Barber, published 1st December 1998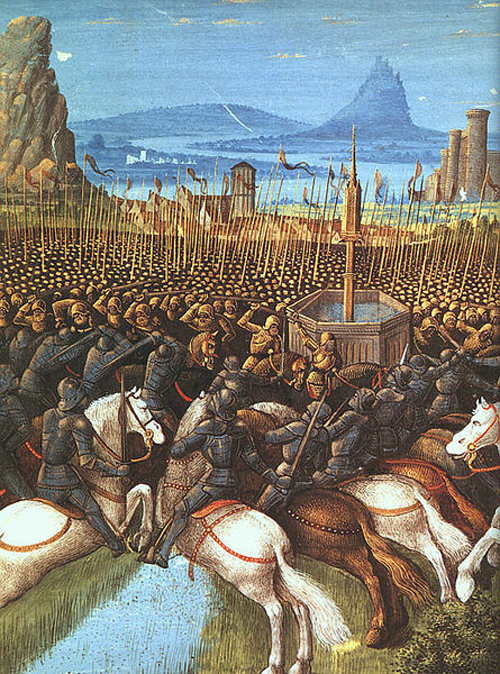 Professor Malcolm Barber explores the rise and fall of the Knights Templars.
"The master of the Temple was a good knight and stout-hearted, but he mistreated all other people as he was too overweening. He would not place any credence in the advice of the master of the Hospital, Brother Roger des Moulins, nor in that of Brother James of Mailly, who was the marshal of the Temple, mocking him and telling him he was speaking like a man who wanted to flee. At which the marshal replied that he would not flee from the battle but would remain in the field like a noble, and that he [Gerard] would flee like a wicked man and an apostate. Then the master of the Temple and the knights who were with him went forward, so that they struck at the Saracens, and the master ofthe Hospital also. The Saracens received them gleefully, surrounding them so that the Christians disappeared among them. For the Saracens had more than 7,000 armed knights there, and the Christians had only 140. There the master of the Hospital was decapitated, and all the knights of the Temple as well, except for the master ofthe Temple who alone escaped, together with three knights. And the 40 knights who were in the garrison on behalf of the king were all taken."
This passage is taken from a chronicle written in Old French, which was probably patched together in about the mid-thirteenth century. However, there is good reason to believe that this particular section is close to a narrative composed by a man called Ernoul, who was a squire of Balian of Ibelin, one of the most prominent members of the leading baronial family in the Latin Kingdom of Jerusalem in the 1180s. He is describing a battle which took place at the Springs of Cresson, about two miles north-east of Nazareth in Galilee, on May 1, 1187. As Balian and Ernoul arrived at...