---
Articles, Journals & Publications
Curriculum
Trainee, NQT & Teach First
CPD, Guides & Support
HA Podcast Series
HA Competitions
Links, Reviews & Visits
World War 1

The UK's leading professional journal for secondary history teachers, up to and including sixth form colleges.
Support the HA
Make a donation
Publication date: 27th March 2002 by HA
Teaching History 106: Citizens and Communities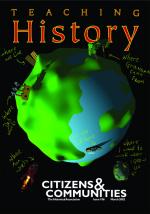 Teaching History 106
This edition deals with the complex debate about whether history should be taught for intrinsic or extrinsic reasons. Balancing the rationaland the emotional in the teaching of contentious topics, Historical significance, Local historical enquiry, Citizenship, Teaching political concepts to post-16 students and much more...
---