Central London Branch Programme
By Chrissie Ganjou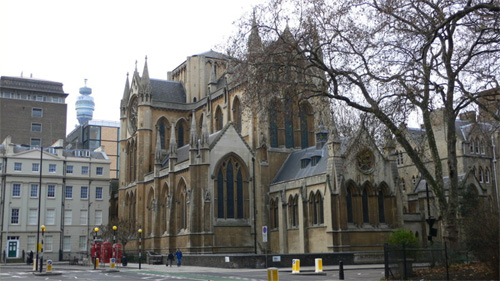 Central London Branch Programme 2019-20
President: Professor David Stevenson (London School of Economics)
Secretary: Mrs Chrissie Ganjou; chrissie@ganjou.com or 020 7323 1192
Treasurer: Mrs Jill Kilsby MA, MBA; jkcharity@outlook.com or 07957 627783
Lectures start at 2.00pm on Saturdays at the Institute of Historical Research, Senate House, University of London, Malet Street, London WC1E 7HU.
Lectures are free to HA Members; £3.00 for non-members.
For events where pre-booking is required, please complete the booking form or contact the Treasurer, Jill Kilsby (see above).
Saturday 5 October 2019
Presidential Lecture: 'The Treaty of Versailles After One Hundred Years'
Speaker: Professor David Stevenson, Professor of International History, Central London Branch President (London School of Economics)
Followed by the Branch Annual General Meeting


Sunday 17 November 2019
Tour: Apsley House, 149 Piccadilly, Hyde Park Corner, London W1J 7NT
Be amazed by the glittering interiors of the grandest address in the capital, once known as 'Number 1 London'. This beautiful Georgian building was the London home of the first Duke of Wellington and has changed very little since his great victory at Waterloo in 1815. Revel in one of the finest art collections in London, with paintings by Velazquez and Rubens, as well as a wonderful collection of silver and porcelain.
Pre-booking and payment required - see booking form
Saturday 7 December 2019
Derek Knight Memorial Lecture: 'King John: The Case for the Defence'
Speaker: Professor Stephen Church, FSA, FRHistS (School of History, University of East Anglia)
To be followed by the Branch Christmas Social. Free to Central London Branch Members; £6.00 for non-members. Pre-booking for the Christmas Social required for everyone for catering purposes - see booking form.


Saturday 8 February 2020
Lecture: '"Fake News"? Managing the Media in the Burma Campaign 1942-1945'
Speaker: Dr Philip Woods


Saturday 28 March 2020
Guided Walk: 'When is a River, Not a River?'
A walk around leafy Canonbury, hear about George Orwell, coal holes, and an unsual method of escape by a would-be bride with London City Guide Pat Smith. Meet at 11.15am outside Highbury and Islington Station.
Pre-booking and payment required - see booking form. Pat's contact number is: 07860 221191 - to be used on day of walk only


Saturday 25 April 2020
Lecture: 'The Impact of the Reformation on English Parishes, around ideas of Iconoclasm, Art, and the World'
Speaker: Dr Felicity M Heal, FBA Emeritus Fellow and Lecturer in History (Jesus College, University of Oxford)


Saturday 9 May 2020
Lecture: 'The Russian Revolution'
Speaker: Dr George Gilbert, Lecturer in Modern Russian History (University of Southampton)


Thursday 11 June 2020
Lecture: 'The History of the Regent's Canal'
Speaker: Dr Roger Squires
Venue: Christ Church Hall Beckenham, Fairfield Road, off Beckenham High Street BR3 3LE at 8.00pm. Coffee and tea will be served from 7.45pm.
Joint Meeting with HA Beckenham and Bromley Branch
Website: http://beckenham-historical-association.org/


Sunday 28 June 2020
Guided Walk: 'Dickens London I'
The first in a series of three walks led by Qualified London City Guide Ann Archbold, exploring the London Charles Dickens knew and wrote about. Meet by the Information Desk at Charing Cross Railway Station at 2.30pm. Second & Third segments in this series of walks to follow in 2021/2022.
Pre-booking and payment required - see booking form. Ann's contact numbers are: 020 7625 6976 or mobile 07884 410812 - to be used on day of walk only