Portsmouth Branch Programme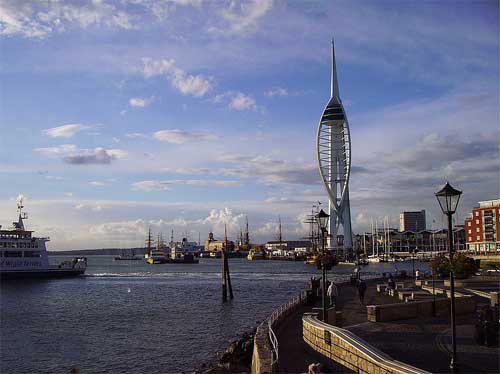 Portsmouth Branch Programme 2022-23
11th October 2022 - Dr James Thomas Memorial Lecture "Wholesome, interesting, educative and respectable": Selling cinema entertainment in early twentieth-century Britain, Dr Rob James, University of Portsmouth.
This paper will evaluate the activities of cinema managers across Britain in the early twentieth century to evaluate what practices they undertook to defend their trade against outside criticism. To establish a balance between respectability and profit, cinema managers were careful to promote the films they exhibited in ways that would appease the sensibilities of the pastime's regulators, while also remaining attractive to the cinema-going public. In addition, they eagerly participated in activities that situated cinema-going as an educational or civic-minded activity, thus promoting cinemas as respectable locations for the public to visit.
18th October 2022 – Social Event at Guildhall Brewhouse & Kitchen, 7-9pm.
8th November 2022 - The Feminine Touch in the late Roman Republic: The Women of Mark Anthony and Octavian, Dr Carey Fleiner, University of Winchester.
Carey Fleiner is Senior Lecturer in Classical and Early Medieval History at the University of Winchester. She has written and lectured on a wide variety of topics in ancient and early medieval history – and on the 1960s pop group, The Kinks. Her most recent publication for Manchester University Press is "A Writer's Guide to Rome" (2020). She has also participated in talks and podcasts on women, wool, and spinning in the Roman world, for example for Ancient History Hits hosted by Tristan Hughes. Dr Fleiner's new subject will be a rarely examined aspect of the final convulsions of the Roman Republic. The lives of leaders such as Octavian (Augustus) and Mark Antony are well known but the women in their families also had an important part to play, either as dynastic 'bargaining chips' or actively by influencing their husbands, brothers, and sons. And some of them became faction leaders – and even warriors in their own right. Dr Fleiner will introduce us to these dangerous Roman women; included amongst them are Fulvia, Octavia Minor, Livia, and Julia the Elder.

13th December 2022 - Byzantium the Forgotten Empire, Professor Jonathan Harris, Royal Holloway, University of London.
This talk is an exploration of one of the great cultural and political forces of the Middles Ages that somehow never made it onto the school curriculum. The lecture looks at who the Byzantines were and why their state endured for so long in very adverse circumstances between the fourth and fifteenth centuries. ​Finally, it will consider why and how, in the end, it disappeared. Jonathan Harris' publications include Byzantium and the Crusades (Third edition 2022), Introduction to Byzantium (602-1453) (2020) and Lost World of Byzantium (2015).
10th January 2023 – Unwitting ethnographers: British soldiers, Dayak, and Confrontation on Borneo with Indonesia, 1962-66, Professor Matthew Hughes, Brunel University London.
Matthew Hughes has been interviewing former British and Gurkha veterans who served on Borneo during the Confrontation with Indonesia in the early 1960s. This talk is the result of his oral history engagement with these veterans and attending regimental reunions, alongside reading memoirs, private papers, regimental journals, and visiting local unit archives. Some interviewing was conducted through a Gurkhali translator. Matthew presents the soldiers' interpretations of local tribes – what soldiers called Dayak and Iban and Murut, with Dayak being the catch-all phrase used here – and shows perceptions of Dayak to be actively (and immensely) favourable, from women's lives, clothing, warrior traditions, ways of longhouse living, drinking culture, tattooing to support from Dayak as trackers for the British army. These views of Dayak were exceptional and unlike other late colonial military campaigns were not the result of 'hearts and minds' forced on soldiers by higher command but came organically from within soldiers and junior officers, most of whom had never been abroad before, let alone to a (for them) exotic jungle setting. Matthew Hughes is professor of military history at Brunel University London. He previously held the Maj-Gen Matthew C. Horner Chair of Military History at the US Marine Corps University.
17th January 2023 – Social Event. Guildhall Brewhouse & Kitchen, 7-9pm.
14th February 2023 - From Hope to Terror: the French revolutionary rollercoaster, 1789-94, Professor Dave Andress, University of Portsmouth
The extraordinary events of the French Revolution, beginning with declarations of liberty and equality, and ending with show-trials and civil war, have often been seen as a process of grim inevitability, in which either the circumstances or the personalities of those involved propelled them down a darkening slope of intolerance and violence. In this talk Professor Andress will explore the many dimensions of French life thrown into disorder by revolutionary upheaval, and offer a re-evaluation, firstly, of where 'blame' might be laid for the course of events, and secondly, of whether such blame is useful in helping us understand their significance.
14th March 2023 - Amiral/Père Thierry d'Argenlieu and the Free French – the Solent connection 1940-44, Professor Adrian Smith, Emeritus Professor of Modern History, University of Southampton.
Thierry d'Argenlieu was both a priest and a naval officer, his wartime allegiance to General de Gaulle facilitating a meteoric rise to admiral and the consequent enmity of the Vichy Government. The Free French had a close connection with the south coast, from the moment d'Argenlieu arrived in Southampton following the fall of France. The exiles' ships twice quit their anchorage in the Medina to join an invasion force, in August 1942 and June 1944 – the Dieppe raid proved a disaster and Operation Overlord a triumph. Meanwhile, d'Argenlieu became de Gaulle's go-to man, from Tahiti to Indo-China. He travelled widely across the French colonial empire; and yet his memoirs confirm a lasting affection for Southampton and the Solent, to where resisters had fled in 1940 and from where they returned home four years later.
18th April 2023 - HMS Victory - Facts and Myths, AJ Noon
Join AJ Noon as he shares his knowledge gained from the last seven years working on HMS Victory, and gain an insight into the key moments in her history, not just the Battle of Trafalgar. From the common misconceptions, to the quirkier facts of her life, AJ will give you a new appreciation of Nelson's flagship and the struggles the ship has been through to still be here now. AJ Noon is the author of The Essential Visual HMS Victory, and the founder and editor of The Trafalgar Times, a quarterly Age of Sail newsletter.
9th May 2023: Russia and the West: the Origins of the Crisis in Relations, Dr PauL Flenley, University of Portsmouth. The Branch's Annual General Meeting will also be held this evening.
The talk will place the current crisis in historical perspective. It will examine the "problem" of Russian identity and how Russia has defined itself in relation to Europe. It will consider Russian approaches to security and examine some of the "misunderstandings" in relations with the West at the end of the Cold War. Dr Paul Flenley is a Senior Lecturer in International Relations and Politics, University of Portsmouth and has published and researched in the area of the Russian Revolution, Russian national identity and Russia's relations with the West. His most recent publications look at the concept of Europeanisation in Russia and the EU's relations with its Eastern neighbourhood. He teaches across a range of courses on Russian and Soviet History and Politics, Ideology and European International Relations. He is a long-time editor of The Journal of Area Studies.
16th May 2023 – Social Event. Guildhall Brewhouse & Kitchen, 7-9pm.
Venue for talks: Room 2.01 Park Building, King Henry I St, Portsmouth PO1 2BZ All talks start at 7pm and finish no later than 8.30pm. Pay on arrival: £3 per lecture, or £15 for all lectures October to May. Students and HA members free. No need to book a place, just turn up.
For further information or to be added to our email distribution list please contact Kate at portsmouthhistorybranch@gmail.com or call James on 07933521448.
https://www.history.org.uk/branches/resource/1775/portsmouth-branch-programme
https://www.facebook.com/Portsmouth-History-Association-Branch-103900362210248