On Saturday 12th March 2016, forty-three students from nineteen schools convened at King's College London for the Agincourt Tournament, a one-day public-speaking competition for 15-19 year olds organised by the Historical Association as part of our Agincourt 600 funded projects. The students travelled from across the country to present their argument to the question: 'Agincourt, Waterloo, the Somme: why do some battles resonate through history?'
Our hosts for the day were the Sir Michael Howard Centre for the History of War, providers of expert academic judges to add to the HA's education and public speaking specialists. King's was an ideal location to consider such a question: one of their founders was none other than the Duke of Wellington, victor at Waterloo and to be evoked in speeches throughout the day.
The competition was organised into three rounds. Students had four minutes each to argue their case, with time for questions (and their intensity) increasing as the rounds progressed. The first round of four heats saw the competitors whittled down to twenty semi-finalists before lunch, and then to nine finalists. Each of the judges for the earlier rounds remarked upon the strength of the competitors' knowledge and the fine margins needed to make their decisions.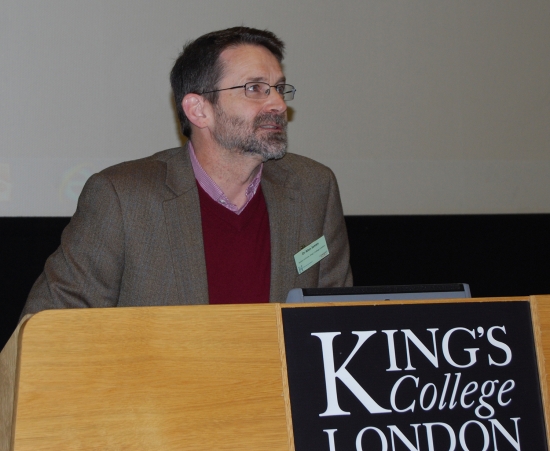 The quality of argument on display in the final was no less impressive. The assembled students, judges and guests were treated to a range of opinions not just on the battles themselves but concerning the nature of mythology, identity and collective memory. The judges were required to assess the speeches on a range of criteria, including the organisation and delivery of the argument, students' reasoning, and their use of evidence related to all three battles and the wider historical context.
After a tense deliberation period, the judges announced that the winner was Cerian Richmond-Jones from King Edward VI High School, Birmingham. Cerian spoke eloquently about the physical and cultural impact of the battles on Britain's history and about the different perspectives on the stories history can tell. Cerian received a prize of £150 from the HA.
Second Prize was awarded to Tristan Alphey from The Perse School Upper, Cambridge. Tristan received a prize of £100 from the HA.
Third Prize was awarded to Chloe Curtis-Smith from The Perse School Upper, Cambridge. Tristan received a prize of £100 from the HA.
Each of the participants in the Agincourt Tournament was given a year's free access to the HA's Student Zone, while the finalists each received a commemorative Agincourt mug from Professor Anne Curry.
We are very grateful to our welcoming hosts at the Sir Michael Howard Centre for the History of War; to our judges from across the HA committees and branches; and to our funders Agincourt 600, particularly the Chair of Trustees Sinclair Rogers who chaired the panel of judges for the final.
We have made the speeches of all our finalists available for you here!