Petit's Tours of Old Staffordshire
Book review
By Philip Modiano; reviewed by Trevor James, published 25th March 2019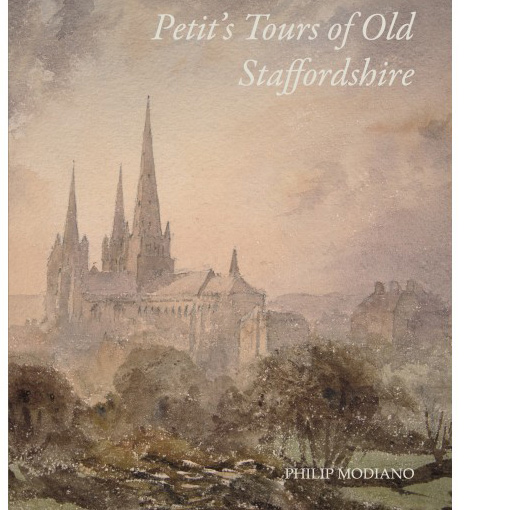 Petit's Tours of Old Staffordshire, Philip Modiano, RPS Publications, 2019, 180p [with 185 images], £14-00. ISBN 978-1-9164931-0-0
Occasionally a remarkable book appears on a most unexpected topic. Philip Modiano's research into the life and creative output of the Reverend John Louis Petit is just one such work.
Modiano presents this relatively unknown clergyman who became a participant in the great mid-19th century debate, with Gilbert Scott and Pugin, over approaches to church architectural design and modification, and was also a hugely talented watercolourist, through a very imaginative approach. What he has done is to assemble a very substantial collection of Petit's watercolours, predominantly churches but also industrial and other scenes, in the form of a series of eight very accessible tours through Staffordshire and the fringes of Shropshire and Derbyshire.
The high quality of Petit's watercolours is more than reflected by the illustrations provided. Some additional items from further afield also reveal his wider observational activity, with Cartmel Priory, Fribourg and Dinon being indications of how far away his watercolouring had taken him. The author does suggest that Petit's work is closer to French Impressionism than to his contemporary Pre-Raphaelites. In accepting this analysis one has to record that Petit's watercolours do provide an excellent source to support our knowledge of the development of very many churches in Staffordshire and nearby counties. His watercolours of St Bartholomew's at Tong, 'that Cathedral of the South Midlands' or St Oswald's at Ashbourne amply confirm his importance as a source for local historians and topographers as they try to 'read' the landscape. A classic example is his watercolour of the entry porch at St Michael-on-Greenhill at Lichfield: it is astounding that a painting of 1828 provides a modern-day awareness that this porch has basically remained unchanged for almost two hundred years.
What is so astonishing is that much of John Louis Petit's watercolouring was kept by descendants and relatives of his sister Emma and were being stored in an old house in Surrey until 1957, after which many were auctioned by a new owner of the house in phases until 1999. It is estimated that he left a collection of 10–15,000 items of work, drawings as well as watercolours.
This book is a fitting tribute to an extraordinarily talented artist, with his home county of Staffordshire taking centre stage; and the manner of presentation is a significant achievement by the author.