David Cannadine Interview about his book: The Right Kind of History
Cannadine Interview
By HA, published 8th December 2011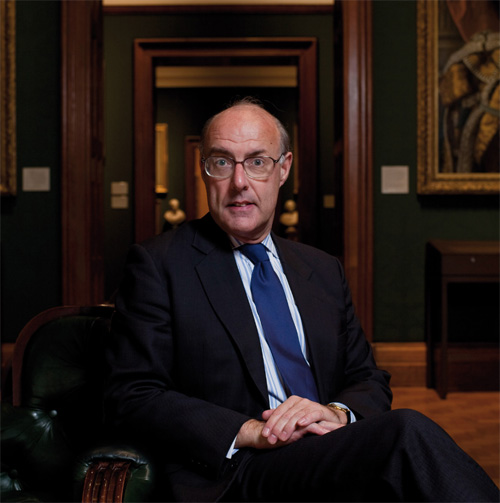 Sir David Cannadine has done the unthinkable he has traced the teaching of history in state schools since the beginning. In his book The Right Kind of History: Teaching the Past in Twentieth-Century England he explores the real history of history education the truth is discovered to that age old statement 'in my day we learnt about...'
The book extensively draws on records from the Historical Association - an organisation that goes practically hand in hand with the presence of history lesson in schools. For history teachers and lovers of history generally this is a fascinating book charting the fashions and attitudes to history over the decades.
To support the release of the book the Historical Association interviewed Sir David and the two researchers on the book Jenny Keating and Nicola Sheldon. The fascinating insight into what it was like to look back on the history of a subject is included here as two podcasts. You might find it particularly interesting to hear how the governments of the early and middle twentieth century refused to be involved with the 'what should be taught' debate believing that only totalitarian governments told teachers what history to teach. An insight into how a subject that explores myths and facts can itself be the subject of myths and facts.
Cannadine Interview
Why did you think it was time for a book like this to be written?
When did history teaching begin in English state schools?
What arguments were made in the early 20th century about how much time should be devoted to history in the classroom?
Was there ever a 'Golden Age' of history teaching?
What did the introduction of assessment mean to schools?
What impact has the need for examination in history affected the history that has been taught?
What use did you make of HMI's and HMI reports?
What history was taught in school before the national curriculum?
What motivated the Conservative government in the 1980s to bring in a national curriculum?
How old is the argument between 'traditional' and 'progressive' history teaching?
Your book avoids the debate that accuses the national curriculum of promoting 'PC' history? Why?
Who were the most significant Ministers of Education?
Why is the subject of history and how it is taught so emotive for both politicians amd the public?
How does history teaching in England compare to other countries in the world?
What recommendations do you make in the book for the history national curriculum?