By Richard Hayman; reviewed by Richard Stone, published 7th September 2021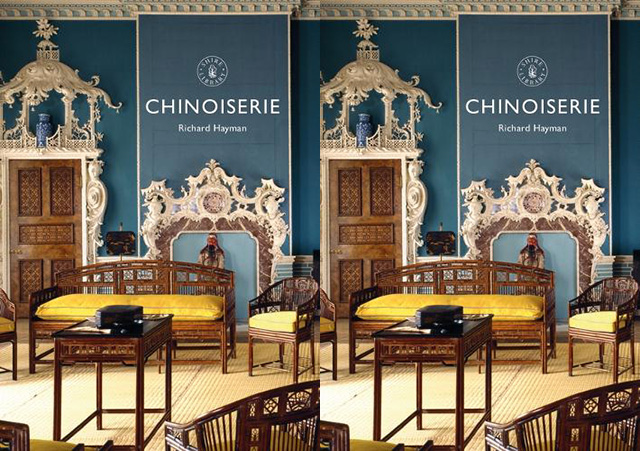 Chinoiserie, Richard Hayman, Shire Publications, 2021, 64p., £8.99. ISBN 978-1-78442-464-0.
Chinoiserie describes the highly imaginative decorative style inspired by a fascination for oriental culture that emerged around 1650, peaked during the Rococo exuberance of the mid-18th century, before going out of fashion in the early-19th century. Motifs including pagodas, pavilions, flowers and trees, exotic birds, dragons and other mythical beasts set in fantasy landscapes appeared on porcelain and wallpaper; as well as influencing furniture design and texture with the introduction of lacquer coating; and, the architecture of bridges and summer houses in parks and gardens.
An introductory chapter is followed by background information on the history of Anglo-Chinese trade, followed by sections on chinoiserie objects and buildings. In the late-19th century there was renewed interest, particularly in Japanese art and craft after the country opened up to the world after two centuries of isolation. Christopher Dresser spent four months there in 1873/74 on behalf of what would become the Victoria and Albert Museum and published an influential book, Japan, its Architecture, Art, and Art Manufactures, in 1882. The final chapter in this book deals with this revival, a far more authentic, intellectually serious and artistically significant cultural engagement.
My personal introduction to chinoiserie was a full-immersion wow factor experience of the Chinese Room at Claydon House in Buckinghamshire (National Trust) many years ago. This explosion of intricately carved, white-painted pinewood, full of chinoiserie detail was a masterwork by Southwark-based Luke Lightfoot for Earl Verney. From a chapter devoted to 'The Chinese Room,' I learn such features were common in both country houses and town houses.
With over 50 full-colour illustrations, this small book is a delightful and informative introduction to an interesting phenomenon. There is a useful section on further reading and a list of places to visit.