If the Kaiser Comes
Book review
John A. Hargreaves, last updated: 20th September 2017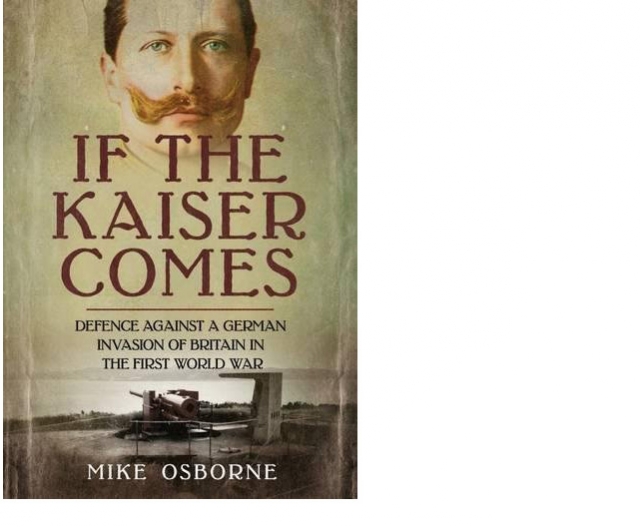 Defence Against A German Invasion of Britain in the First World War
If the Kaiser Comes. Defence Against A German Invasion of Britain in the First World War, Mike Osborne, Fonthill, 2017, paperback, 192 pp., £16.99, ISBN 9781781555750
As commemoration of so many facets of the First World War continue to mark its centenary, particularly focused upon the casualties and fatalities sustained on the battlefields of Europe, Mike Osborne's examination of how Britain prepared to defend itself against a German invasion during the First World War opens up this important aspect of defensive strategy.
As early as the night of 20 November 1914, 'everything pointed to the likelihood of invasion by a German Army, carried across the North Sea on a fleet of fast transports'. This alerted the Royal Navy's Grand Fleet which prepared to sail south from remote bases in Scotland, whilst 300,000 troops stood by to repel the enemy on the beaches, although in the event the night passed without incident.
Whilst the perceived threat of invasion, whether justified or not, persisted throughout the First World War this illustrated study explores the diverse measures taken to protect Britain against enemy attack by land, sea, or air. A cluster of photographs illustrates the vast range of coastal defences: some adapted for use from previous conflicts including the Martello Tower 73 at Eastbourne, designed to repel Napoleonic invaders, as well as a variety of purposely constructed defensive installations at vulnerable points around Britain's coastline, such as the blockhouse and embrasures for Maxim guns at Fort Bovisand, Plymouth.
The detailed text also includes many explanatory line drawings showing maps, plans and cross-sections of other defensive structures, including defences of London's eastern approaches and London's mobilisation centres. Useful appendices detail the hierarchy of 'defended ports' as classified by the Owen Committee in 1905; Royal Navy shore bases and support ships; garrisons, home defence formations and reserve force bases and the RFC and RNAS Stations and Aerodromes covering defence of the skies.
This well-researched book will be a useful reference tool for a wide range of students researching the impact of the First World War, particularly those living near the coasts most at risk.