The Parish Atlas of England
Review article
By T.C.H. Cockin; reviewed by Trevor James, published 28th February 2019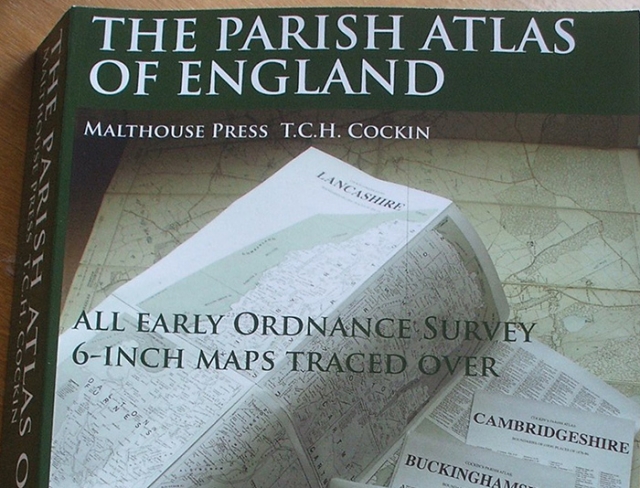 The Parish Atlas of England: All Early Ordnance Survey 6-inch Maps Traced Over, (ed) T.C.H. Cockin, Malthouse Press, 2017, 898p, £60.00*, ISBN 978-1-907364-10-5.
*The Parish Atlas of England is available to Historical Association members at the special price of £45.00 direct from the publishers: The Malthouse Press, Grange Cottage, Malthouse Lane, Barlaston, Staffordshire ST12 9AQ (Tel: 01782-372067).
Tim Cockin's The Parish Atlas of England has been reviewed favourably elsewhere but these reviews do not fully convey what Tim has prepared for us. This is a research tool which will, in my opinion, stand the test of time. Its subtitle is 'All Early Ordnance Survey 6-inch Maps Traced Over' and it is based on pre-1844 boundaries. It took him seven years to compile and the detail is immense.
Having already established in my own mind that this could become an extraordinary aide for anyone pursuing detailed topographical studies, instead of trying to review this work in a conventional manner – in that sense it is just a set of maps – I have tried to test what it contains.
Using the fieldwork areas that I know best – Surrey, Derbyshire, Staffordshire, Leicestershire, Holderness, Warwickshire and the Norfolk coast – I have examined the maps in detail. In terms of inaccuracies, the best that I can offer is that Tim has elided Thornton Heath, north of Croydon, into one word – and some people historically did this anyway – and a colleague pointed out that he has misspelled Catharine of St Catharine's College, Cambridge – as most people do anyway; and, in conversation with him, he revealed that he did not know that Selsdon, a detached portion of Croydon Parish, had historically been known as 'Croydon Crook', again almost a piece of local 'folk' knowledge.
At one point I decided to explore part of the map sequence covering Berwick-upon-Tweed, as England's most north-easterly outpost. Having failed to find it along with the rest of Northumberland, I eventually found it, along with the coastal area down towards Lindisfarne, correctly positioned within County Durham because in the era when these maps were compiled that section of the North East came within the jurisdiction of County Durham not Northumberland.
One feature of the landscape which really electrifies my interest is the evidence of detached portions or parishes and indeed counties. This interest was fostered in my imagination by guidance from Professors W. G. Hoskins and Alan Everitt who tutored me into understanding that detached portions of varying kinds may offer interpretative opportunities into land ownership patterns and relationships, reaching back into what was substantially an era without documentation. Berwick-upon-Tweed is a good example but Tim's research reveals very extensive patterns of unusual territorial distribution. His 'Inset' section reveals some extraordinarily detailed evidence of the technical complexity behind who exactly had extra-parochial ownership of land within many parish areas. My two Inset illustrations are from Staffordshire's Rocester and Yoxall, neither of which are, by any means, the most complex of examples but they illustrate the challenges with which lay and ecclesiastical authorities had to contend as boundaries and local government were regularised throughout the 19th Century.
From the County maps I have selected two further illustrations from Sussex. In the coastal zone the map shows that the parish of Lancing extends several miles eastwards along the coast, basically occupying the foreshore in front of Shoreham harbour all the way to Portslade. There must be a topographical explanation for this. Equally to the north of the Sussex map, a narrow detached 'tongue' of Hampshire extends southwards through the county for several miles, embracing the place names of North and South Ambersham. Without local knowledge one can only speculate about the reason for this unusual feature but this represents the very fuel for the imaginative topographer.
This volume will keep me preoccupied for many years to come as I explore its magnificent detail and it is a very welcome addition to my reference collection.
Trevor James