Tracing Your Ancestors in Lunatic Asylums: a Guide for Family Historians
By Michelle Higgs; reviewed by Trevor James, published 31st January 2020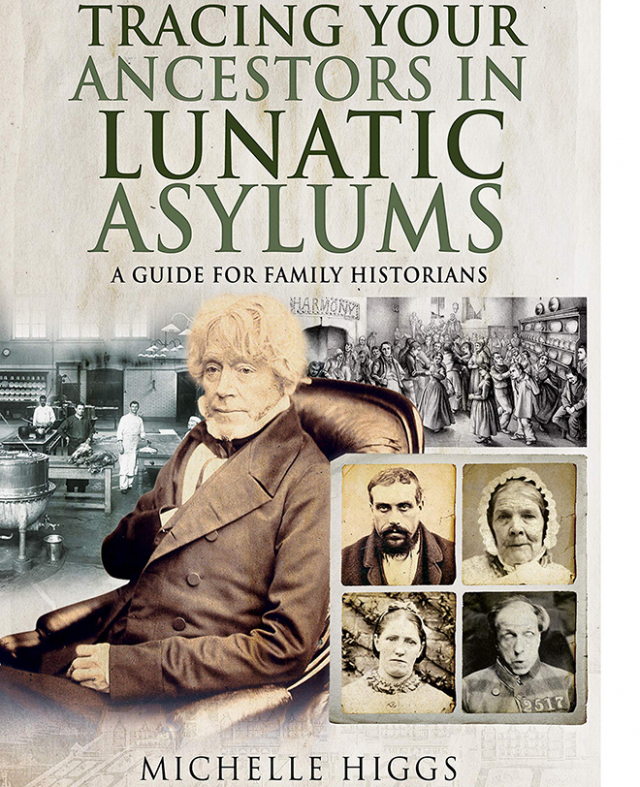 Tracing Your Ancestors in Lunatic Asylums: a Guide for Family Historians, Michelle Higgs, Pen and Sword, 2019, 196p, £14-99. ISBN 978 1 52674 485 2
My great-great-grandmother Emma Wood's brother, Theophilus Wood, died in the Warwickshire Lunatic Asylum in 1871. It was his extraordinary fore-name that initially attracted my attention but it was sad to note the location of his death.
This guide by Michelle Higgs has provided me with sufficient background to explore what had happened to my distant relative. This basket-maker, working on the River Anker in North Warwickshire, was dispatched, as his condition worsened, to his local county asylum at Hatton.
Michelle has explored how the identification of mental health has changed over time in Britain. This is clearly explained against a background of how the regulations and legislation have changed, and how that has affected the nature of the treatment, and indeed the premises in which such treatment has occurred. There has been an evolution in the treatment of mental health. Interestingly some of the early descriptions of mental difficulty often described as being forms of 'melancholy' rather than our modern label of 'depression'. She explains how the people experiencing epilepsy became linked to the treatment of mental health, despite its source and causation being very different.
This is a very helpful book. It reviews the current literature and provides useful advice on accessing and using sources. Its particular merit, from this reviewer's point of view, is the provision of a number of very carefully and sensitively developed case studies which enable the reader to see how various cases developed, and how they were treated, over periods of time.