The Mother of the Brontës: When Maria met Patrick
Book review
By Sharon Wright; reviewed by Trevor James, published 3rd July 2020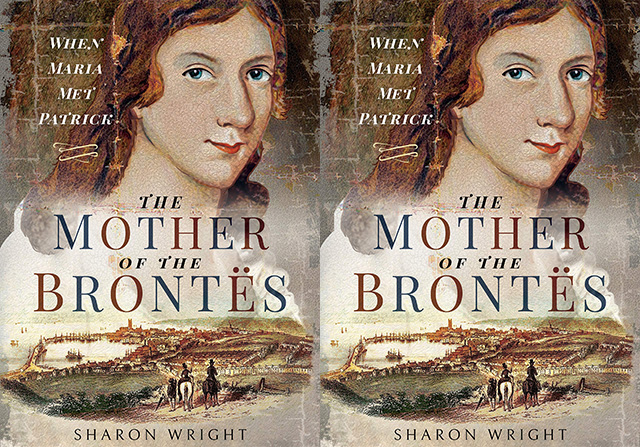 The Mother of the Brontës, Sharon Wright, Pen and Sword, 2019, 182p, £19-99. ISBN 978-1-52673-848-6
With the three Brontë sisters having an international reputation for their creativity and with the parsonage at Haworth having become a literary shrine to their success, the question arises as to what were the ingredients that produced their extraordinary output.
Pen and Sword have quite recently published one volume – Literary Trails: Haworth and the Brontës (2018) which explored the atmospheric context of their life in the moorlands through which the Brontë sisters matured and observed life. Equally they have also published Aunt Branwell and the Brontë Legacy (2018) which revealed the contribution of their Aunt Elizabeth who sacrificed her life in Cornwall to help bring them up, after their mother's unexpected death, and also by her legacy to them which funded their first foray into publishing.
What Sharon Wright now offers us is a very carefully researched biography of their mother, Maria Branwell. She makes it clear that there is very little direct biographical data but she has worked hard to explore the context of Maria Branwell's early life. Her Cornish background gave her a West Country understanding of folk traditions and story-telling, which she brought with her to share with her children in Yorkshire. She had arrived in Yorkshire in 1812 at the invitation of her Aunt Jane who needed her help at the new Woodhouse Grove School. Her early encounter with a local clergyman, Patrick Brontë, meant that she never returned to Cornwall.
Sharon Wright does give some indication of how literate and thoughtful Maria Branwell was by referring to some of her own published text. Most importantly she has used a batch of letters written by Maria to Patrick before their marriage as a major source to identify her personal inspiration, inherited by her daughters, but she also utilises stories that were told of her life after her death. Possibly the most poignant is the loss of a crate of all of Maria's personal possessions – including her trousseau – in a shipwreck in an Atlantic storm off the Devon coast in October 1812, thus meaning that she began her married life in an entirely new setting without any of the mementoes of her past.
We are presented with a very sympathetic backcloth to a remarkable woman who sacrificed her comfortable middle class life in Penzance for a life with an impoverished clergyman in West Yorkshire and this shows how her life contributed to the creativity of her three remarkable daughters.
This is strongly recommended.