Teaching History 186: Removing Barriers
The HA's journal for secondary history teachers
Published: 5th April 2022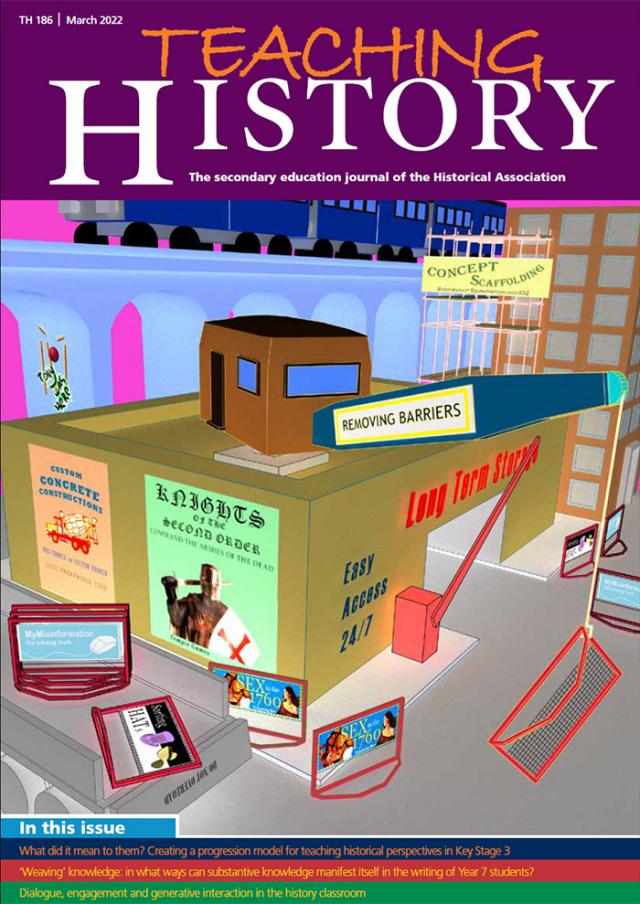 In this edition of Teaching History
Please note: the print version of this edition will arrive with members by mid-April.
02 Editorial (Read article for free)
03 HA Secondary News
04 HA Update
10 What did it mean to them? Creating a progression model for teaching historical perspectives in Key Stage 3 – Jacob Olivey (Read article)
18 It's just reading, right? Exploring how Year 12 students approach sources – Jacqueline Vyrnwy-Pierce (Read article)
32 Cunning Plan... for teaching Samurai Japan in Key Stage 3 – Joseph Player (Read article)
36 'Weaving' knowledge: in what ways can substantive knowledge manifest itself in the writing of Year 7 students? – Diane Relf (Read article)
52 Dialogue, engagement and generative interaction in the history classroom – Michael Bird (Read article)
60 What Have Historians Been Arguing About... Histories of education – and society? – Peter Mandler (Read article)
62 Historical learning using concept cartoons: engaging with pupils' prior conceptions – Christoph Kühberger (Read article)
76 Move Me On: trainee places a huge emphasis on getting students' knowledge secure, but provides little scope for them to use it in analysis or argument (Read article)
80 Mummy, Mummy...
Regular features
Teaching History includes a number of regular features for history teachers including What's the Wisdom on...?, What have historians been arguing about...?, Cunning Plan and Move Me On. You can access past editions of these here.