Teaching History 150: Enduring Principles
Journal
By HA, published 22nd March 2013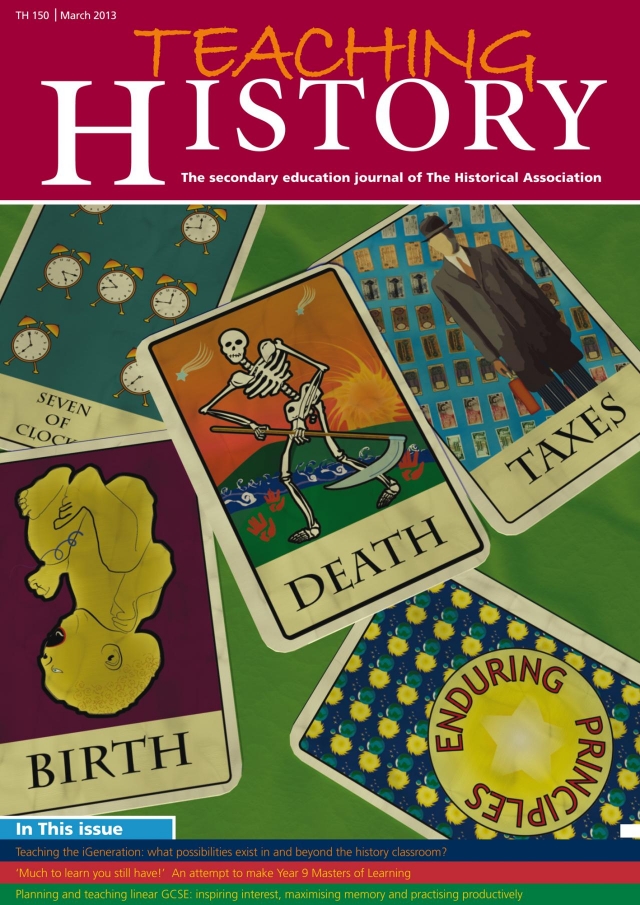 Enduring Principles
02 Editorial
03 Letters
05 HA Secondary News
06 Mary Brown - From Muddleton Manor to Clarity Cathedral: improving Year 12's extended writing through an enhanced sense of the reader
14 John Stanier 'Much to learn you still have!' An attempt to make Year 9 Masters of Learning
20 Triumphs show - Carmel Bones and Liz West
22 Hannah McDougall - Wrestling with Stephen and Matilda: planning challenging enquiries to engage Year 7 in medieval anarchy
28 Polychronicon - David Andress
30 Rosie Sheldrake and Neal Watkin - Teaching the iGeneration: what possibilities exist in and beyond the history classroom?
36 Triumphs show - Paula Worth
38 Katharine Burn, Catherine McCrory and Michael Fordham - Planning and teaching linear GCSE: inspiring interest, maximising memory and practising productively
44 Carla van Boxtel and Jannet van Drie - Historical reasoning in the classroom: What does it look like and how can we enhance it?
55 New, Novice or Nervous?
56 MOve Me On
60 Mummy, mummy...