History 345
The Journal of the Historical Association
Published: 13th April 2016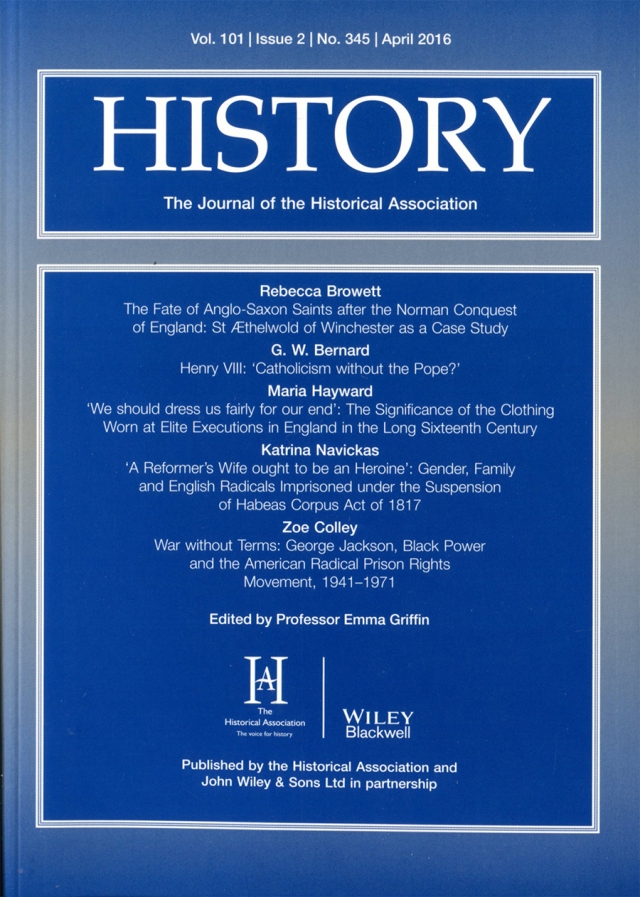 Volume 101, Issue 345: Apr 2016
Articles:
1. The Fate of Anglo-Saxon Saints after the Norman Conquest of England: St Æthelwold of Winchester as a Case Study (pages 183–200) Rebecca Browett
2. Henry VIII: 'Catholicism without the Pope?' (pages 201–221) G. W. Bernard
3. 'We should dress us fairly for our end': The Significance of the Clothing Worn at Elite Executions in England in the Long Sixteenth Century (pages 222–245) Maria Hayward
4. 'A Reformer's Wife ought to be an Heroine': Gender, Family and English Radicals Imprisoned under the Suspension of Habeas Corpus Act of 1817 (pages 246–264) Katrina Navickas
5. War without Terms: George Jackson, Black Power and the American Radical Prison Rights Movement, 1941–1971 (pages 265–286) Zoe Colley
Access these resources now!
All past editions of History are accessible as full journals or as articles. These can be accessed if you are a member who is also subscribed to History.
You need to be logged in to the HA website and subscribed to History to use the link below:
Access online versions of the HA Journal History here...
If you would like to add History to your subscriptions please contact our Membership Team:
Tel: 0300 100 0223
Email: membership@history.org.uk