History 343
The Journal of the Historical Association
Published: 16th December 2015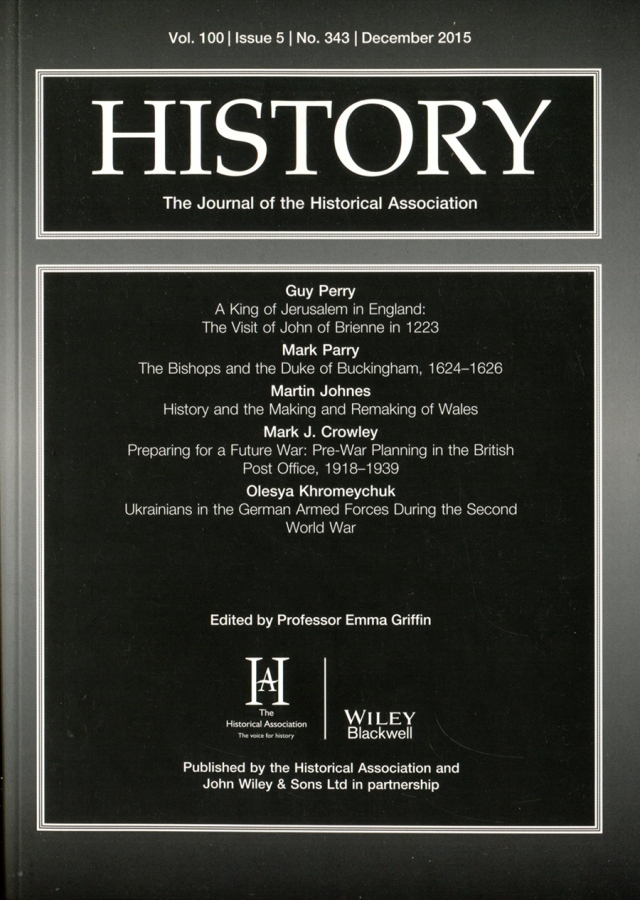 Volume 100, Issue 343: Dec 2016
Articles:
1. A King of Jerusalem in England: The Visit of John of Brienne in 1223 (pages 627–639) Guy Perry
2. The Bishops and the Duke of Buckingham, 1624–1626 (pages 640–666) Mark Parry
3. History and the Making and Remaking of Wales (pages 667–684) Martin Johnes
4. Preparing for a Future War: Pre-War Planning in the British Post Office, 1918–1939 (pages 685–703) Mark J. Crowley
5. Ukrainians in the German Armed Forces During the Second World War (pages 704–724) Olesya Khromeychuk
Access these resources now!
All past editions of History are accessible as full journals or as articles. These can be accessed if you are a member who is also subscribed to History.
You need to be logged in to the HA website and subscribed to History to use the link below:
Access online versions of the HA Journal History here...
If you would like to add History to your subscriptions please contact our Membership Team:
Tel: 0300 100 0223
Email: membership@history.org.uk