History 347
The Journal of the Historical Association
Published: 18th October 2016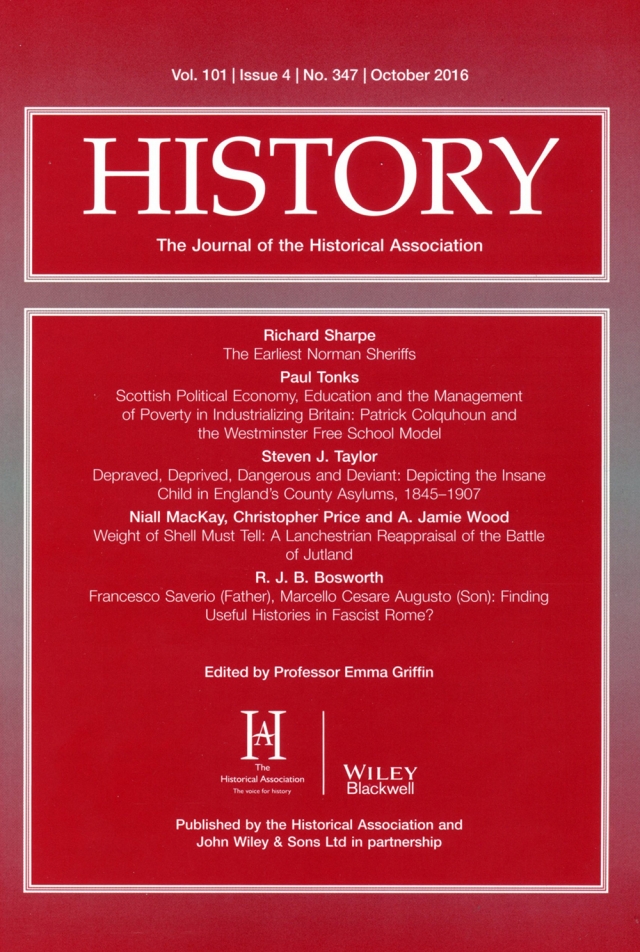 Articles:
1. The Earliest Norman Sheriffs (pages 485–494) by Richard Sharpe (Open Access)
2. Scottish Political Economy, Education and the Management of Poverty in Industrializing Britain: Patrick Colquhoun and the Westminster Free School Model (pages 495–512) by Paul Tonks
3. Depraved, Deprived, Dangerous and Deviant: Depicting the Insane Child in England's County Asylums, 1845–1907 (pages 513–535) by Steven J. Taylor
4. Weight of Shell Must Tell: A Lanchestrian Reappraisal of the Battle of Jutland (pages 536–563) by Niall Mackay, Christopher Pace and A Jamie Wood
5. Francesco Saverio (Father), Marcello Cesare Augusto (Son): Finding Useful Histories in Fascist Rome? (pages 564–582) by R. J. B. Bosworth



Access these resources now!
All past editions of History are accessible as full journals or as articles. These can be accessed if you are a member who is also subscribed to History.
You need to be logged in to the HA website and subscribed to History to use the link below:
Access online versions of the HA Journal History here...
If you would like to add History to your subscriptions please contact our Membership Team:
Tel: 0300 100 0223
Email: membership@history.org.uk