Primary History 77: Out Now
Journal News
Bev Forrest, published 4th October 2017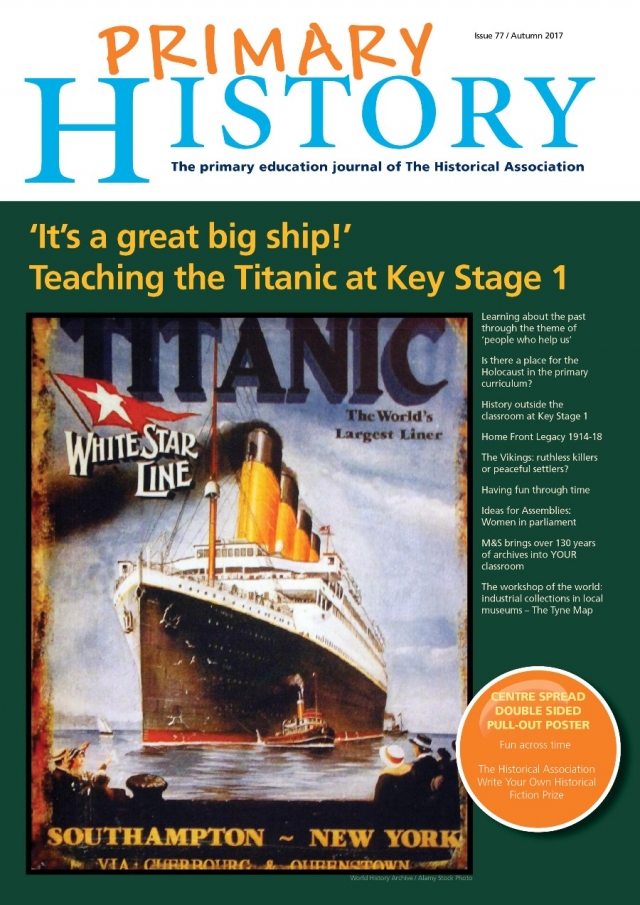 Favourite Things
'Raindrops on roses and whiskers on kittens …' so the familiar song goes when referring to a few of my favourite things. Hearing Michael Wood speaking at the HA Annual Conference at Manchester about the Anglo-Saxons as one of his own favourite things in history, he made reference to how a love of Ladybird books and Eagle comics in his youth fostered his passion for the subject, which led me to think about my own favourite things in history. I began to consider how I discovered them and what makes them so special for me. Our favourite things, whether events, people, periods or places, may not always be the most significant or worthy of study in the subject, but to the individual they have that magical quality which helped to hook them into the world of history.
I am pleased to say that this issue of Primary History has provided me with the opportunity to indulge in some of those areas that feature in my own favourite things. The story of the Titanic, both the myth and reality, continues to fascinate me. This love of the subject was fuelled a couple of years ago when I visited the graves of some of the victims of the tragedy buried in Halifax cemetery in Nova Scotia. This visit inspired me to return to my own studies of the event and to consider how it may be approached with a primary-aged audience. Consequently I was delighted to be able to invite the education officers from two of our leading maritime museums to explore this story further.
Since my own studies in secondary school the Holocaust is an aspect of history which continues to engage me. In 2015 I was invited by the Holocaust Educational Trust to join the Lessons from Auschwitz group to visit the camp and also to meet a Holocaust survivor. This visit and my meeting with Zigi Shipper, who was taken into the camp at the age of 14, strengthened my view that we must tackle any form of injustice and discrimination and should start to support this viewpoint with even the youngest pupils. In this issue Martin Winstone from the Trust discusses why and how this emotive subject can be introduced within the primary school.
One of my favourite things is my hometown of Leeds. In my youth I looked at Leeds through the lens of being an amazing shopping centre with a rich sense of culture and fabulous places to eat, but over time I began to appreciate the history around me whenever I was on an expedition into the city centre. As Leeds is the home of Marks and Spencer I am delighted to be able to bring together in this edition my love of shopping with the history of the city. In her article Caroline Bunce from the M&S Company Archive introduces you to the wealth of treasures contained within the archive. We are confident you will be inspired to utilise its contents either through a visit or via its online resources.
In this issue I am also able to introduce you to the work of one of my favourite people in our history community, Ian Dawson. Ian is a well-respected historian, former director of the Schools History Project and most importantly a brilliant teacher who can make every aspect of history accessible to any audience. I am delighted to be able to include Ian's recent work for primary pupils in this issue. What is more apt for Ian than a study of fun over the ages? This is exactly what Ian is able to do with all learners by introducing them to the fun in the subject.
I am confident that through reading about some of my favourite things in this issue you will begin to consider how to approach these with your own pupils. Through this process you should find personal and professional links that support the development of the child's own group of favourite things. This action should then give them the impetus and confidence to begin to study other areas of history and to embrace the subject as a whole.
Bev Forrest trains primary teachers. She is a member of the HA primary committee, a trustee of the HA and a Quality Mark assessor.
Links: