Primary History 88
The primary education journal of the Historical Association
Published: 14th June 2021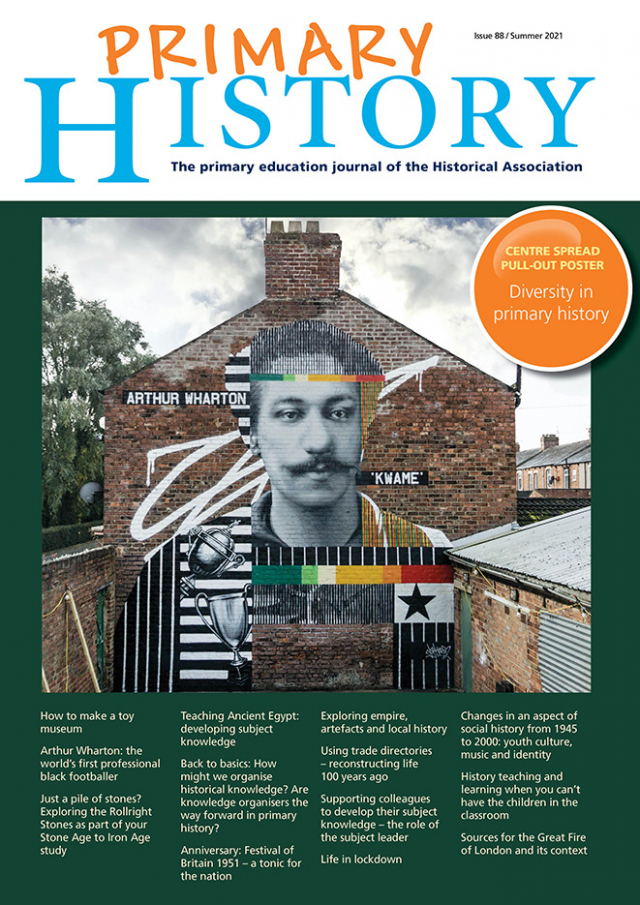 In this edition of Primary History
04 Editorial (Read article for free)
05 HA Primary News
06 HA Update
10 How to make a toy museum – Jenny Wilkie (Read article)
12 Arthur Wharton: the world's first professional black footballer – Matthew Sossick (Read article)
16 Just a pile of stones? Exploring the Rollright Stones as part of your Stone Age to Iron Age study – Helen Crawford (Read article)
20 Teaching Ancient Egypt: developing subject knowledge – Karin Doull (Read article)
26 Back to basics: How might we organise historical knowledge? Are knowledge organisers the way forward in primary history? – Tim Lomas (Read article)
29 Exploring empire, artefacts and local history – Dan Lyndon-Cohen (Read article)
32 Using trade directories: reconstructing life 100 years ago – A case study from Heckington, Lincolnshire – Alf Wilkinson (Read article)
35 Supporting colleagues to develop their subject knowledge – the role of the subject leader – Kate Rigby (Read article)
38 Anniversary: Festival of Britain 1951 – a tonic for the nation – Paul Bracey (Read article)
44 Life in lockdown – Matthew Flynn (Read article)
46 One of my favourite history places – the West Riding Pauper Lunatic Asylum, High Royds, Menston – Bev Forrest (Read article)
48 Changes in an aspect of social history from 1945 to 2000: youth culture, music and identity – Damienne Clarke (Read article)
56 History teaching and learning when you can't have the children in the classroom – Kerry Somers (Read article)
63 Sources for the Great Fire of London and its context – Nina Sprigge (Read article)
Centre spread pull-out poster: Diversity in primary history

Regular features: Primary History runs a number of great regular features including Ideas for Assemblies, One of My Favourite History Places and Pull-out Posters. You can view all editions of these features here.
Cover image: A mural in Darlington of Arthur Wharton, the world's first professional black footballer.
Contributions to

Primary History
Letters, articles and other contributions to the magazine are welcome. Find out more
Publication of a contribution in Primary History does not necessarily imply the HA's approval of the opinions expressed in it.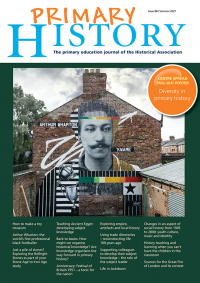 Buy a hard copy of this resource:
Non-member price: £28.00
HA Members can purchase this item for £8.00:
Sign in to pay the discounted price or Join the HA