Out and About - On the Track of Brunel
Article
By Dave Martin, published 15th April 2014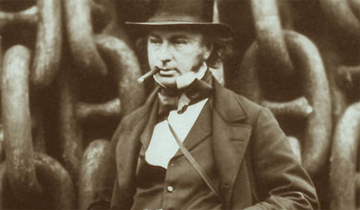 What do the bronze statues of Isambard Kingdom Brunel reveal of the man?
In 'Brushstrokes', his essay on biography, Ben Pimlott wrote: 'A good biography is like a good portrait: it captures the essence of the sitter by being much more than a likeness. A good portrait is about history, philosophy, milieu. It asks questions as well as answering them, brushstrokes are economical, and always to the subtlest effect.
Think of Velasquez, Sargent, Freud. Biography can be like that.'1 When I read these lines I thought, perhaps the same is true of the marks made in clay by Marochetti, Doubleday, Stones and Thomas; all sculptors of Isambard Kingdom Brunel. That prompted me to follow, literally, in Brunel's tracks and to visit five bronze statues of him erected in public spaces. Such bronze statues are an expensive undertaking and by raising them people are expressing their admiration and appreciation.
So that is why, one fine August morning my Brompton (I think Brunel would have approved of its design) and I were in London. Here by the Thames is the first statue erected in his honour in 1877. Brunel stands imposingly high above passers by. On the pedestal the simple inscription, Isambard Kingdom Brunel, civil engineer...