Using the back cover image: Reconstructing the Romans
Primary History feature
By Catherine McHarg, published 26th May 2015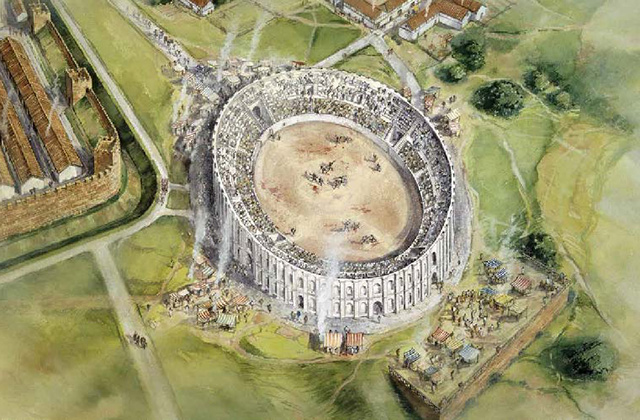 Reconstruction drawing of Chester's Roman amphitheatre
Reconstruction drawings, diagrams and models are vital examples of interpretation that we can use to help pupils understand the past. On one level they help to fire imagination, while on another they offer a way of presenting important historical facts.
The image overleaf is a reconstruction drawing of Chester's Roman amphitheatre, the largest Roman amphitheatre discovered in Britain. It was used for both entertainment and military training by the 20th Legion, based at the fortress of Deva (Chester).
Excavations in 2004-5 showed two successive stonebuilt theatres, each with wooden seating. You can find a photograph, and further background information on the Heritage Explorer site here...
There are many ways to use reconstruction drawings in the classroom, but one of the best is to start by giving pupils a segment of the picture rather than the whole image. This way they learn to focus on the minute details piece by piece. Below is an example of how you might use this image in such a way...