Primary History 85
The primary education journal of the Historical Association
Published: 15th May 2020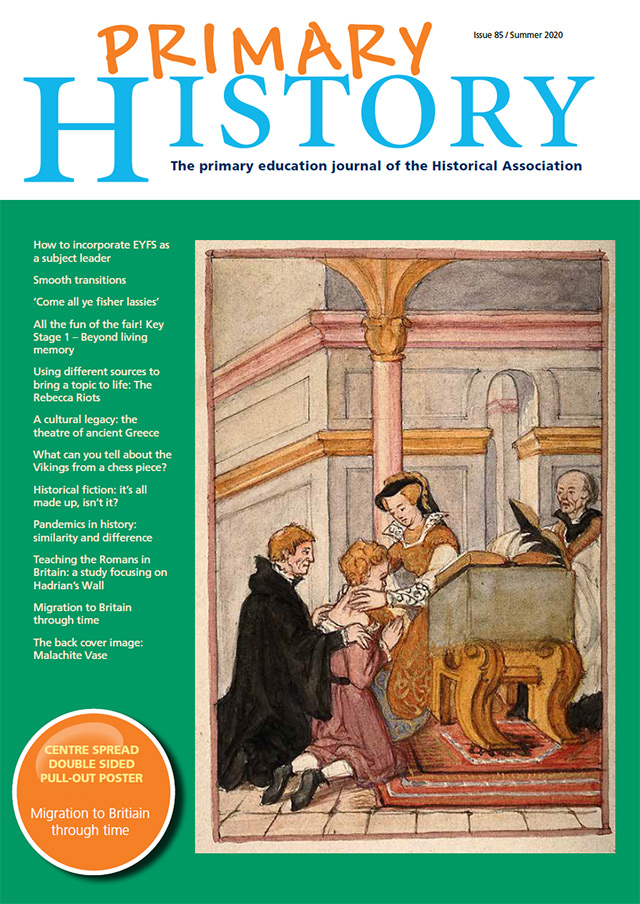 In this edition of Primary History
04 Editorial (Read article for free)
05 HA Primary News
06 HA Update
08 How to incorporate EYFS as a subject leader – Rob Nixon (Read article)
10 Smooth transitions – Linda Cooper (Read article)
14 'Come all ye fisher lassies' – Karin Doull (Read article)
20 Using different sources to bring a topic to life: The Rebecca Riots – Clare Horrie (Read article)
26 A cultural legacy: the theatre of ancient Greece – Karin Doull (Read article)
30 What can you tell about the Vikings from a chess piece? – Alf Wilkinson (Read article)
34 Historical fiction: it's all made up, isn't it? – Alf Wilkinson (Read article)
37 History in the news
38 One of my favourite history places: The medieval town of Conwy – Damienne Clarke (Read article)
40 Pandemics in history: similarity and difference – Matthew Sossick (Read article)
42 Teaching the Romans in Britain: a study focusing on Hadrian's Wall – Sue Temple (Read article)
46 Migration to Britain through time – Paul Bracey and Darius A. Jackson (Read article)
Centre spread double-sided pull-out poster: Migration to Britain through time
Regular features: Primary History runs a number of great regular features including Ideas for Assemblies, One of My Favourite History Places and Pull-out Posters. You can view all editions of these features here.
Cover image: Queen Mary I touching the neck of a boy for the King's evil (scrofula). Watercolour by M.S. Lapthorn, 1911, after a watercolour, sixteenth century. Social distancing as a preventative for curing ills was not always the norm although Tudor monarchs did often leave court when they were concerned about outbreaks of the plague. Credit: Wellcome Collection. Attribution 4.0 International (CC BY 4.0)
Contributions to

Primary History
Letters, articles and other contributions to the magazine are welcome. Find out more
Publication of a contribution in Primary History does not necessarily imply the HA's approval of the opinions expressed in it.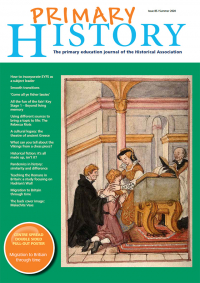 Buy a hard copy of this resource:
Non-member price: £28.00
HA Members can purchase this item for £8.00:
Sign in to pay the discounted price or Join the HA