The Historian 147: Out now
The magazine of the Historical Association
By Jenni Hyde (Editor), published 4th December 2020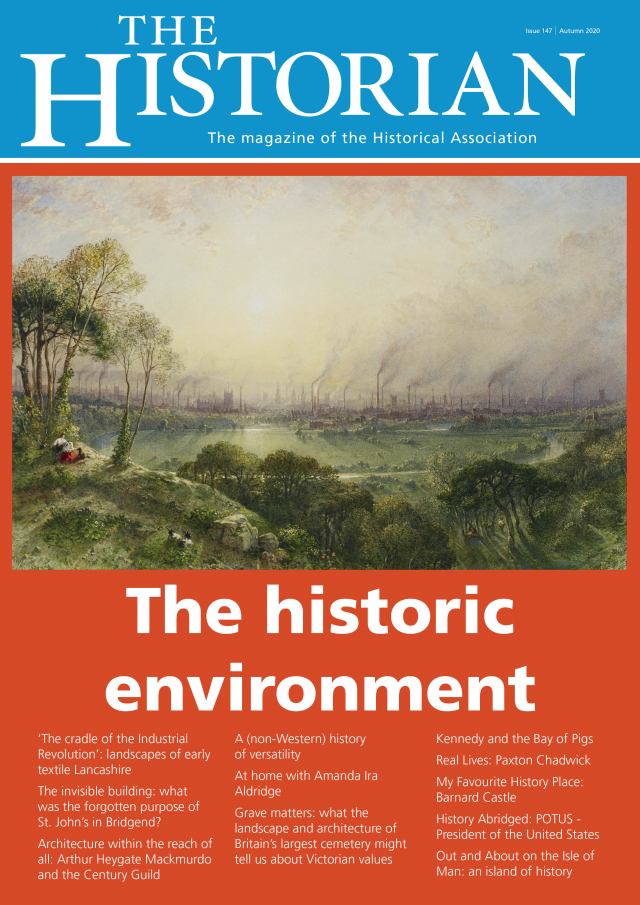 Editorial: The Historic Environment
Read The Historian 147: The Historic Environment
The town centre of Middleton, Greater Manchester, was reshaped in 1970 to allow for the building of an Arndale Centre. The now-unprepossessing centre of town belies a 'golden cluster' of heritage in the area which includes a seventeenth-century pub, several architectural gems designed by Edgar Wood and a Queen Elizabeth's Grammar School which received letters patent from Gloriana herself. This issue is loosely themed around such places in our historic environment, addressing the landscape and architecture around us which can tell us about the past.
It was Michael Winstanley's article looking at changes to the landscape around Manchester which made me think today about those two sides of Middleton, where I lived for almost 20 years after leaving home to go to university. He points out that in addition to the stereotypical 'dark satanic mills', there was much green and pleasant land in the area during the nineteenth century. Middleton was one of few outlying villages which drew praise from commentators in the period. The medieval parish church of St Leonard, where I got married, still stands on top of the hill (and, incidentally, can be seen in the final episode of Life on Mars), but the view from that hill is very different to the one which would have been seen in the 1840s. My husband reports that as recently as his childhood, there were fields between Manchester and Middleton. The main road into Manchester from Middleton, the A664, passes the edge of Boggart Hole Clough, the former botanists' paradise that Mike mentions in his piece, which is now surrounded on all sides by the Manchester suburbs.
Our second article displays a similar engagement with the built environment. We're very pleased to feature an article based on the winning entry in the Historical Association's Young Historian Local History competition. Molly Cook's passion for engaging her local community in Bridgend's history should be an inspiration to us all. She writes about her experience as a volunteer at St John's House with enthusiasm, while her research into the origins of this local landmark would make many a historian proud. We wish her well with her future studies and look forward to hearing more from her in the future.
Often overlooked as sites of historical interest, Diana Laffin investigates what graveyards, and Brookwood Cemetery in particular, can tell us about both the living and the dead, while Roisin Inglesby's article on one of the lesser known members of the Arts and Crafts movement, Arthur Heygate Mackmurdo, explores how the movement 'placed the inhabitants of a building at the heart of its design'. Roisin's comment reminded me of a trip with my young family to the Hill House in Helensburgh (designed by Charles Rennie Mackintosh) some years ago, where it was noticeable that the windows in the children's rooms reached much lower down the walls so that their young inhabitants could see out.
Casting our gaze further afield, Waqās Ahmed expands our horizons of what it means to be a polymath by introducing us to a host of exceptional individuals who are ignored by western culture. We also have a serendipitously topical article from Stephen Bourne, who looks at the black English composer and singer, Amanda Ira Aldridge, as Suzy Klein and Lenny Henry presented a BBC4 programme on Black Classical Music: the Forgotten History this autumn. Finally turning our attention across the Atlantic, David Smith examines the political background to the Bay of Pigs invasion and explains how it affected President Kennedy's later decision-making.
Our Real Life is Paxton Chadwick, Suffolk's first communist councillor. Geoff Smith rounds out his story, outlining his background in Manchester and parallel career as a book illustrator. We are Out and About in the Isle of Man, where Caroline Smith shows that there is much more to the island than just the TT races, while Paula Kitching takes us to Barnard Castle to visit her favourite history place.
As a member of the HA's Branches and Members Committee, it's a real pleasure for me to see that several of the articles in this issue were written by HA members. We are always ready to read your submissions and encourage you to send your ideas and articles to the editors for consideration.