Devil Darling Spy
By Matt Killeen (Usborne Publishing Ltd)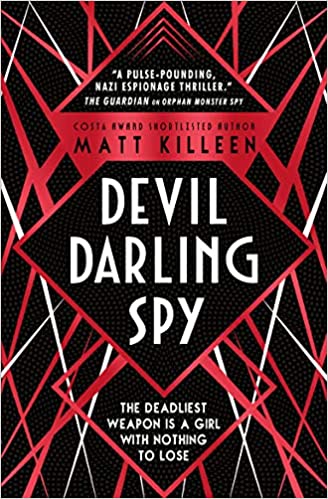 Pregeeth's review
I like the book Devil Darling Spy as it contained interesting characters and a good concept. Its plot line was easy to quit during the first chapter as I found myself finding the story a bit too calm but that all changed where Sci-fi elements came into play.
I found Sarah the most interesting as at the beginning of the book I was wondering as to why she would want to fight the Nazis so much. Patriotism did not seem that important to her. At the same time Sarah also surprised me because of how she acted in the ending which was unlike her during the rest of the book, which I disliked as it did not feel like her.
I learnt a lot about antisemitism and racism, which is something I have only just covered this year and gave more context to the Nazi persecution of minorities, particularly Jewish people.
The fact that the book was set in World War Two period made me quite interested as I was learning about both world wars during history, and it help me with my class work. I was also fascinated by war as I liked learning the causes of war and how wars ended, as well as individual stories of the people in war.
Although the overall story was good, there were some parts that were a little slow so I would not recommend to people who like fast-paced, action packed books but lovers of historical fiction, particularly the world wars, should give it a read.
Kate's review
I found the main character Sarah the most interesting, she had clearly had a rough childhood and then was thrown into the splendour of rich Nazi Germany. Her thoughts and letters reflected her unease with this, especially as she saw other people suffering in the way that she had.
The start of the book was set in Nazi Germany, but they then travelled across various countries in Africa. I found it really interesting learning about how the weather and landscape changed and what comparisons were drawn between her childhood and the living conditions she saw.
This book was really exciting to read, at times I couldn't put it down, especially when she was in danger! There was lots to think about including the treatment of different races of people, which is something that is still really important even today.
I was unsure how factually accurate the story was whilst they were travelling through Africa, that would have been good to know. Despite this, I would still recommend this book to other pupils because I really enjoyed reading it!
Tom's review
I found Devil Darling Spy quite slow to start with but as I read on it became hard to stop reading. I found it similar to the Alex Rider books and would say that I found the story of Sarah infiltrating into the Nazi society and going to Africa to find out about the white devil. It is set in 1940s Berlin and Africa during WW2 and I did have some knowledge on WW2 Europe but I did learn about some ongoings in the Nazi African campaign. The book has made me want to read up on the pure facts of the German African campaign at the time and I would recommend the book to people who are into this point of history.
Rebecca's review
I found Lisbeth the most intriguing character as her morals are so surprising as they are basically nonexistent. She is the epitome of the ends justify the means and her ideal end is for thousands of innocent lives to pay the price for their leader's actions, as she believes that this will avenge her mother's death.
My favourite scene of this book has to be when Sarah has risked her life swimming between two lifeboats to destroy the last samples of a deadly disease. Subsequently she finds out that the monster she has been hunting this whole book was the woman she admired and placed trust in, who she had left behind in the other lifeboat. This scene was extremely well written as Sarah realises and has flashes of memories with Lisbeth and it all falls into place. Then she poses the question as to whether it would be worse if Lisbeth never had cared in the slightest and from the beginning had been manipulating sarah into thinking she would be a worthy substitute for her mother or worse if she had genuinely loved Sarah and in some twistedly sickening way thought she was doing what was best for Sarah or what Sarah might even agree on.
I enjoyed this book very much as the plot line was very thought provoking. I had thought before reading this book that I knew a lot about this time period but soon realised that my knowledge on it was extremely biased as the main sources of information were from back in England or on the British front line. We didn't cover any of the war experiences in Africa so this was a very absorbing read and has made me want to further my own research into biochemical warfare and how Africa was affected by the war.
The only downside to this excellent book was sometimes there was a lot of information that made reading a little confusing as I would have to reread sections to process what I'd just been told. The book was very compressed. However this is fine as I would rather reread than leave out this crucial information.
I would definitely recommend this book to my friends.