The Silent Stars Go By
By Sally Nicholls (Andersen Press)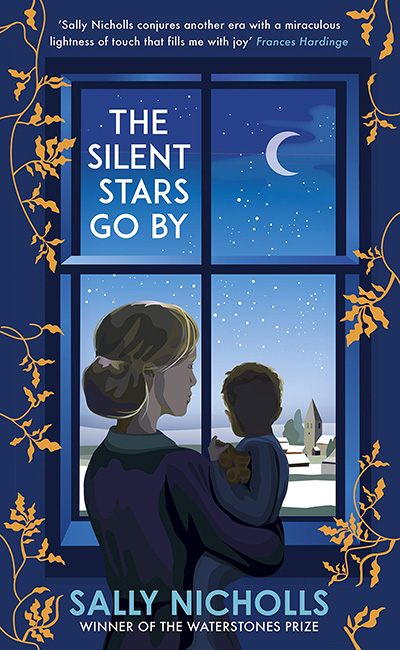 Denisa's review
The Silent Stars Go By is set in 1919, following the end of World War One or 'The Great War' and follows a young girl called Margot, who had to make a difficult decision during the war when her fiancé was declared missing in action.
Although we learn about the horrors of trench warfare, individual lives and the impact on them are often overlooked. The Silent Stars Go By allows us a peak into life back then. It also explores shellshock and how women, especially unmarried pregnant women would be treated.
Margot is also sent letters from her fiancé Harry, who is captured in Germany, who then returns and is very confused by why Margot has stopped replying to his letters. This reminded me of letters we'd read in school from soldiers in the trenches, including a young boy suffering from shellshock, who often wrote to his mother.
I like Margot and Harry but wish they were more open with each other.
I really liked this book and recommend it to anyone studying World War One.
Finn's review
This is a beautifully written book based during WWI.

Margot had to make the tough decision to give up her baby as her fiance Harry is reported missing in action. As the daughter of the village vicar, Margot decided to hide her pregnancy and allow her parents to adopt her baby. Years later, when Harry returns from the war, Margot has yet another decision to make. Tell Harry the truth? Take her baby back and raise him as her own, or leave everything as it is.

I really enjoyed this YA. It was a very quick ready and I definitely think there are a lot of educational elements within this book. This book really explores Margot's mental state and how her pregnancy affected her.
The descriptions throughout the book were beautiful and the characters were likeable.

Overall I enjoyed reading this book.
Ed's review
I found the book quite dull and did not really enjoy it. However, I found the characters very interesting and different; no two characters were the same. I found James a very interesting character as we got to see his relationship with his young mum, Margot, develop throughout the book. I did not really learn much about the history of the period as the book was mainly about Christmas time and not much about the war. The time at which the book was set was a very interesting part of history when WW1 was just ending, and Britain was recovering. I knew quite a lot about this period of history from many different sources, but mainly Horrible Histories! The plot was not particularly exciting and got quite boring at certain parts. The book has not really made me want to know anything else about the period of history or inspired me. I would recommend the book to people who are interested in love stories and Christmas as it has a lot to do with both these topics. Overall, I did not particularly enjoy the book and would not recommend it to most people.
Sarah's review
The Silent Stars go by is a beautiful historical story about Margot and the baby she gave up when her fiancé Harry is declared missing in action during the First World War. Now Harry returned for Christmas a different man to the boy who went to war and Margot must decide whether to risk telling him the truth.
I learnt the meaning of words like vicarage – the place where a vicar lives or stays; compromise – an agreement or settlement of a dispute that is reached by each side making concessions; luncheon – an old way of saying lunch formally.
I believe that this book is thought provoking because it makes the reader seriously think. I would recommend this to a friend because it shows a very nice storyline, which I like about the book. Another reason why I like this book is because it is lengthy and has an interesting storyline behind it. One thing I disliked about it is that the chapters are only a couple of pages long.
Eddie's review
First, I would love to say how much I enjoyed this book, Sally Nicholls portrayed history in a new light to me through her story, characterisation, and adventure. I would hands down recommend this novel to anyone one with historical interest or an enjoyment for a perfectly drawn-out love story. My favourite character was of course Margot the star of this amazing novel, I liked her so much probably due to the overall decision she would have to make concerning Stefan and would he or would he not find out he was the father to James. The book shed new light onto courtship at this period and anyone wanting to find out more on this subject should read this novel. The time this book is set in helped me to enjoy this story as it provided a new setting helping the overall ambience of this novel. I did know a considerable amount of information regarding this time as this was post WW1 which we had studied at school, but I did not know about the homelives of people at this time which made the book very interesting. I though the plot was very exciting due to the mystery shrouding Stefan's overall knowledge of his child's existence and if Margot would confess the truth and her overall love for him. I also loved the depth Sally Nicholls went into to describe each character and their personalities. This book has left me longing more of Stefan and Margot's story and severally hope Sally provides with another exciting novel. I would one hundred percent recommend this book to any other student at school longing an exciting historical mystery and love story. Thanks for reading.
"This book has left me longing for more and I hope Sally Nicholls continues Margot's story."
Jj's review
'The silent stars go by' is a historical-fiction novel set in post-great war Yorkshire, England. The plot revolves around Margot who carries the child (James) of her lover Harry who left to fight on the Western front three years ago. Margot, ashamed of carrying an illegitimate child, passes James to her parents who raise him as their own and keep his birth parents a secret to many. After years apart thinking that Harry had been killed in a P.O.W camp, Harry returns to Margot on Christmas. Margot then has the dilemma of telling Harry that James is his son and by the end of the book she does; except she still leaves James to be raised by her parents.
My thoughts on the book:
While remaining relatively accurate to the historical setting of post-great war Britain, I felt as if the story was slightly predictable and catered towards the 'young-adult romance fiction' niche. While not being a particular fan of this genre, I can admire that the story was well written and had consistent pacing. The book was around 250 pages and I read it within a few days. While not particularly a page-turner, I enjoyed the story and characters.
I don't know how I would have improved over the story, but I feel that something could have been done to keep it fresh. Because of this, I would only score this book a four out five. In summary, a predictable yet satisfying story with realistic characters and apt historical setting.
William's review
'The Silent Stars Go By' is set just after World War One in December in England. 17-year-old Margot Allan , a daughter of a respectable vicar, was told that her fiancé , Harry, was reported missing in action on the Western Front just before she learnt that she was pregnant. The only way her family were able to keep her respectable was by adopting her baby. Now, two years later, the whole family is gathering around the vicarage for Christmas when Harry is released from captivity from the Germans and is now back in the village for Christmas and is wondering why Margot broke off her engagement to Harry. Will she be able to tell the truth, or will she remain silent about their child?
This book showed me what it was like just after World War One and how people rebuilt their lives after their livelihoods were either destroyed or are in disrepair. My favourite Character was Harry since he told us what it was like being held captive in a foreign land. My least favourite Character was Margot because she never knew what to do and was always just asking her mum what to do.
4.5/5 stars
Jessica's review
Despite not getting to the very end yet, I have enjoyed reading The Silent Stars Go By. I really like how Sally Nicholls describes everything in detail and makes the story realistic by using lots of complex emotions and a convincing plot. I also loved the cover and how its main focus is on the beautiful picture, with the characters looking out of the window and displaying thoughts like there is a speech bubble. The twining ivy-like plants around the picture and on the back make it look magical and mysterious. The bold text makes it look impressive and interesting. The story was really heart-filling and realistic whilst also being imaginative, however, it was quite a slow read and not a lot happened. Overall, I think it was a good book.
3 out of 5 stars.
Camille's review
I really enjoyed this book. It was sad, moving and beautifully written: it also represented the time period very well – at times I felt I was there with Margot in Thwaite 1919. I will definitely be reading another book by Sally Nicholls.
4 out of 5 stars.
Keeley's review
I enjoyed the book. I liked the main character Margot the most because I got to see what she went through and how she dealt with it. I learnt a bit more about how soldiers felt in the war. Getting to find out how people react to teen pregnancy in that time set was interesting.

The plot was quite thought provoking and at some times quite sad. The whole plot stands out to me. I liked learning about how people deal with these things in them times. I would recommend the book to other students. I learnt some new facts about the time the book was set in. I didn't like how the book ended that much, I wanted to know more about Margots and James lives.
Sol's review
This book was amazing! The only slightly annoying thing, was that I knew a spoiler, so I couldn't enjoy it as much as the others. I really enjoyed and would give it 8/10.
4 out of 5 stars.