Day 2: Bakira Hasecic's story
The Association for Women Victims of War
We travelled a short distance to a small office in Sarajevo where Bakira works to support and keep the testimonies of female survivors of the conflict. We entered a small run down office and were immediately welcomed by Bakira and presented with small crocheted gifts that had been made for us by some of the women working for and supported by the Association for Women Victims of War. Lining the walls were files of testimonies of hundreds of women carefully gathered and kept in the hope of justice.
Bakira sat down with us and told us her story through an interpreter, our guide Resad. She was living in Visegrad, a town in eastern Bosnia-Herzegovina during the conflict and this was one of the areas subject to ethnic cleansing in 1992 during the conflict. Bakira told us that she was taken to the police station and raped by Serbian soldiers and later taken elsewhere in what would become Republika Srpska along with other women where she was raped repeatedly. Her daughter was also raped and her sister died in a camp – sometimes dubbed the "rape camps." The brutality of Bakira' s experiences did not break her; instead she became determined to speak out and has become one of the most prominent human rights campaigners in Bosnia-Herzegovina.
The thousands of rapes that took place during the conflict had a far greater legacy for women. Bakira explained that in their Muslim culture, it often led to women being rejected by their husbands and families afterwards.
Bakira has campaigned for those affected to return to Visegrad but this has not really happened due to the difficulties of proving allegations of rape and bringing perpetrators to justice. Of course, Bakira and other's stories are contested but there is a feeling in her community, she explained, that war criminals are still wandering free in Visegrad. As Bakira spoke, what struck me about her was her absolute drive and resolve to tell hers and other women's stories.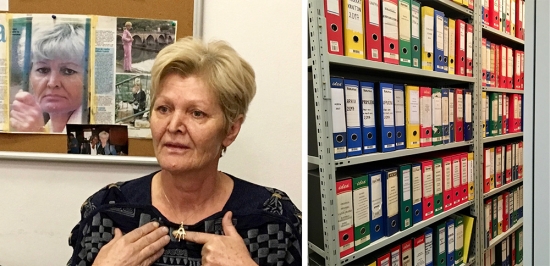 Bakira Hasecic telling us her story; (right) some of the files held by the Association for Women Victims of War
Photo credits Ivan Deben Wells
Following what was an emotional meeting, we boarded our coach to travel to Srebrenica where we arrived that evening.