Teacher Fellowship Programme: The People of 1381
Published: 26th June 2020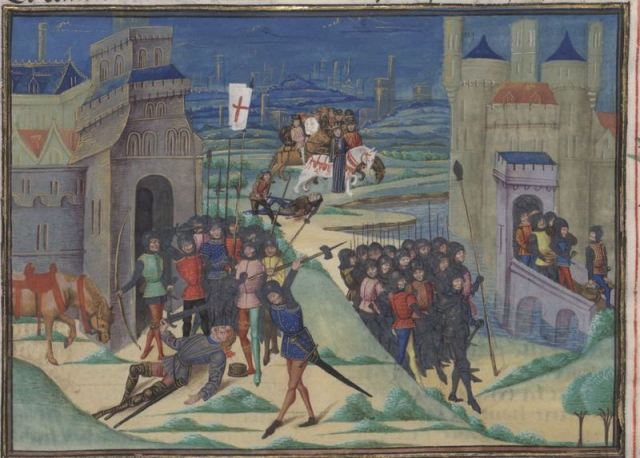 We are pleased to announce a new fully-funded Teacher Fellowship programme focused on developing the teaching of medieval history and the history of revolt, popular protest, power and the people, in partnership with The People of 1381 project team.
The project is focused on revealing new insights into the diverse range of people who played a part in the Peasants' Revolt of 1381, and will give us more detail on the lives of 'ordinary' people in the later Middle Ages. This programme will allow access to the new database being created, and to see at first hand how a major, multi-institution project is configured. It will also help participants to work with medieval primary sources (in translation) and draw on their professional expertise in creating teaching resources that will be of use in the classroom.
The course will be led by Helen Snelson and participants will work closely with the 1381 project team: Professor Adrian Bell (Reading), Professor Anne Curry (Southampton), Professor Andrew Prescott (Glasgow), Dr Helen Lacey (Oxford), Dr Helen Killick (Oxford) and Dr Herbert Eiden (Reading).
What does the programme involve?
With an emphasis on sustained professional development, the HA Teacher Fellowship Programme aims to bring teachers up to date with the latest historical research and how to apply this in their teaching.
The course structure is split into four stages:
Three-day residential 7–9 January 2021 at Mansfield College, University of Oxford
An online course from February to end March 2021
A one-day workshop to explore and agree course outcomes on 24 April 2021
Development of a classroom resource on teaching 1381 and popular protest
The programme will provide the opportunity for teachers to carry out their own research into an aspect of the history of the 1381 uprising and create original learning resources to be published on the HA website, which will support the teaching of medieval history and the history of revolts.
Participants will be assessed and awarded a Historical Association Teacher Fellowship on the successful creation of a resource for the benefit of other teachers by autumn 2021.
How do I apply?
The programme is open to all UK history teachers with a minimum of three to four years' experience of teaching history. Applications are open to all who fit the above criteria, but please note that greater weight will be given to those from state-funded schools.
Applications are now open until Monday 2 November 2020. Simply download and complete the application form below along with the outlined supporting information. If you have any questions please consult the guidance below or email Maheema Chanrai, the HA Education and Events Officer at maheema.chanrai@history.org.uk.
Links: