Rose in the Blitz
By Rebecca Stevens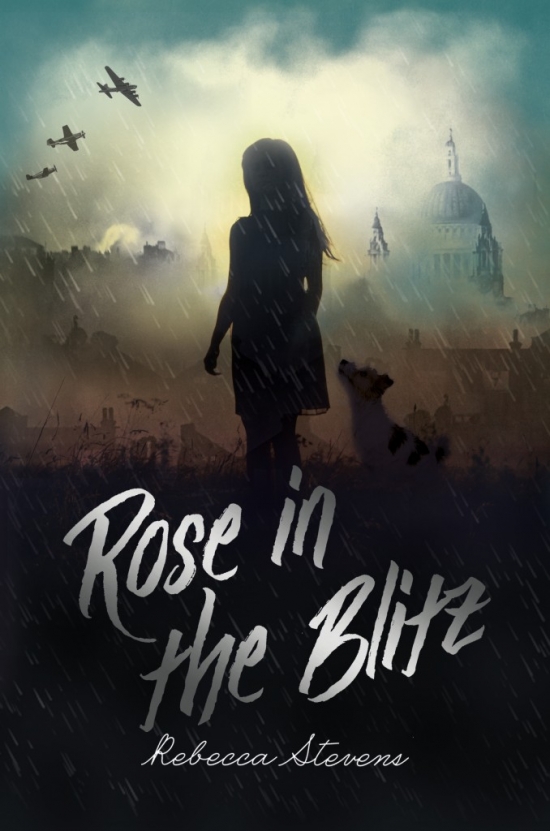 1. I enjoyed the book because I learnt a lot more about the battle ,,it taught me things I didn't know.
My favourite character was Rose because she stuck up for herself when she knew she would have to have a new dad and she was really mysterious about everything.
I think the history in the book was realistic in some ways because sometimes it doesn't quite make much sense to be realistic but in other ways I can imagine it happening and it talks about a battle.
The history makes me want to find more about what happened after that but no so much before that as I don't think it would be as interesting as the things that happen in the books and after.
The Book Made me want to read like another book like that of the same author.
I would like to say the first 5 or 6 paged were hard to get into but the rest made me want to read more .
By Aimee
2. I think the book was interesting because it is about the war and I think it's very good. The character(s) I liked was Aunt Cosy and Rose. I was very interested into it and I was looking forward to read it all. I like when they are in London. I think this book author would be really good writing more books set in London and about wars. I want to read more books made by this author.
By Nicole
3. Overall, I thought Rose in the Blitz was a very intriguing and mysterious book, whilst at the same time educating me about the history of World War 2. I have always been into time travel and history- this book falls into both of those categories; therefore I found it extremely hard to put down. As well as this, the relationship between Rose (the main character) and Aunt Cosy was really likeable and reminded me strongly of the close relationship between my own mother and sister.
The start was top notch! It brought you into action right away; I love things like that in a book. The disaster caused by a bomb exploding grabbed my attention immediately. Also, the anticipation caused by not knowing what was happening made me want to read on and on. Furthermore, there were many 'Wow' moments and twists; they made me want to re-read sections to ensure I properly understood what was occurring.
If I was given the option to read more books by this author I would most certainly say yes. I have already been researching other similar texts on the internet.
I would recommend this book to children aged between 9-14, because people younger than nine might not understand the complicated plot.
By Oscar
4. Do you like adventure books? This book of adventures tells a story which is really interesting. At the start, Rose and her Aunt Cosy go on a walk, taking Tommy (Rose's dog), with them. Late that night Rose sees her aunt going out of the front door and follows her. They end up at a half empty train station. Still not noticed; suddenly, Rose finds herself in 1940… She sees loads of soldiers, getting ready to go to war – or, as we know, World War 2!
Rose finds out that her aunt is sad because of something which happened in the war. Can Rose the time traveller, turn back time to make her aunt happy? Well, you'll have to read the book to find out; I'm not going to tell you. I don't want to spoil the story.
This story is really effective; it brings back the 1940s for Rose and the reader. I learnt that people from other countries helped us in World War 2 and what it was like to be in an air raid. It also tells you what it was like to worry about the brothers and fathers who were fighting. Now I'd like to find out more, about the battle fields as well as the towns at home.
Rose in the Blitz is by Rebecca Stevens, I hope she writes more books.
By Georgina
5. This story is half story and half history.
It's Rose's mum's wedding tomorrow but she can't sleep, her Aunty Cosy has wandered off again. Rose finds her but this takes her into a mysterious world; at first, she thinks she's in her London, at Clapham Underground, but is she? She seems to be inside Aunty Cosy's memories – they travel back in time together and I travelled with them.
Will Rose find a way home in time for the wedding? Find out, you'll enjoy the mystery and you'll find out about London during the war at the same time.
This story is really good, really well written. I enjoyed finding out about life during World War 2, particularly about being nervous in a bomb shelter. I'd love to have my own copy of this book and I'll try to find more titles by Rebecca Stevens.
By Jessica
6. A young girl called Rose whose mum is getting married to a Italian
photographer called sal and he has a 13 year old son called Leo and
Rose hasn't really been interacting with people ever since the couple
announced they were getting married . On the day of the day of the
bridal party roses grandfather invites some friend of Rose when she
didn't want him to .But later that night Roses aunt who was called cosy
goes on the train to 1940 blitz and Rose followes her
READ MORE To FIND OUT
I enjoyed the book very much and the special part was when Rose
follows aunt cosy to London then gets lost . I thought that was cool
because when you go on the train you really don't back in time .The
history in the book was very realistic because it looks so real and I want
to read more books by the author and I would like to read more books
like that because it takes you back in time .
By Ramla
7. Rose in the Blitz is definitely an amazing book. It has lots of romantic, funny, and scary moments. This book constantly has you on the edge of your seat. However, I would probably aim this towards year 3 and 4 girls as it's romantic at times, has exotic words and is quite formal. I would give this book 10/10. It is quite thick and takes a while to read, but is certainly worth it! It's about a girl that travels to her aunt's past and has an amazing journey making friends and discovering what life was really like in the blitz. But there is one problem, will she ever get back to the present? This book actually taught me how to deal with drastic changes in a young child's life and how they would feel and what they would think.
By Anna
8. I think that most people need to read Rose in the Blitz because it is the best book I've read this year. It also has lots of description that makes you want to read on. Rebecca Stevens is a very good author and she wrote the book so that it flows really easily and it is really enjoyable to read.
Rebecca Stevens's book, Rose in the Blitz, is a journey through time.
A girl called Rose and her Aunt Cosy travel through time on a train and Rose meets Aunt Cosy's younger-self, Rosemary. Her and her little sister Betty lived in Roses house, but in the past with their mother. Rose meets lots of characters throughout the book: Billy; Johnny, Rosemary's long lost love; Ali and many more. When Rose and Rosemary go out on night, they come back to see a bombed house and an injured family. Their house had been demolished by a bomb! Rosemary ran away into the mist and came back only to see West Minister Abbey burning down. Rose and Rosemary try to find Johnny because he was involved in the RAF. They tried to save him from dying in the future. When a bomb hits Big Ben, and is about to go off, Johnny climbs up on a ladder to try to save the building from destruction. Does he save it or not?
My favourite character is Billy, because he is very funny and cheeky throughout the story. Whenever there is a problem, Billy is always there to help. Another reason why I like him is because he can play the trumpet really well, and he is in a band.
In conclusion, you need to read this book, only if you like romance, comedy and adventure books. I recommend this book five stars and also, I think ages 10-13 would like to read this book. Read it for yourself, to find out what it would feel like if you were Rose.
By Faith
9. Rose in the Blitz is a really good book because it is about this little girl called Rose and she is nine years old. I will tell you a little bit about the book now. It's the night before her mum remarries and Rose can't sleep. Looking out of the window she sees her beloved Great-Aunt Cosy leaving the house still in her dressing gown, Rose follows her to the underground and onto an empty train. Next stop Blitz-torn London, 1940. And a heart-breaking tragedy will unfold unless Rose can change what happens next… I think this book is in three words – Love, Family, History. I learnt a lot about WW2 from this book and it made me think about what was life during that time.
By Grace
10. Rose in the Blitz was a very emotional book, which I enjoyed very much. In particular my favourite character was Rose because she was the same age as me and she reunited Rosemary and Johnny. When reading the book, you can really picture the image in your mind of what happened during that time.
This book is about how a young girl called Rose follows her beloved aunt to a train station that very night. The next stop is 1940. Yes, this book goes way back when World War II started in 1940, when you can really imagine Hitler and his Germans invaded England. Sadly, Betty died, who is Rosemary's younger sister, because the Germans bombed her house. The book had a sweet ending where Johnny found her again.
I have recommended this book to several friends. Fingers crossed that they will like it too! Since the book was so good, I really wanted to read some of the other books that the author made. I managed to have a sneaky peek at some of the books from the back of the book and they look really cool. I hope I can read them!
By Josna
11. In this book reviews, I will be sharing my opinions and comment about this book which I have read: Rose in the Blitz by Rebecca Stevens.
When I first read the blurb, which was:
'London, now. It's the night before her mum remarries and Rose can't sleep. Looking out of the window, she sees her beloved Great-Aunt Cosy leaving the house, still in her dressing gown. Rose follows her to the Underground – and to an empty train.
Next stop is Blitz-torn London, 1940. And a heart-breaking tragedy will unfold – unless Rose can change what happens next…'
I wasn't quite sure what the story of the book was based on so at that moment I wa quite intrigued and had a feeling a curiosity. Then I really wanted to find out what the book was about!
To introduce you to my review a little more and give an idea of the book, I will tell you some of the events.
Well, there's a girl called Rose and she lives with her mother and aunt. Since her father had died, her mother has become alone so she married an Italian photographer named Sal; his full name was Salvatore.
But before the wedding, there had been a fire at the neighbour's house and it was certainly severe since the police had even come. Rose was very much depressed by her mum marrying a person who wasn't even her father. She had been talking about this to her aunt when suddenly she vanished…
Rose had followed her and surprisingly, she ended up being in the underground somewhere unknown… Let's keep the rest of the book as a secret and carry on with the comments and opinions.
Firstly, let's start with the title. In my opinion, it was quite simple and convincing. It was indeed the first thing which gave me a clue what the story may be based on. There were only four words so there wasn't really much to think about.
When I started reading Chapter 1, I thought to myself 'how great to commence a book by speech'. Chapter 1 had intrigued me because of the speech that was written. And certainly, no one enjoys a book which starts with: once upon a time or day. Another thing I liked was the rhetorical questions.
Furthermore, I liked the way the author wrote short and simple sentences to create an atmosphere of mystery and suspense. There were many of these, which made you feel as if you were in the event. Because of them, I could see the picture in my mind's eye. My most favourite event in this book was the time when Rose was taken into the past (1940). Those were the few chapters which extremely interested me. They took me into the past, a long way back, so it was amazing. I believe the best characters were Rose and Aunt Cosy because they each had their own original personality. Lastly, the metaphors and similes produced a fantastic effect in the text.
I believe the history in this book was quite realistic due to the real places, names of stations and events which occurred. Moreover, it was based on war since the events took place in the Blitz and at that time they had Anderson shelters. However, after reading this book, I still haven't formed an abundant amount of interest in history.
This book has desperately made me want to read more stories by this author. I was quite surprised at one thing though. Even though the words and language was not very large and impressive, it suits the style of the book. The only thing I wasn't fond of that much was the extra speech added between the lines. It made the story a bit too casual and informal. The conversations where a bit excessive in quantity so at some times it did get a bit dull and boring.
Overall though, I thought it was a complete story, full of emotions and funny bits. I would definitely recommend it to a friend and it is a wonderful piece for a book lover!
By Sonakshi
12. I enjoyed Rose in the Blitz because it had a lot of interesting history facts and there was a nice contrast between romance (with Rosemary and Johnny), and tragedy (with the death of Betty). Rebecca really brought the book alive by adding an arrangement of different emotions. I like the character Rose because she is a sweet, kind and adventurous young girl.
I think the history in Rose in the Blitz was really life-like because it is not just facts about the Blitz, but it tells a story about someone's life in the Blitz and the things they had to go through. Yes, the book really made me want to learn more about the Blitz and World War II.
This book definitely made me want to read more of Rebecca Stevens' books. I would recommend this book to anyone who likes adventures, romance and tragedy all squashed into an amazing book! This book probably would suit age 10-13 year olds best.
By Annabelle
13. Rose in the blitz is now one of my favourite books and I think the history in it is very realistic and interesting. I think Rebecca described everything really well and I could really imagine how people must have felt during World War II. I loved that the book had so many different aspects: romance, tragedy and even a bit of comedy. Also, the book had no pictures which I liked beacause it meant you could imangine what all the characters looked like
I really like how Rose goes back into her Aunt's memory of the Blitz and meets her when she is a child. The dog, Tommy, reminded me of my own dog which I really liked. I was glad that Johnny didn't die and I thought it was clever of the author to refer back to the new year's eve dance at the end of the book when Aunt Cosy was singing and she saw Johnny, like she did at the dance.
I think this book is brilliant and I would recommend it to anyone who likes history, romance and if they want to know a bit about World War II.
By Lauren
14. I think that Rose in the Blitz by Rebecca Stevens is a really fantastic book. Rebecca really brings the book to life and you can feel the terror in some parts. She described the bombings very well and the fear people had at that time. I enjoyed the book in the fact that it had lots of different aspects. There is romance with Johnny and Rosemary, tragedy with the death of Betty and even some comedy with the character of Billy. All of these aspects fit together very well.
I think my favourite part of the book was the New Year's Eve dance, because even with all the sadness of the world people can come together and have a dance. I think that she described the clothes very well. I could imagine how Rosemary looked with a smile on her face and her lips smothered with the famous lipstick. The history in the book was very realistic. The timeline ran through the story completely. The book did make me want to find out more about World War 2. I thought I knew a lot about World War 2 but I don't.
Rebecca Stevens is a brilliant author, and yes I do want to read more of her books. If I could suggest this book to anyone, I would suggest it to someone who likes to read emotional books but with lots of different aspects. I don't think it is a book for everyone but I certainly liked it!!!
By Margo
15. As you read this sentimental book, you get the feeling that you dread finding out what happens next but you have to – you have to read on despite this. The author used questions really well to engage the reader. The book portrays how a young girl copes with the changes in her life when she goes on a ride down memory lane to 7th September 1940. She visits her Aunt Cosy as a young girl and experiences the huge risks of World War 2 and learns of her aunts lost love and about her sister. When she returns to modern life, what she has learnt with her aunt helps her to deal with the changes that are happening in her own life for example accepting new family members. Not everything in this book is true, but I think the parts set in World War 2 are very realistic and deserves the award.
By Farha
16. I really enjoyed this book because I liked the main character Rosie. I loved the complex thoughts and relationships that she has to deal with. The part I really liked is when she looks out of the window and follows her Great-Aunt to the underground station to an empty train. I think the history is real because when we learnt about the Blitz in school the way the author described it was just as I imagined it, I had an image in my head of all the sights and sounds.
By Maryam
17. This story is about mystery, secrets, danger, suspense and much more – what do you think will happen?
Rose's family gets destroyed when her dad dies of mystery. Three year's later her mum remarries an Italian man named Sal. What happens next?
The night before her num's wedding everyting foes weird. Her beloved great aunt cosy (rosemary) leaves the house in danger, towards the Nightingale Underground, making Rose to follow her secrets.
Everything was so clear but what she knew as an underground seemed ver y different. She took a famous ride called 'memory lane' but not her memory lane, her Aunt Cosy's memory lane…she was in Blitz torn London, 1940.
Rose was now stuck there forever with only two fatal tragedies – Rosemary's sisters Betty's death and young Rosemary's disappearing love, Johnny.
But the time has come for her to go home and get in time for her own love at her mother's wedding Fred.
By Antonia