Eleanor of Aquitaine's journey
Article
Danielle E.A. Park, last updated: 9th February 2017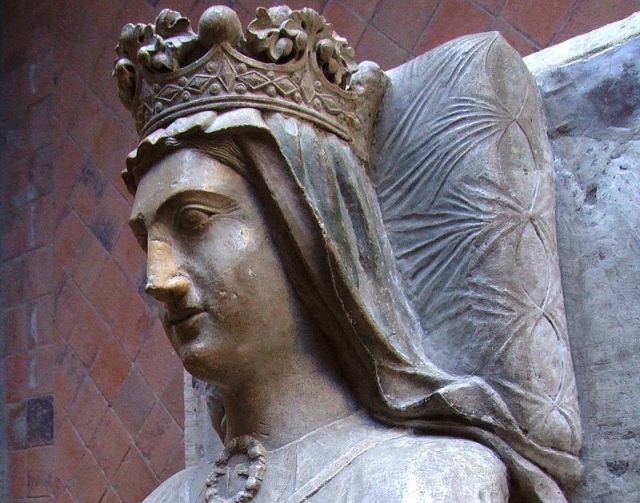 There and Back Again
There and Back Again: Eleanor of Aquitaine's journey to fetch Berengaria of Navarre. Danielle E.A. Park takes us on a journey across the Pyrenees and Alps with a redoubtable woman.
Eleanor of Aquitaine has acquired a reputation as something of a femme fatale. Her considerable inheritance of Aquitaine, marriages to two kings, the allegations of an affair with her uncle Raymond of Poitiers, the prince of Antioch, during the Second Crusade, her role in her sons' rebellion against their father Henry II in 1173 and her subsequent imprisonment have exerted a firm hold on medieval and more modern interpretations of this woman.
Even her journey to fetch Richard I's bride, Berengaria of Navarre, was frequently interpreted in this light. Eleanor was often cast as the archetypical meddling mother, determined to prevent Richard from marrying Alice – the daughter of her first husband Louis VII – at all costs out of spite, anger or disgust at the possibility that Alice was Henry's former mistress. John Gillingham has convincingly argued against this position, emphasising the political context and Richard's own interest in conducting the marriage negotiations. As Ralph Turner argues, however, this does not detract from Eleanor's significance as an escort to Berengaria, particularly since her role was political as well as maternal and encompassed finalising the negotiations – convincing Berengaria's father Sancho VI of Navarre that Richard would renege on his previous promise to Alice and marry Berengaria instead – and ensuring that Richard's intended reached him safely. Eleanor was a natural choice for this mission. Whilemany of her contemporaries had chosen a more contemplative life at a similar age, she chose to remain very politically active, and after her husband Henry II's death she wielded considerable influence as a royal widow...