Plymouth Branch Programme
By Alan H. Cousins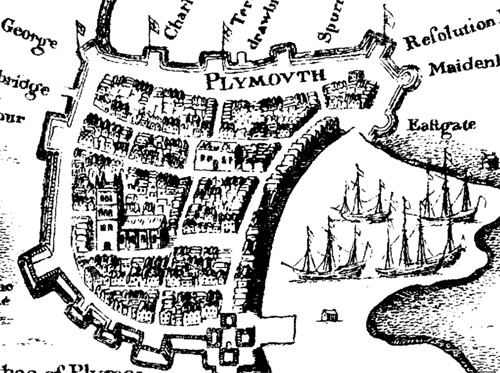 Plymouth Branch Programme 2021-22
website: http://www.ha-plymouth.org.uk
Lecture Programme 2021/2022
Tuesday 5 October 2021
Inventing the Russian Revolution: Conceptualising Revolution in the Print Culture of 1917
Dr Matthew Rendle (University of Exeter)
Tuesday 19 October 2021 Zoomed
The Nature of Imperial Trade: Ecology and Exchange in Europe's Empires
Professor Corey Ross (University of Birmingham)
Tuesday 2 November 2021
The voyages of Captain Cook and the exploration of the Pacific Ocean
Philip Nicholas Trust Maritime History Lecture
Dr John McAleer (University of Southampton)
Tuesday 16 November 2021
The Role of Plymouth & Dartmoor in the War of 1812
Barbie Thompson (History Researcher, Plymouth U3A)
Followed by the AGM
Tuesday 1 February 2022
China's Forgotten Partition: the Great Northwestern Muslim Rebellion (1860-1874) and its Legacies
Dr Hannah Theaker (Plymouth University)
Tuesday 15 March 2022
Christopher Durston Memorial Lecture
A Biographer's Tale
Dr Nadine Akkerman (University of Leiden)
Tuesday 22 March 2022
The Crisis of the Meritocracy: How Popular Demand (not Politicians) Made Britain a Mass Education Society
Prof. Peter Mandler (Gonville & Caius College, University of Cambridge)
President Historical Association
Tuesday 26 April
Beyond Whataboutery: Rural Britain and Empire
Professor Corinne Fowler (University of Leicester)
Tuesday 10 May 2022 [date to be confirmed]
HMS Amethyst & Wrecks in the Plymouth Sound
Mallory Haas (Chief Archaeologist, 3H Consulting Ltd., & Director of The SHIPS Project)
Tuesday 17 May 2022
Lower Tamar Crossings: a Historical View
Les Deering (Heritage Guide, Tamar AONB)
Saturday 21 May 2022
Walk - Crossings between Plymouth and Saltash
Led by Les Deering (Heritage Guide, Tamar AONB)
(details to follow in due course)
This is a joint programme in collaboration with the History Department at Plymouth University.
Meetings are open to all, and are:
Free for national or local members of the Historical Association, and for University of Plymouth students.
Visitor tickets: £6.00, concessions £4.00.
Booking for lectures:
The easiest approach is to book tickets online: plymouth.ac.uk/arts-institute
Otherwise phone the Arts Institute Plymouth University T: 01752 585050
Or email - theartsinstitute@plymouth.ac.uk
All talks start at 7.00 p.m., and (EXCEPT for October 19 - zoomed) are held in:
Theatre 2, Roland Levinsky Building, University of Plymouth, Drake Circus, Plymouth PL4 8AA.
Circumstances may mean that one or more of the talks in the series will need to be streamed online.
Local Historical Association membership:
To keep in touch you can become a member of the Plymouth branch.
Membership secretary: John Stead, 2 Jessops, Plympton, Plymouth, PL7 4HW
Local membership rates:
Individual membership: £8; Family membership: £12; Student membership: £4
Plymouth HA contact: Alan H. Cousins, 3 Fore Street, St Germans, Cornwall PL12 5NR
Tel. 01503 230106 a.cousins345@btinternet.com