Central London Branch Programme
branch programme
By Chrissie Ganjou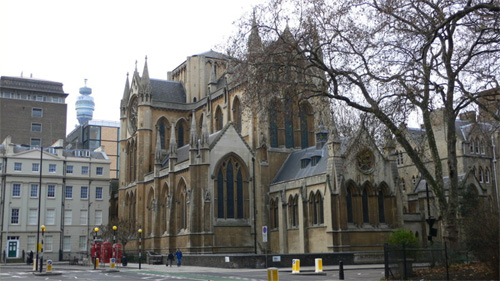 President: Professor David Stevenson (London School of Economics).
Secretary: Mrs Chrissie Ganjou, Nelson House, 78 New Cavendish Street, London W1G 9TD; Email: chrissie@ganjou.com Tel: 020 7323 1192
Treasurer: Mrs Jill Kilsby MA, MBA, 8 Purley Oaks Road, Sanderstead, Surrey, CR2 ONP Email: jkcharity@outlook.com Tel: 07957 627783
Lectures start at 14.00 on Saturdays at the Institute of Historical Research, Senate House, University of London, Malet Street, WC1E 7HU.
Lectures are free to H.A. Members - £3 non- Members.
For events where pre-booking is required, please use a booking form or contact the Treasurer, Jill Kilsby (see above).

PROGRAMME 2018 - 2019



Saturday, 6th October, 2018 – Presidential Lecture
'The Road to 1918: how the First World War Ended'
Professor David Stevenson, Professor of International History, London School of Economics, Branch President.
Followed by the Branch AGM
Saturday 17th November, 2018 – Tour
The Queen's Gallery, Buckingham Palace to visit the Exhibition 'Russia: Royalty & The Romanovs'
Saturday, 8th December, 2018 Derek Knights Memorial Lecture
'Evidence and Origins: Discovering the Anglo-Saxon Kingdoms at the British Library'
Dr Alison Hudson
To be followed by the Branch Christmas Social
(Social free to Central London Branch Members; £6 non-Members)
Pre-booking for the Christmas Social required for everyone for catering purposes.
Saturday, 9th February, 2019 – Lecture
TO BE HELD IN THE WOLFSON ROOM NB02
Please note that advanced booking is essential (see attachment link at the bottom of the programme)
'How did Martin Luther King Change America, 1955-2019?'
Professor A.J Badger, Professor in American History at Northumbria University, Emeritus Paul Mellon Professor at Cambridge and Emeritus Master, Clare College, and President of the Historical Association.
Saturday, 30th March, 2019 – Guided Walk
'Physicians, Prisons and Poets' A walk around Old Southwark with London City Guide Pat Smith. Meet at 11.15 outside Costa Coffee, Hays Galleria, Tooley Street, London Bridge. Pre-booking and payment required (see Booking Form).
Pat's contact number is: 07860 221191 (on day of walk only)
Saturday, 13th April, 2019 - Lecture
'Oliver Cromwell: hero or villain?'
Dr David L. Smith, Fellow, College Lecturer and Director of Studies in History, Clare College, University of Cambridge.
Saturday, 18th May, 2019 – Talk CANCELLED
Apologies - unfortunately this talk has been cancelled due to illness.
Sunday, 30th June, 2019 – Guided Walk
'A Putney Potter' with Ann Archbold, a Qualified London City Guide, Meet at Putney Bridge Station at 2.30pm
Ann's contact numbers are: 020 7625 6976 or mobile (on day of walk only) 07884 410812
Pre-booking and payment required (see Booking Form).