History of the Isle of Wight Branch
Branch History
Terence Blunden, last updated: 11th January 2010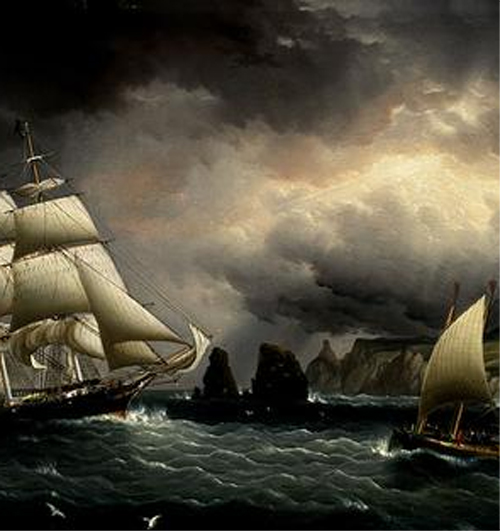 Although the Historical Association was formed in 1906, sixteen years elapsed before a branch was established on the Isle of Wight. From the HA's archives, stored at Nottingham University, the annual reports indicate the Branch was formed in June 1922 and by the end of the first year there was a membership of 33 and lectures included such topics as The Valley of the Kings, The American Constitution, Aspects of the French Revolution, Teaching of History (do things change?) and three lectures with local connections. It would seem enthusiasm waned the following year as membership dropped to seventeen. Sadly after 1925-26 no reports were submitted suggesting the Branch was no longer active.
The IW Branch, second creation, was established at a meeting held at God's Providence House, Newport on 23rd June 1950. The driving force behind this was Walter Roberts, the history teacher at Newport Secondary Grammar School, and he outlined the aims of the proposed association as "the collection and distribution of historical information and provision of relevant literature. The programme might vary from a few meetings a year, addressed by experts to the holding of study groups monthly, to archaeological diggings, excursions etc." Apart from Archaeological digs current programmes have embraced all that Walter Roberts envisaged.
From 1950 there have been illustrious Presidents: viz, A. L. Hutchinson who as the Island's Chief Education Officer offered much encouragement and facilities in those early years followed by J. B. Priestley 1956-60, A. J. P. Taylor 1960 -76, FS Hockey of Quarr Abbey 1976-88, Dr. Jack Jones long time curator of Carisbrooke Castle 1988-2005 and currently Dr. Paul Hooper. There have been numerous chairmen but only 11 secretaries and 6 treasurers giving continuity to the Branch over the past sixty years. During the first year 50 full members were enrolled and membership hovered around this number until it dropped to 35 in 1965-66 and then slowly increased to 60+ in the 1990s. The admittance of associate members in 1981 swelled the numbers and the coffers so by 2009 it had risen to 166. Over the years there have been very few professional historians in membership: by and large the membership has been composed of folk who are just 'interested in things historical' and they have been encouraged by a varied annual programme.
In those early years the Treasurer must have found balancing the books a difficult task as the HA's quota was based on 3/6 (17p) per member. The associate member subscription at £2 per person in 1981 rising to £10 and £15 for joint members has given the Branch financial security and the opportunity to consider other activities including grants to bone fide sixth formers attending university interviews and latterly campus visits to read History.
There have been summer outings almost every year with the first on our door step with visits to Portchester Castle and HMS Victory. Since then cathedrals, cities, castles and country houses all within a days' journey have been visited and at times the Branch has been more adventurous with a visit to Caen and a residential weekend at Canterbury organised by Molly Pewsey. Each trip organiser will have a special anecdote associated with the trip they organised: for example Dr. Michael Fulford's impromptu lunch time lecture delivered in Silchester's Amphitheatre or Kenneth Hicks' trip to Sandhurst where the coach driver drove in drizzle across the hallowed Parade ground!
Marking, curriculum changes, OFSTED inspections, home and social life has made it difficult to encourage history teachers to be more involved with the local branch, but since 2004 there has often been a co-opted teacher on the Executive Committee and always one or two 'A' Level history students as well.
As part of the HA's Centenary celebrations in 2006 the Branch organised a Local History Week involving 25 other local societies, taking over Newport Minster for five days and offering lectures, schools' competition and guided history walks. Such an event was costly in money and volunteers' time and the Branch has declined to offer such on an annual basis although it did promote a similar programme in 2008 as part of the national May History Month. Perhaps the most enduring result from the first Local History week was the formation of the Local History Forum which shares good practice and occasional courses whilst meeting biannually.
One of the many successes of the Branch has been its annual general meetings - never a popular event in a society's calendar! However, some 30- 40% of the membership cannot let the opportunity pass by when their AGM is held in a local manor house not often open to the general public.
During the past ten years the profile of the Branch has been raised, it is now considered a legitimate local body, consulted on such matters as planning, the Island's Strategic Plan and represented on the IW Rural Community Council's Voluntary Cabinet.
The fiftieth Anniversary of the Branch was celebrated by holding an afternoon Tea Party at God's Providence House where it all began in 1950. None of the inaugural Committee was alive, but invitations were sent to the one surviving spouse and known children of the original committee. Many of the children were surprised their parents had been involved with the early activities of the Branch.http://www.guidetoonlineschools.com/library/ancient-egypt