Away from the Western Front launches two national projects
Creative Writing Competition and National Music Project
Published: 10th May 2018

Contribute to the First World War centenary commemorations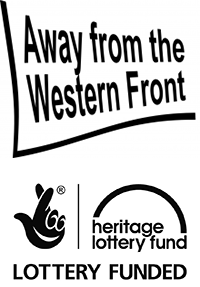 'Away from the Western Front' has launched two national projects and is offering everyone a chance to make a contribution to this First World War centenary commemoration.
A National Music project and a Creative Writing Competition are part of the Heritage Lottery funded First World War 'Away from the Western Front' centenary programme. This aims to increase understanding of what made the conflict into a World War and raise awareness of the often overlooked campaigns in the Balkans, Egypt, Palestine, Mesopotamia, Africa, Italy and elsewhere.
Creative Writing Competition
The Creative Writing Competition is inviting entries from all age groups. These can be poems or short stories and the main criterion is that they must be inspired by the First World War away from the Western Front.
The winner of each category will receive a £50 book token, with additional prizes for runners up.
The deadline for entries is 14th September 2018.
Find out more and enter (Away From The Western Front website)

National Music Project
The Away from the Western Front National Music Project invites community choirs, musicians, singers and brass bands to perform its new First World War song 'No Parades', which has been inspired by the experience of West Indian men who fought in the First World War.
Two battalions of the British West Indies Regiment served in Palestine and Egypt, and at the end of the war they joined the rest of the Regiment in the Italian port of Taranto. After poor treatment by their British officers the soldiers mutinied, demanding equal pay and conditions to the white troops they had served beside for four years. The mutineers were punished and the Regiment disbanded, sent home under guard and barred from the victory parades. The song continues the story:
From the islands and mainland we came
To fight and to show our allegiance
But returned to our homelands in shame
While for some there'll be honour and glory
The West Indian will have no parades.
Musicians, community choirs and brass bands can join the project in two different ways. They can record their performances of 'No Parades' by using the score and lyrics freely provided or use the song and accompanying information on the 'Away from the Western Front' website to inspire their own compositions. The project will produce a CD of the best performances, as well as promoting the performances through the website and social media.
Find out more and get involved
Contact: info@awayfromthewesternfront.org