Centenary of the Treaty of Versailles 1919
Published: 1st July 2019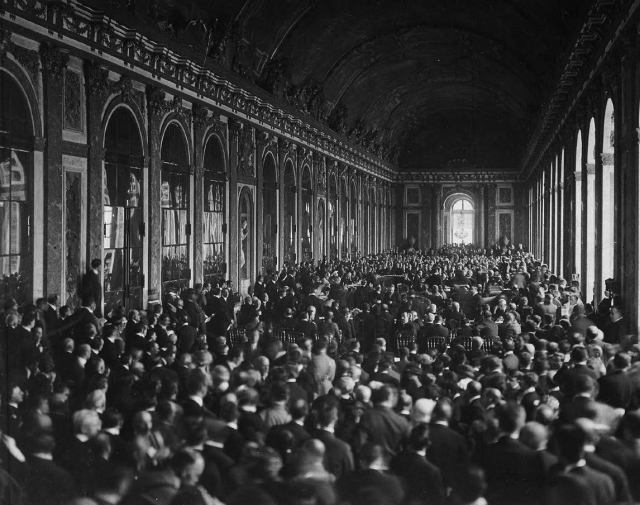 The end of June 2019 marked the centenary of the formal ending of the First World War. 11 November 1918 was only the Armistice – it needed a peace treaty to truly end the war. The Treaty of Versailles between the Allies and Germany was signed on 28 June 1919: a date deliberately chosen because of the assassination on that date five years earlier that had triggered the conflict. The killing of the Austrian heir to the throne in 1914 had been an act of rebellion by Bosnian Serbian nationalists with no idea of what the global impact would be. They had hoped for freedom from the Austro-Hungarian Empire, never dreaming that their act would lead to its total collapse.
'The Great War' as it became known changed many things, and borders and governments were one of the key elements. The Treaty of Versailles was signed with a democratic Republic of Germany, not the Imperial Germany that had received the original declaration. The Treaty would lead to significant changes and for many it would play a part in leading to global another conflict, but it was not the only treaty after the war. Over the months following the key date of 28 June other treaties would be signed and they would also have long-term impacts. Less is known about those treaties by most people which is why they have been drawn together in an article for Historian readers (see link below).
Probably one of the most significant legacies of the First World War has been its effect on British cultural history – in particular literature. Most of us have studied the War Poets at some point in our lives and many of us reflect in silence when we hear the lines of 'In Flanders Fields' or 'Dulce et Decorum est'. So to commemorate the legacy of that life-changing conflict we have issued a new podcast on First World War Poetry, taken from our recent annual conference in Chester.