Peterloo 200
The bicentenary of the Peterloo massacre
Published: 31st July 2019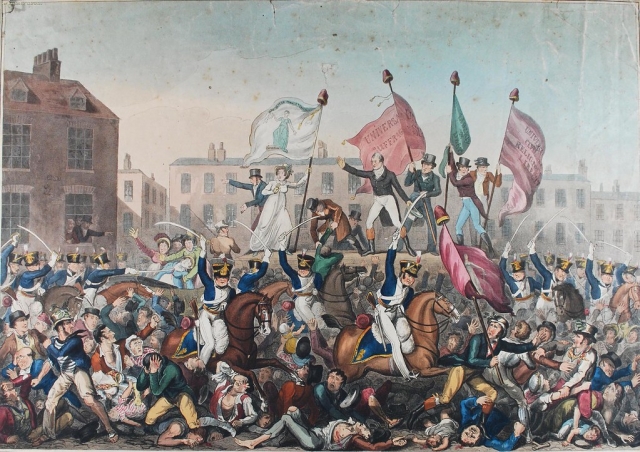 16 August 2019 marks 200 years since the events of Peterloo – known to many as the Peterloo massacre – when peaceful protesters were mowed down by a cavalry charge at St Peter's Field in Manchester. The 60,000–80,000 strong crowd had gathered as part of a campaign to demand greater parliamentary representation. At that time very few people had access to elections, or a political voice.
The demonstration in Manchester was part of an organised campaign – but it was a peaceful one, as men and women took their whole families along. After all most of them, including the children, were expected to be good workers and citizens regardless of their lack of political voice or representation.
The authorities however were deeply concerned that the gathering would lead to civil unrest. The years before 1819 had been economically very hard on the working poor. Elsewhere in Europe such conditions had led to revolution. Therefore, rather than allow the demonstration and speeches to take place without issue, the military was put on standby. Local magistrates in Manchester decided to arrest the leaders during the event and the Manchester and Salford Yeomanry and the 15th Hussars (cavalry) were sent in to carry out the arrests and to disperse the crowd. They did so with violence resulting in 18 people being killed, including a young child, and a further 400-600 people being injured.
Over the last few years the HA has been involved with programmes to commemorate Peterloo (so called after the Battle of Waterloo which had taken place four years previously) and has a number of podcasts and interviews that shed light on this historic episode in the UK's fight for universal suffrage and democratic rights. We have brought these together for the bicentenary and invite you to find out more below.