Agincourt exhibition competition: the winning school's perspective
Agincourt Competitions
By Maheema Chanrai, published 15th June 2016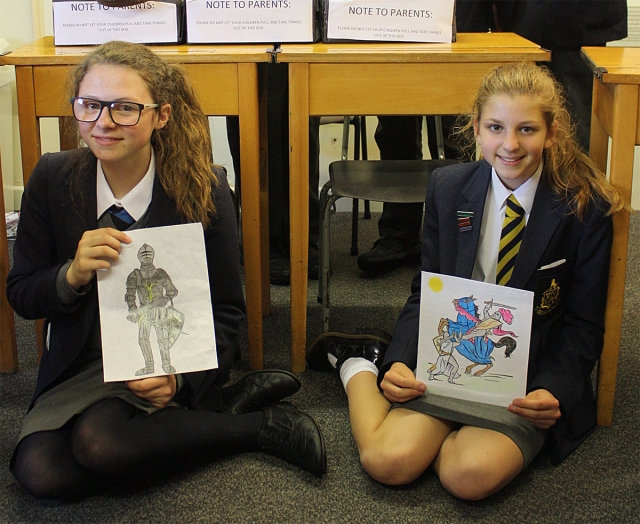 Last month, Heathfield School in Wolverley were selected as the winners of the Exhibiting History competition, run by the HA as part of our Agincourt 600 projects. Their impressive exhibition and entry were selected from a high-quality field for the sophistication of their interpretation and engagement with different audiences. Neil Edwards, Head of History at Heathfield, has written the following account of the competition.
This competition, introduced by the HA for the first time in 2016, was a massive success for students at Heathfield School. It taught them not only very valuable life skills, but additionally developed their historical knowledge and skills.
At Heathfield School we used weekly, half hour Enrichment sessions (with a small group of keen historians) to plan and design our exhibition, whilst students learnt about the Battle of Agincourt during their history lessons.
Firstly, pupils learnt the importance of detailed planning, as we visited Hartlebury Castle Museum in January to meet the curator and view the room our pop-up exhibition would be housed in. Even before the visit the pupils, with a little prompting, were quick to make a list of necessary equipment for our visit and duly we arrived with a number of tape measures, paper and pencils. From questioning the curator and measuring up, students were able to start planning what to include in their exhibition and to consider its layout.
What became an ongoing theme with the pupils' work was the developing maturity that they demonstrated. From the outset this competition was encouraging them to take responsibility for and ownership of their work. On our initial visit, students were armed with tape measures and cameras and were encouraged to use them how they saw appropriate. This seemed to encourage collaboration between pupils and fostered a good group dynamic, with pupils offering to share equipment, or suggest to each other how it could most effectively be used.
Back at school students were forced to use problem-solving skills to coordinate different activities that they wanted to include in their exhibition, whilst working out how much exhibition space they would require. Indeed, the students were complimented on their innovative use of child-friendly activities and this was achieved by them asking good questions of how to make their exhibition inclusive, as well as effective research.
Some students researched on laptops to find out how museums encouraged child visitors, whilst others looked in more detail at how weapons had evolved over time. Having completed their research and designed their own exhibition, the students learnt more about the importance of presentation. They applied ideas shared to them by the Worcestershire County Museum's curator and focused on using certain colours, fonts and paper styles to try and create a consistent looking exhibition. This was enhanced further with the use of colourful ribbons.
Participating in this competition was of great reward for Heathfield School pupils and I am grateful that the HA were able to coordinate such an exciting opportunity for those students interested in the past. Perhaps the most valuable thing they learned was summarised best in their own words:
'It took lots of hard work to make our exhibition.'
As their teacher what I appreciated the most was the inclusive nature of this competition. It allowed students with a strong interest in history but not necessarily an academic background to gain success and a sense of reward.
It benefitted our school through developed links with a local museum, which we will look to build on further over the coming years and months. Additionally through winning this competition it has helped to raise the profile of history within the school, with younger and older pupils wishing to emulate the success of our current year 7 and 8 students.
So my only wish is that the HA introduce another competition next year, so that another crop of students get the opportunity to excel again!
Want to create your own exhibition? Make use of our fantastic animated guide to becoming a curator and scheme of work on interpreting Agincourt.