Public History Courses
Continuing Professional Development
By Maheema Chanrai, published 5th May 2015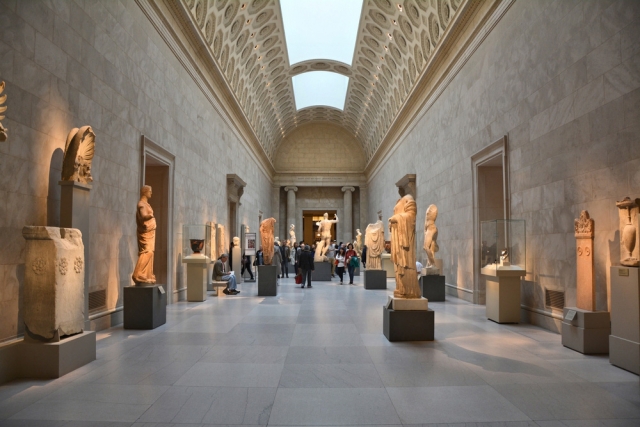 What is Public History?
Public History is about understanding how the past has affected, and is used by, the present. It brings history to life and helps us understand the relationship between the past and the public at present. Public History can involve history in the community, and a Public Historian might appear on TV or radio, help governments and policy makers or be involved in community history projects.
A list of available Public History courses in the UK
Undergraduate
Public History is a minor option at the University of Hertfordshire. It can be combined with other humanities subjects in the following courses:
Postgraduate
Specialist Public History courses
MA in Public History – Royal Holloway, University of London
This MA is a specialised qualification for those wishing to pursue a career in history working in broadcasting or in film, in museums, heritage or in journalism.
Students will be equipped with professional skills of historical interpretation and communication, and provided with an opportunity to work alongside practitioners in the field, including museum curators, public archivists, publishers and TV and radio producers. They welcome a variety of guest lecturers and collaborate with a number of external partner institutions such as the National Trust, London Metropolitan Archives and ancestry.co.uk.
This is a unique gateway to the heritage sector and to the popular media, a new MA for historians keen to engage in the modern world.
MA in Public History – St Mary's University, Twickenham
This course aims to provide students with an understanding of how historical knowledge is produced, mediated and consumed in public spaces beyond the formal education sector. It examines how museums, galleries, monuments and archives function as gatekeepers of historical knowledge and conduits of social memory. It also looks at how media organisations contribute to public discourses about the past.
Also available as: Postgraduate Diploma; Postgraduate Certificate
MA in Public History – University of York
The MA in Public History offers students cutting edge interdisciplinary academic training together with exciting opportunities for hands-on experience in the cultural sphere through a placement in the heritage sector. The programme is designed to give students an understanding of the critical issues in public history and to analyse the variety of changing ways that the public engage with the past through not only traditional media, but also new digital and rich media products.
The MA in Public History is offered through History in conjunction with the Institute for the Public Understanding of the Past (IPUP).
MA by Research in Public History, Oral History and Community Heritage - University of Huddersfield
Supported by a weekly postgraduate seminar in term time, research skills training and supervision by experts in the field, the MA by Research in Public History, Oral History and Community Heritage allows students to undertake independent research in applied and practical historical study. Students will produce a thesis of between 15,000 and 25,000 words and a public-facing output such as an exhibition, film, oral history archive or collaboration with a community organisation.
MA in Public History – Queen's University Belfast
This postgraduate degree course offers a unique opportunity to study public representations of and engagement with the past in a city where the past continues to resonate. The programme will combine academic training in historical theory and research methods with specialised topics related to history in the public sphere such as negotiating contested or difficult histories, oral history or history in film.
Teaching will be through seminars, practitioner workshops and field trips. Taught collaboratively with a range of partners in the heritage and cultural sectors, this course offers unparalleled opportunities for hands-on experience of the ways in which history is created and presented in the public arena. Students will carry out placements in one of a wide range of museums, archives, heritage sites or visitor experiences (eg BBC, National Trust, Ulster Museum, Titanic Belfast, Historic Royal Palaces).
Belfast offers an exciting opportunity to engage with key issues surrounding contested histories, national narratives, commemoration and oral and community history in a real and meaningful way, while the increasingly important role of cultural tourism in Northern Ireland's economy allows students to gain first-hand understanding of the important ways in which public history can contribute to economic growth at a local and regional level. International contexts will be explored through joint classes with graduate programmes in the US.
MA in Historical Research & Public History - New College of the Humanities
This postgraduate programme combines advanced training in historical method, historiography, theory and practice of historical research, and evaluation of primary evidence combined with an exploration of public history as it is represented, constructed, debated and contested in the public sphere, including in museums and galleries, heritage sites, public policy and in the media.
1-year full-time or 2-year part-time study modes are available.
Public History and Heritage MA – University of Derby
With a dynamic and innovative curriculum, their new MA programme enables you to focus on the role of history in the public sphere and equips you for careers ranging from museum curation to heritage education. You will Develop both intellectual and professional skills for leadership roles in the public history, heritage and cultural industries, gain practical experience of the heritage industry, with work placements to enhance your employability, and explore public history and heritage at a global level, underpinned by their partnerships with universities overseas.
Public Histories (MA) – Birkbeck University of London
This MA will introduce you to key aspects and issues of the practice of public history. It will provide you with the necessary theoretical and practical skills to undertake critical assessments of public history projects and interventions - as well as to create your own. Its focus on public history in practice will provide you with a wide range of examples of different types and methods of public history, from museums and material culture, to public history in the media, to the role of history in policy making. This MA aims to give you a sense of the wide range of public history, the variety of roles played by historians in public, and the importance and impact of public history in politics, culture, and society.
Courses with Public History options
MA in Cultural History, Memory and Identity – University of Brighton
The MA in Cultural History, Memory and Identity examines the origins, forms and effects of cultural constructions of history and memory, with a practical focus on the skills and methods involved in the making of new historical accounts and representations. The course comprises three pathways: Cultural Memory; Making Histories: Public History and Heritage; 'Race', Nation and Ethnicity. The Making Histories pathway critically examines the fields of public history and heritage in a variety of contexts and through analyses of cultural sites and forms. Key concepts and critical frameworks are introduced, applied and critically assessed in relation to three specific case studies.
Also available as: Postgraduate Diploma; Postgraduate Certificate.
MA in History with a Public History route – Kingston University
This MA offers a unique opportunity to combine academic study of the past with a practical focus on public history. Taught by specialist, research-active staff who are leaders in their fields, it will equip students with an understanding of cutting-edge research and debates within the discipline of history as a whole, while providing training in historical skills such as using archives and exploring history through ICT. The course also includes work placements in and visits to research archives, museums and heritage sites.
MA in History (Public History and Heritage) – Manchester Metropolitan University
With three dedicated pathways to choose from, this MA in History offers exciting opportunities to develop subject specialism while also providing access to a diverse range of units. The pathway for the MA in Public History and Heritage features units examining the politics of cultural memory, the ethics of public history and professional heritage practice. All three pathways culminate in a piece of extended personal research (the dissertation), whilst those taking the MA in Public History and Heritage have the opportunity to conduct this research via a 'hands-on' placement with an organisation connected to the heritage sector.
MA in History – Open University
This degree course is based around the study of British and Irish local and regional history between 1750 and 1950. Using a world-class collection of online primary source materials students will be encouraged to produce an independent research project on a topic of their choice. It will suit those who have the appropriate entry qualifications, a passion for history and are looking for an intellectual challenge.
Courses with Public History units/modules
MA in History – Plymouth University
MA in History – University of Bristol
MA in History – University of Lancaster
MA in History – University of Manchester
MA in History – University of Southampton
Several MA History courses – University of York
MA in History – University of Sheffield
M.Litt in History - University of Dundee
This list was last updated in May 2019. If you are aware of any more available courses, please inform us by emailing websitemanager@history.org.uk.