Professor Justin Champion
Published: 18th June 2020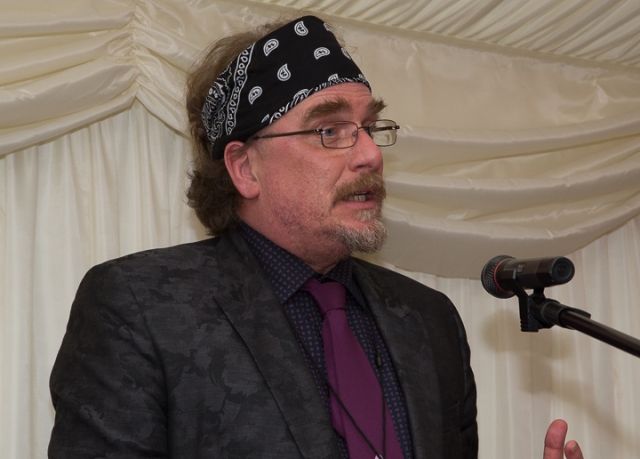 With great sadness the Historical Association has learned of the death of our former President, Professor Justin Champion on 10th June after a long illness. Justin was President of the Historical Association from May 2014 until May 2017 and he was a very popular choice, partly because of his background in Public History. Justin was well known for his radio and television appearances including on Melvyn Bragg's BBC Radio 4 programme In Our Time when he spoke on a wide range of subjects including the Bedlam Hospital, Miracles, The Trial of Charles I, the Apocalypse, and Divine Right Monarchy. He was also a regular contributor to the Today Programme, Night Waves and Radio 5 Live.
He also presented a Radio 4 programme on duelling, Pistols at Dawn, and his television presentations included a programme on the 1665 Great Plague of London for Channel 4, which won a Royal Television Society Award in 2001. Also for Channel 4 in 2003 he presented a series on the History of Kings and Queens, a documentary on contemporary Royal Finances (Secrets of the Palace C4 2002) and contributed to programmes on Isaac Newton, The Enlightenment, the History of Science, and How Christianity Came to Britain as well as appearing on the popular Archaeology programme Time Team.
Justin attended King Edward VIth Grammar School, Southampton and studied History at Churchill College, University of Cambridge. In 1990 he took up a post at Royal Holloway, London University, where he later served as Head of History between 2005 and 2010. He also set up the London Centre for Public History and Heritage at Royal Holloway in 2016 and served on the Historical Association's Public History Committee. He was a committed generous mentor to his undergraduates and postgraduates, many of whom have gone on to make careers as Historians. He will be greatly missed by his students, colleagues and many friends.
His research interests included the History of Scholarship, epidemics and society, eighteenth century republicanism and the nature and purpose of public history. Justin published books on a range of subjects including the philosopher John Toland and the Great Plague of 1665. He also taught popular courses on the History of Political Ideas from Plato to Rousseau and a Special Subject on Blasphemy and Irreligion in the English Enlightenment.
Justin received many awards for his work and in 2003-2004 he held the John Hinckley Chair in British History at John Hopkins University, Baltimore. On retiring from Royal Holloway he was awarded an emeritus chair and in 2018 he was presented with the Historical Association's Medlicott Medal for services to History. Justin was also known for his passion for radical history. In 2015 he took a prominent role in the commemorations for the 800th anniversary of Magna Carta and in 2019 he delivered the first Christopher Hill Memorial Lecture. It is a measure of his personal commitment to radicalism that his Twitter handle was @monarchomach – the early modern term for the opponents of tyrannical rulers.
Jackie Eales, President of the Historical Association 2011 to 2014.


Tributes from HA staff and volunteers
For all his intellectual ability it was often the man himself, his humility and humour that will be missed the most. All the HA staff and many of its members will always think of him with fondness, especially the sense of carefully constructed anarchy that he brought to historical interrogation. A small selection of the thoughts we received from the HA volunteers and staff that worked with him:
'Justin was part of the landscape in London, and a reliable source of bonhomie and intelligence in equal proportion. He will be very sorely missed.' Professor Arthur Burns, Chair of the HA HE committee
'He was so affirming, supportive and interested in everyone's contribution to the HA and beyond.' Bev Forrest, Chair of Primary Committee
'He seemed to treat everyone as his equal, yet his reserves of intellect, bonhomie and joie de vivre were exceptional.' Mike Short, Chair of the Branches Committee
'Justin was immensely helpful to me before I became President and he was a hard act to follow - something I became even more aware of when I visited branches where he had been an inspirational visitor - and one who always challenged branches to extend their reach, particularly into schools. His obvious passion for his subject, his concern to rediscover ordinary people, radicals and dissenters and restore them to the historical narrative, his unwavering commitment to public history, all were values which the Historical Association will want to continue to celebrate. And then there was his remarkable courage, determination and resilience in the face of illness which is surely a model for us all.' Professor Tony Badger, President of the HA
And finally Rebecca Sullivan CEO of the HA:
'Throughout Justin's Presidency of the HA he was battling through illness and yet still had tremendous energy to give to the organisation. In particular helping to guide us and support us as we developed into the type of organisation that we are today, especially in helping us to change and to more clearly articulate a role in public history and to take in more diverse histories, specifically to highlight black British histories. He believed passionately in extending the HA's outreach and was loved by our many branches. Justin added considerably to our thinking about the HA's work at all levels. Committee meetings with Justin in the chair were far more fun than any such meeting should be; there was always an edge of anarchy and many entertaining stories, he was a joy to work with. Ahead of his time his 2018 Medlicott Lecture presented a masterful look at attitudes to public statues and what they mean to different communities; his voice is missed in the current debates on statues, as it will be on so many other issues of history and its relevance.'